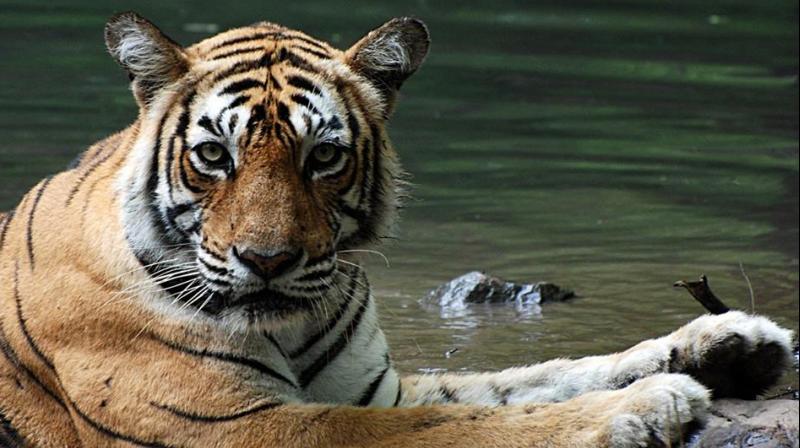 Tigers in Ranthambhore National Park have no particular name. They are known by numbers, or by distinct stripes, but Machli, the world's oldest and most photographed tigress, who died on Thursday after a prolonged illness was an exception.
Queen of Ranthambhore, Lady of the Lakes, and Crocodile Killer are just some of the names attributed to her but Machli was her preferred name because of a piscine marking on her face.
Machli was also known as Queen of Ranthambore (Photo: Facebook/Ranthambore National Park)
Machli had turned 20 in May this year, a rare thing because on an average, tigers in the wild said to live for 10-15 years. But her health had been on a decline for the last few years, particularly after she lost most of her teeth and the use of one eye making it difficult for her to hunt.
In fact, two years ago it was feared that Ranthambore's tiger queen had died of old age or had been poached after she went missing. But the big cat was spotted by forest officials after a massive search operation lasting 26 days, although they found her much weaker than before.
However, on Thursday her death was confirmed by Rajasthan chief minister Vasundhara Raje in a tweet: "Sad to know of Ranthambore's iconic tigress Machali passing away. Machli gave visitors stories to remember--her bloodline reigns supreme in valleys & glades of the park."
She was 19 and had slowed down due to age (Photo: AFP)
According to forest officials, she had been refusing food and water for some time. She was under observation at Ama Ghati, in the fringe area of the reserve.
Machli who became everyone's favourite for her "tourist friendly" nature was also a fierce fighter. Subject of numerous films and documentaries, many of her glorious moments were caught on camera that earned her international fame.
She once challenged a 14-feet long crocodile, and won. In the daredevil act caught on camera, the tigress pounced on the crocodile, twisted it and killed it by biting into the back of its neck earning her the name of "crocodile killer. Another was in 2009, when a young, male tiger wanted a sambar that she had killed. Machli, then a 13-year-old matriarch, had to submit to the tiger, but not without a fight, which was caught on still camera.
Besides, she played a major role in the resurrection of Ranthambhore national park after it was hit by falling tiger numbers. While most tigresses have two or three litters in their lifetimes, she gave birth to 11 offspring - seven females and four males. From 2004, when the park had only 15 tigers, the number went up to 50 in 10 years, and 60 percent of the tigers there could trace their lineage to Machli.
The tigress was also given a lifetime achievement award after India was estimated to earn $10 million every year for 10 years from tourists who came to the country just to see her. The government of India issued a stamp last year to commemorate Machli. She had her own Facebook page as well.
...