Lifestyle
Dance app that fills a gap
Dr Ananda Shankar Jayant shares her life's mantras, her will power and positivity. She has also launched a unique dance desktop app.
Dr Ananda Shankar Jayant
As promised, Dr Ananda Shankar Jayant walks in to the Durbar Hall Arts Gallery for an interview. Her face lights up with a smile as she enters the gallery compound and picks up a comfortable spot under a shady tree where she begins to share the journey of her life. For the uninitiated, Ananda is not just a torch bearer of classical dance form of our time, but also a beacon of hope and inspiration to countless people struggling with cancer. A recipient of the prestigious Padma Shri, Sangeet Natak Akademi Awar,d Kala Ratna Award and Nritya Choodamani to name a few, the danseuse was in the city to introduce the unique 'Natyarambha' desktop app.
"It has been a while since I have planned to visit the Biennale. So here I am," she says with a smile. "But I also have to attend an event where I am introducing the Natyarambha app to a few dancers." And this is not her first time in Kochi. "I have performed here quite a few times. It's always a pleasure to perform here." Quizzed about her brainchild Natyarambha, Dr Ananda, who is also the Artistic Director of Shankarananda Kalakshetra, says, "As a dance teacher, I have seen a difference between classroom training and home practice. Natyarambha basically plugs that gap. It helps with practising dance at home. The app will also help beginners and also those returning to dance after a long gap."
The app offers plenty of details of the adavu and mudras using videos and sketches. "It's got three free chapters; the rest will open with a subscription." Natyarambha is the first-of-its kind app for classical dance form and it currently offers lessons spread over 13 chapters and 61 basic units or 'adavus'. What made Ananda a global phenomenon was her incredible TED talk she delivered through her performance Simhanandini. In 2009, she entered the TED talk stage in full costume, spoke with poise and calm about her life and its partnership with cancer and she delivered a stunning performance.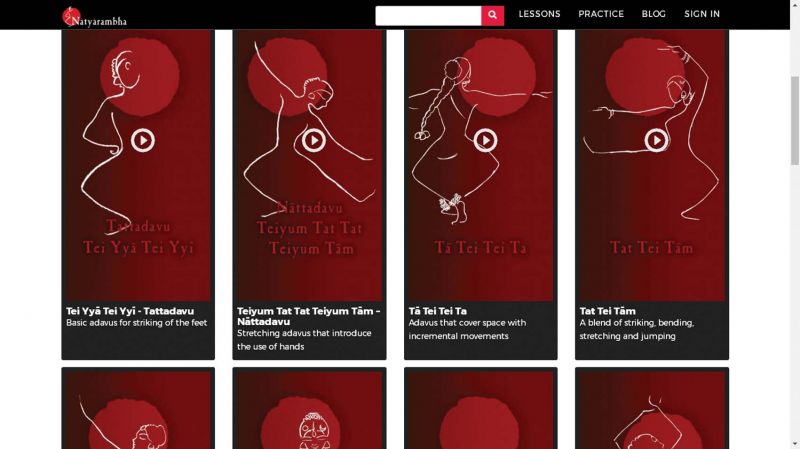 Screen grab of the Natyarambha desktop app
Her talk is ranked among the top 12 Incredible TED talks on cancer. Speaking about that performance, she says, "I was diagnosed with breast cancer in 2008 and I had decided very early on that I will not let cancer ride me. I also decided that I will not stop dancing throughout the treatment. Within weeks of surgery, I danced. What helped me deal with cancer is my focus on dance. To be able to do this, I needed a metaphor and that image came to me from 'Durga'. I looked at her 18 arms as weapons. People around me were my 18 arms. The image, imagination and philosophy I had learnt in my dance came to my support. That's why I used dance for the TED talk."
Ananda keeps on telling people to pursue their passion. Incidentally, Ananda is the first woman officer in the Indian Railway Traffic Service. So why not dance as a profession? "My passion is dance and someone else's passion might be something else. What I try to convey to most youngsters is that it is good to chase 'big' jobs, but without forgetting your inner passion. Not many of us want our passion as a full-time career. Dance is not that great a paying career. I am a bureaucrat with the Government, that's a different pay scale. I realised early on in life that dance is not a well-paying profession. If one can monetise their passion, then fine. But if your passion is something that cannot be monetised, do not give it up in the pursuit of a career." So, has she been tired of dancing at any point? "Dance is my core strength. It helps me go above the regular everyday living. Everyone has a core strength. As of now, I've not got tired of dance, not yet."
Latest News
Most Popular
Columns