Lifestyle
Hyderabad: Ancient sundial hidden by time
Deccan Chronicle| Chand Ahmed
Published on: March 12, 2017 | Updated on: March 12, 2017
The pillar was prayer guide to devout at Macca Masjid.
The dhoop ghadi (sun clock) at the entrance of Macca Masjid
Hyderabad: The Dhoop Ghadi or Sun Clock at the Macca Masjid that could have been the centre of attraction, is hardly known. Very few people are aware of its existance because its historic importance has not been highlighted anywhere. All visitor to Hyderabad go visit the iconic Charminar and the Macca Masjid. They would be wonderstruck at the unusual clock if they only knew what it was.
The dhoop ghadi is situated exactly in the centre of Macca Masjid, in front of the Wazu Khana (water tank). It does not look like a traditional clock. It is an iron pillar posted in front of the water tank.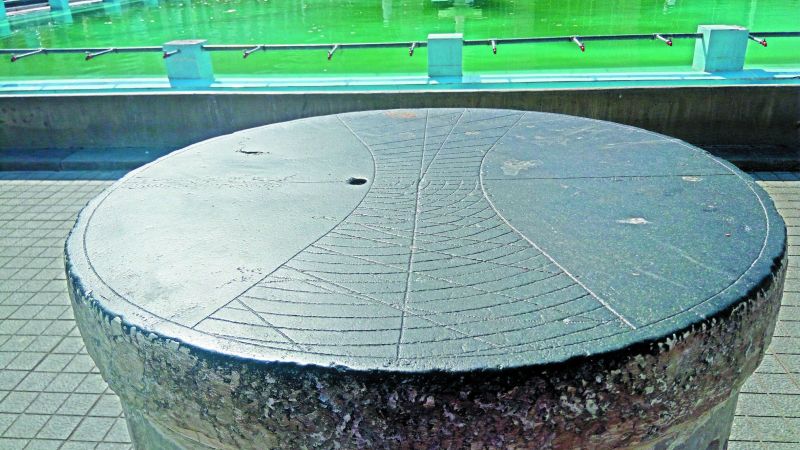 The dhoop ghadi (sun clock) its top with markings.
The clock was built during the time of the Mughal Emperor Aurangzeb to find out the time of day with the help of the sun. There used to be an iron nail placed on top of the post, which was used as an indicator of time. When sunlight fell on the nail, it would highlight the Persian calligraphy and the shadow would give an idea of the namaz timings, says historian M A Qayyum.
M A Khader Siddiqui, superintendent of Macca Masjid, says the clock is four feet high. The hole in which the nail was placed is still visible, but the nail is missing. Many visitors throng this place but no one knows the features of the clock and the purpose it served, he says.
When this correspondent enquired about the importance of the clock to the visitors, a tourist from Mumbai, Avinash Rathod, said, "I never knew about it, but when I was informed, I was surprised that such an iconic clock does not even have an information board to educate visitors about its importance. The Archaeological Survey of India should ensure that such important structures be preserved and the information made available to the public."
Latest News
Most Popular
Columns