Lifestyle
Changing the system with diversity
Deccan Chronicle | DC Correspondent
Published on: March 7, 2019 | Updated on: March 7, 2019
Susheela Jayapal is working on issues such as social justice, public education and reproductive health.
Susheela Jayapal
Susheela Jayapal: Taking up noble community causes
As a member of the Board of Commissioners of Multnomah County, Oregon, Susheela Jayapal is working on issues such as social justice, public education and reproductive health.
Susheela Jayapal, elected as a member of the Board of Commissioners of Multnomah County in Oregon, is the first south asian to be elected in the western US State.
Being an advocate of causes such as children, public education, the arts and reproductive health, Jayapal credits her concern to the values she learned from her parents. The sister of Congresswoman Pramila Jayapal, Susheela never planned to run for office but felt a "sense of urgency about the fact that the region has become unlivable for too many people."
"I've been concerned about the fact that too many people find it difficult to live and work in our region. Wages have not kept up with the cost of living, in particular the cost of housing, and people are being pushed out. I ran for office because I believe that governments — particularly local governments — can make a difference," she says. As for the future of women in politics, Susheela says, "I think women's political participation is going to increase. As more people see women leading on school boards, city councils and county commissions — right in their backyards — women in political leadership will not be seen as an exception."
Aruna Miller: Set to change the system
A reluctant politician, Aruna Miller embraced her diversity and differences to change the system from within.
For Aruna Miller, an Indian-American politician and a member of the Maryland House of Delegates representing District 15 in Montgomery County, Maryland, year 2000 was a game changer. "I became a United States citizen. It was a presidential election year and the first time that I voted. I recall crying in the voting booth as I cast my very first ballot. I was under the illusion that voting alone would be enough to make a difference, but I was wrong," she admits candidly as she adds, "I decided to contact the Democratic Party and volunteer. I started helping other candidates get elected by canvassing, encouraging voters to vote for the Democratic ticket, and raising funds. It soon became a family affair. During the elections, my husband and I would take our three young daughters and my mom to the polling sites, come rain, snow, or shine. We did this for 5-6 years and eventually a Delegate seat for my district in the Maryland General Assembly came open. Party activists contacted me to see if I would like to run. I declined, and it took several more times before I finally agreed. I won the election and am extremely proud to have served as a Maryland State Delegate for eight years. However, last year, I gave up my office to run for the US Congress."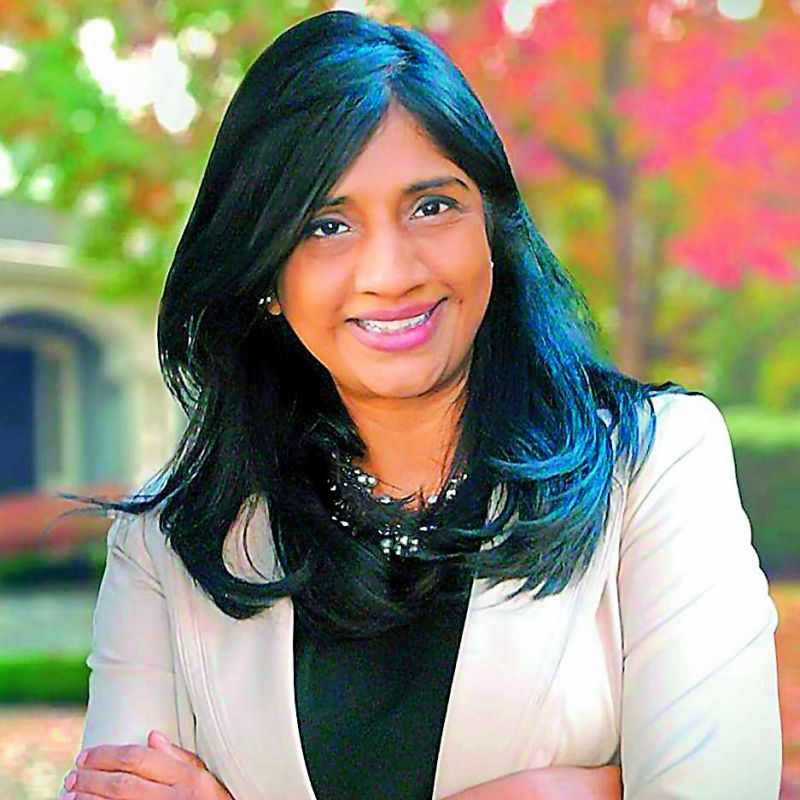 Aruna Miller
For an immigrant woman of colour, navigating the political path has had the added challenges of identity bias, institutional barriers that favour male candidates, fundraising disadvantages, and weak networks. "I was recruited to run but initially declined. I looked around and saw that no one who looked like me was in elected office. So I came up with all the reasons why I shouldn't run," says Miller, adding, "Men, on the other hand, come up with all the reasons why they should run for public office. Finally, my husband convinced me that being in elected office meant that I would be able to serve the public in a far more profound capacity than I could as a civil engineer. Once I made up my mind, the universe conspired to make it happen!"
Interestingly, Aruna was born in Andhra Pradesh and raised by her maternal grandmother, Sasha Ratnamma Venigalla in Vijayawada till the age of seven.
Latest News
Most Popular
Columns