Lifestyle
Creating scientific solutions
Deccan Chronicle| Priyanka Shankar
Published on: November 3, 2017 | Updated on: November 3, 2017
Sonam Wangchuk, the real life Phunsukh Wangdu from 3 Idiots, is the brainchild of many innovations.
Sonam Wangchuk
Phunsukh Wangdu from 3 Idiots or Kosaksi Pasapugazh from it's Tamil remake Nanban is not a name that even a one-time watcher can forget. The inspiration for the character is actually scientist Sonam Wangchuk from the mountains of Ladakh. An engineer, an educationist, a political party and social movement leader and an entrepreneur, the man helms many roles. When Sonam visited the city to give a talk at the Entrepreneurs' Organisation, an annual event in the city, he received a wide recognition. His love for science was kindled in him right from his childhood. "I was very inquisitive right from when I was a kid. I love nature and I grew up with farmers helping them sow seeds and I developed a love for alternative and sustainable science," begins Sonam.
Having founded a school, Students' Educational and Cultural Movement of Ladakh (SECMOL), which focuses on unconventional methods of teaching, Sonam believes in practical application of the subjects learnt in class. "I realised the fault in the education systems and that's when I started SECMOL. I want a mix of theory and practical application. When the students are learning about germ theory, they need to know how they can increase the longevity of fruits like apricots and help in their preservation than using chemicals. We teach them planning, life skills, accountability and more by asking them to run the school itself. They learn everything by applying," he adds.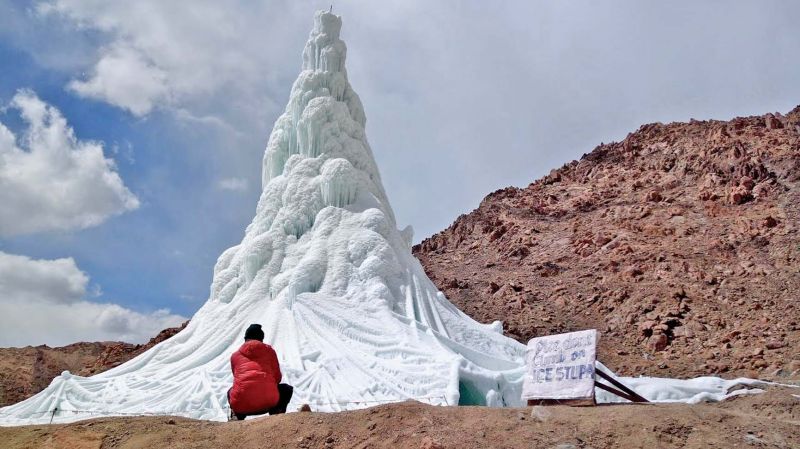 Ice stupa
Sonam learnt the difficulty of water scarcity in the mountains. He also built ice stupas. An ice stupa is an artificial glacier that stores winter water. During summer, when water is scarce, the ice stupa melts to increase water supply for crops. He is also the head of a political party and social movement New Ladakh Movement. "I want the youngsters to start caring for the problems faced by the mountain people. Scientists know the problems of the cities, their solutions will also be suitable for cities. Mountains are very different. I want the youth to take ownership of their place and work harder to solve such problems."
Having installed huge solar plants in Ladakh and eliminating the need for fossil fuels, Sonam and his friends want to show Ladakh as an example to the other mountain people. "We want the locals to make use of income generating activities like tourism and agriculture and work towards bettering them. Getting creative and becoming sustainable is the way to go. Little changes can make a huge difference."
Talking about his lifetime goal, Sonam, who is also a Rolex Award winner says, "We're building a University at Ladakh with the fund I got from the Rolex Award. We also have a crowd-funding campaign that'll close soon. That University will be the mother of all solutions to the problems faced by the mountain residents of Ladakh and that'll be my biggest achievement."
Latest News
Most Popular
Columns