Lifestyle
Epic proportions in mythology
A day trek to this historically rich village is a must-do for all those seaching for peace and quiet...
Pond on top of Avani Hill
About 80 km from Bengaluru, lies a tiny village with picturesque lakes and hills that are deeply rooted in mythology — epics like the Mahabharata and the Ramayana live on here. Avani is situated in the Mulbagal Taluk, a border town which was known as the gateway to the erstwhile state of Mysore. Mulbagal was also known as the Eastern Gate to the Vijayanagar Empire. The Nolambas — the only Kannada-ruling empire, the Gangas, the Cholas and the Sultanate of Mysore — Hyder Ali and Tipu Sultan, all these dynasties ruled over this land. In fact, the East India Company wanted control of Mulbagal with its strategic military location. Today, Mulbagal is under the Kolar district and is known as a city of silk, mango, tomatoes and gold. For us, it was a walk down rich history that presented itself at various junctures of our journey.
We climbed the hill early in the morning, and had to trudge rock cut steps and rough trails to reach atop. The hill top views are spectacular, and the natural terrain offers great landscapes.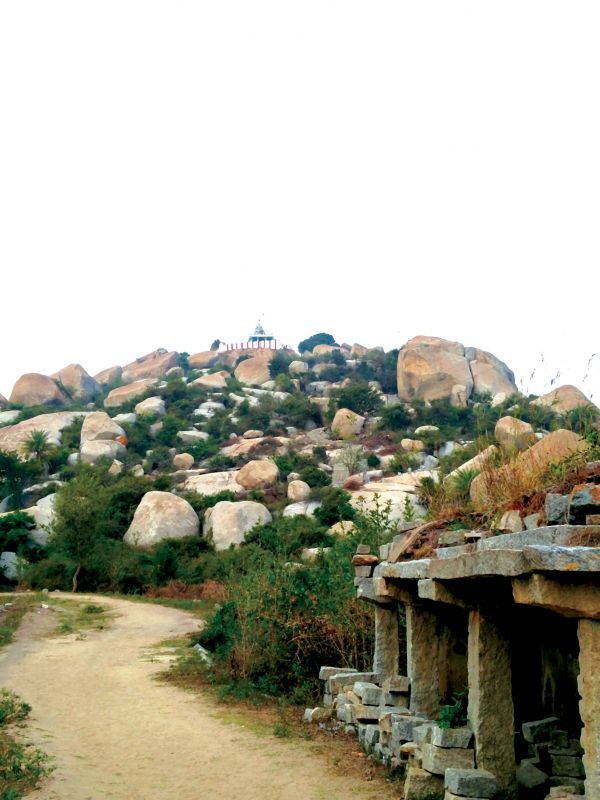 Sita Temple on the apex of Avani Hill
As a solo trekker, I was cautioned about bears or cheetahs in the area, so was in quite a hurry to reach the hilltop and get back, so was not able to see the famed Sita Parvati temple at the apex as it only opens at 10 am. Legend has it that childless women visit the temple to pray for their offspring here. The temples at the foot hill complex open for poojas around 9 am, and one should spend some time in the peace and quiet they exude. Being a photographer, the temple complex is a labyrinth view for excellent photos, beautiful and intricate carvings of Dravidian temple architecture. Trekkers will love the walk up, and the views here. To think that such an "epic" location from the Ramayana and Mahabharata is so close to Bengaluru! Suffice to say that those who like architecture, and monuments that speak of a bygone era will chance upon many temples, churches and mosques here. A land of rocky terrain interspersed with lakes ponds and plains, one must see the cluster of temples that lie in a walled complex that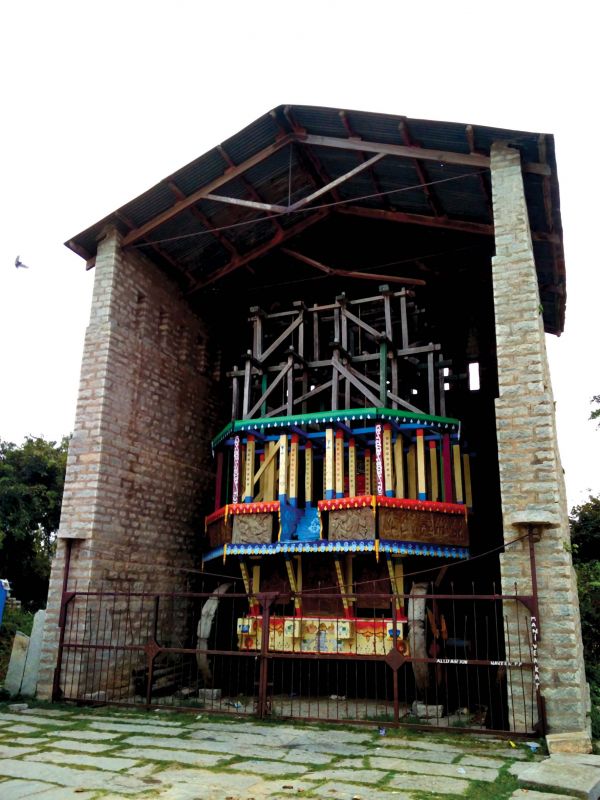 The temple chariot
has a lake and a hill at Avani. A picturesque sight. This foothill temple complex is attributed to the Ramayana and was built by the Nolamba Dynasty (735-1052). Further rulers like the Gangas and Cholas improved and added their own characteristics to its beautiful architecture. The walled temple complex or Ramalingeshwara Temple has different shrines for various deities — Lord Shiva, Rama, Lakshmana, Bharatha, Shatrughana, Hanuman, alongside yagna and marriage halls. Beautiful Dravidian architecture can be seen here, as you make your way through the spiritually uplifting peaceful confines of its complex which is being maintained by the Archeological Survey of India.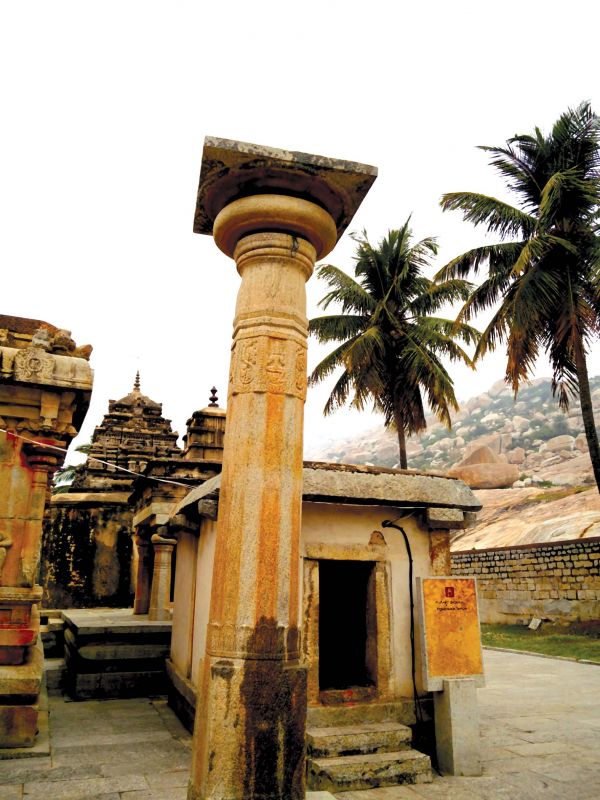 Complex of Ramayana Temples
There is a hill adjacent called, Lava-Kush Hill, that is also a tourist spot of sorts that one can trudge up to. It is a great picnic location as well. Legend has it that Lord Rama, returned victorious after defeating and killing King Ravana of Sri Lanka who had kidnapped his wife Sita. When Rama heard that his wife Sita's integrity was being questioned, he banished his beautiful, dutiful wife from the capital. She took refuge with Sage Valmiki (the author of Ramayana). Sage Valmiki had his ashram on Avani Hill, and Sita gave birth to two twin boys — Lava and Kusha who were educated by the sage here.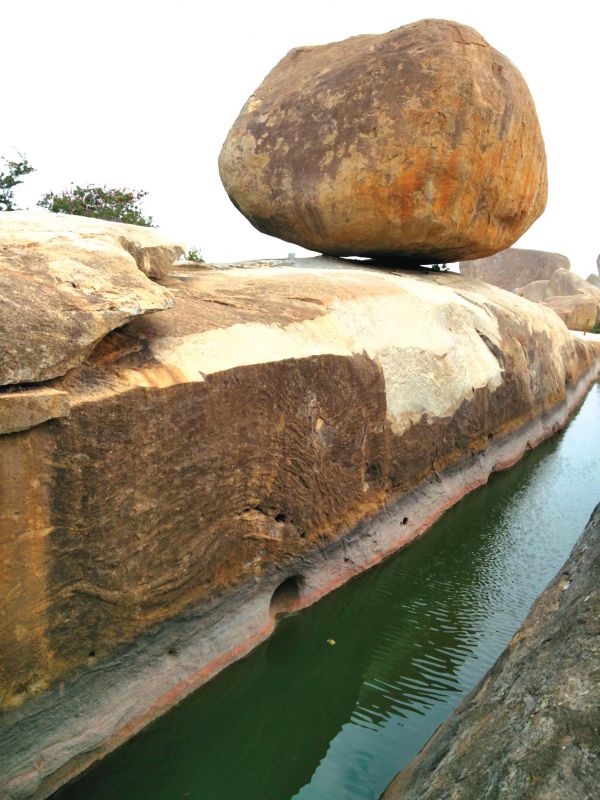 Lakshman Thirta on Avani Hill
Infact, there are many places on the hill that have mythological and historical significance —Sita's Abode, Sage Valmiki's Ashram, Agni Pariksha, and even a rock where the Ashwameda horse was tied. The experience of sitting atop, with the wind in your face and seeing the rugged terrain below is a must-do. If you are trekking, do so in the morning as it gets hotter as the day progresses.
This hilltop has a Mahabharata connect as well — one can see the Pandava cottage, and a dwelling place of Jambuvata, who participated in building the mythological Ramsethu to Sri Lanka. All history buffs will be enraptured by the stories, and walking through these wonders.
Having a vehicle of your own is the best way to travel. It's a day trip from Bengaluru, and you can also use public transport, with buses and autos plying from Kolar, though Mulbagal is better connected. Carry cash as there are no ATMs here. Carry enough fluids, water and snacks to make a day trek out of the trip. Since the terrain is rugged, a good pair of trekking shoes will keep you in good stead. And if you want to taste the local far, there are many restaurants on the highway, and smaller dhabas that serve local non-vegetarian fare as well.
— The writer is an avid travel photographer and writer.
Latest News
Most Popular
Columns