Lifestyle
ISB grows green!
Deccan Chronicle| Shweta Watson
Published on: March 28, 2017 | Updated on: March 29, 2017
Faculty, staff and students of the Indian School of Business, Hyderabad, have brought organic farming into the campus recently.
The green thumbs: The team behind the genesis and maintenance of Indian School of Business's organic farm.
If you have ever used organic vegetables to cook, you would understand the difference that they make to our meals. To encourage this practice, some students, faculty and staff members of the Indian School of Business in Hyderabad have started an organic farm within their campus. Many of them visit the farm almost daily to grow and learn about the produce. The vegetables are then sold once a week and used to cook delicious meals!
The initiative is the brainchild of S. Venkadesan, head of operations and learning resource centre, ISB. "I loved gardening since I was a kid and have always bought organic vegetables. I thought, with so much of land available in the campus, why not start an organic farm here? I and a few other like-minded people started the farm under the initiative — 'ISB Goes Green' a few months ago. We have been learning how to farm from organic farmers Shyam and Abhinav. Since there are many peacocks and wild boars on campus, we now have fences. There's a lot of hard work and thought put into this," says Venkadesan, adding, "Since we do not use chemical fertilizers and pesticides, the flavour and aroma of the food is incomparable. We don't give away the produce for free because we want people to feel like they've earned it. I've cooked spinach, radishes and carrots from the farm — they were delicious! They stay fresh for almost a month, even when not refrigerated."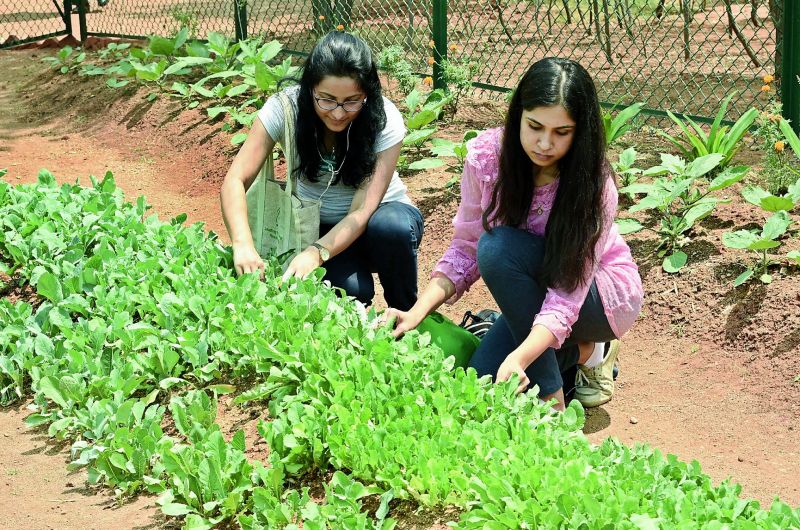 Fun in farming: Students indulge in organic farming.
The farm is almost 4,000 square yards, where coriander, spinach, amaranthus (thotakura), brinjals, beetroots, curry leaves, radishes and carrots have been produced so far. All of them are priced at only Rs 20. Jahnvi Doshi, a student says, "Since I'm in the final year, it's been really stressful for me with so many assignments and exams. Farming has been such a good stress buster and a great way to relax."
Rajesh, head of engineering and sustainability, says, "I'm passionate about farming and happy that I'm finally able to do it. Almost 50 people spend time farming here every day. We are now planning to grow creepers and have started with watermelons and drumsticks."
All of them also have a WhatsApp group, where they discuss farming and share photographs from the farm.
Latest News
Most Popular
Columns