Lifestyle
Thiruvananthapuram zoo fights heat to save inmates
Deccan Chronicle| Cynthia Chandran
Published on: March 24, 2017 | Updated on: March 24, 2017
Fits fans in animal enclosures, provides frequent shower baths
couple of hippopotami at the Thiruvananthapuram zoo quench thirst from the tap fitted inside their enclosure. (Photo: R. Sabari Nath)
THIRUVANANTHAPURAM: In the wake of the death of a two-a-half-year-old female ostrich at the zoo here due to the intense heat, the authorities have started fitting fans in the animal enclosures and providing frequent shower baths to vulnerable birds and animals like tiger. The birds have been affected badly by the summer heat and water tubs were installed in their enclosure. Recently, the tiger keeper found that one of the tigers was bleeding from its nose due to increasing mercury levels. Museum and zoo director K. Gangadharan told DC that efforts were being made to alleviate the extreme humid conditions.
"We are not sure of the exact cause of death of the female baby ostrich as they have proper shade in their enclosure. We have already provided fans to certain birds and animals like nilgai and deer and ensured bathing and shower facility for the tiger population," he said. Meanwhile, more shades and fans have been set up for the surviving 10-year-old male ostrich and a two-and-a-half-year-old female. The keeper, Rajesh, who takes care of the ostrich flock, will be provided with more working hours as he is familiar with their lifestyle.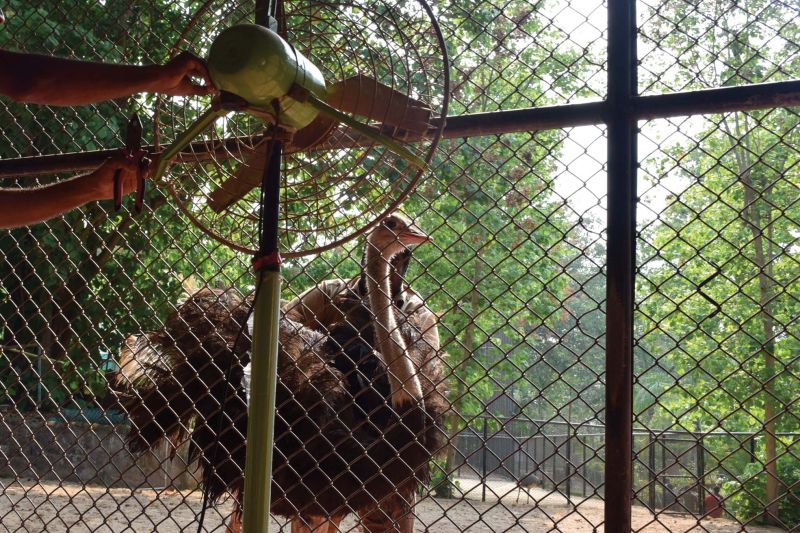 Following the death of a baby female ostrich, staff have installed fans to cool the birds down. (Photo: R. Sabari Nath)
But a zoo official said that the government should appoint a biologist and a curator so that the administrative staffers' work can be shared. Senior veterinary surgeon Dr. Jacob Alexander on Thursday conducted tests on the dead ostrich to pinpoint the cause of its death. Though blood tests were done, he could not detect any micro-organisms. "Also, blood culture, histopathology and salmonella bacteria tests were done and the results will be known only after the examination at the chief disease investigation lab at Palode," said Dr. Jacob Alexander.
Latest News
Most Popular
Columns