Lifestyle
Urban Legend: Building sustainability, block by block
Deccan Chronicle | DC Correspondent
Published on: April 21, 2017 | Updated on: April 21, 2017
Hand block printing uses intricately carved teakwood blocks dipped in colour to create impressions on fabric by hand.
Mix, dip and press: Artisans hard at work in Tharangini, Bengaluru.
Tharangini, Bengaluru's oldest block printing studio has brought ancient traditions out of the annals of rural India and onto the runways of Paris, empowering dozens of impoverished, but hugely talented artisans. Founding partner Padmini Govind talks to DC about sustainability, empowerment and contemporary fashion.
A thick, canopied road in Sadashivnagar leads you to Tharangini, the oldest block printing studio in Bengaluru. It's an ecosystem of its own, the air is filled with the rhythmic chirrups of crickets and swallows. Started back in May 1977 by the late Lakshmi Srivathsa, daughter of the then Diwan of Gwalior state, the legacy is now being carried forth by her daughter, Padmini Govind.
The artisans are hard at work on Wednesday afternoon, a steady stream of Lata Mangeshkar keeping them company as they do. "My grand-father planted over 200 trees here back in the 50s and I would say our sustainability story starts with him. My mother was mentored by Padma awardee Kamala Devi and brought artisans from Benaras to train people here." says Padmini.
Long before millennials caught on to buzz words like 'fair trade' and 'sustainable fashion', Srivathsa brought the traditions of block-printing to southern India with a two-fold purpose – to encourage sustainable fashion and to empower impoverished artisans in an atmosphere of dwindling demand for traditional, indigenous crafts. And how far they have come! Their merchandise has gone from the annals of rural India to the runways in Paris and some of the largest textile houses across the world. "Up to 80% of our products are now being exported," said Padmini.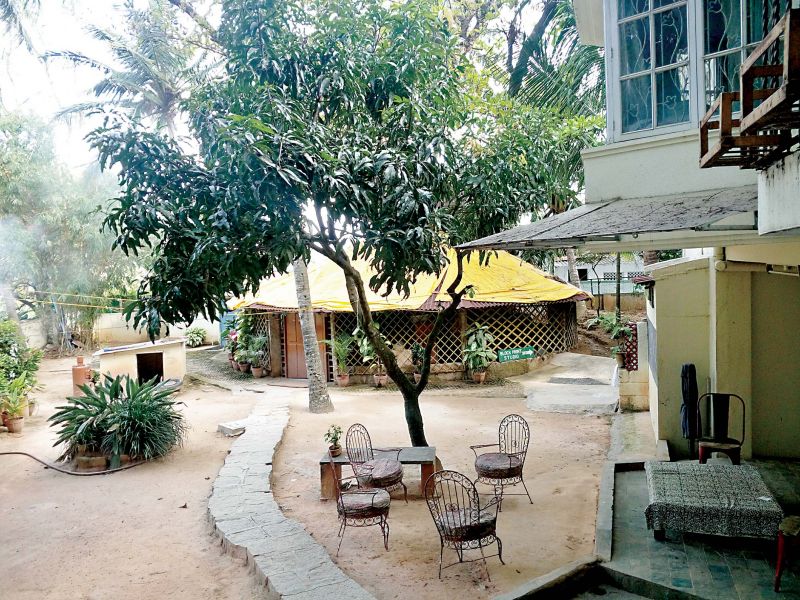 Hand block printing, for which Tharangini is best known, uses intricately carved teakwood blocks dipped in colour to create impressions on fabric by hand. Meticulous and time-intensive, it is a fast dwindling profession.
The walls of the studio are lined with hundreds of beautifully carved woodblocks, some up to 70 years old. "We have over 3000 woodblocks, collected over decades. We found it useful to keep them because fashions have a way of repeating themselves," laughs Padmini. "They're worth a great deal to us now, because there are only four wood carvers left in Bengaluru.'
Tharangini functions on a profit-sharing model – "It's very important for our artisans to know what their work is worth and how much it is being appreciated." Govind, their master printer began working them in 1989 and continues joyfully till date. "I love working here. Both my children have been placed in Ernst and Young," he beams. Yashodhara, once worked as a domestic help to make ends meet, is now a colour mixer at Tharangini, a highly technical, exacting process. "I even conducted a workshop on it recently," she smiles. "Some parts of the process, like wood carving and printing are very male dominated professions," Padmini remarked. "We're trying to change that!"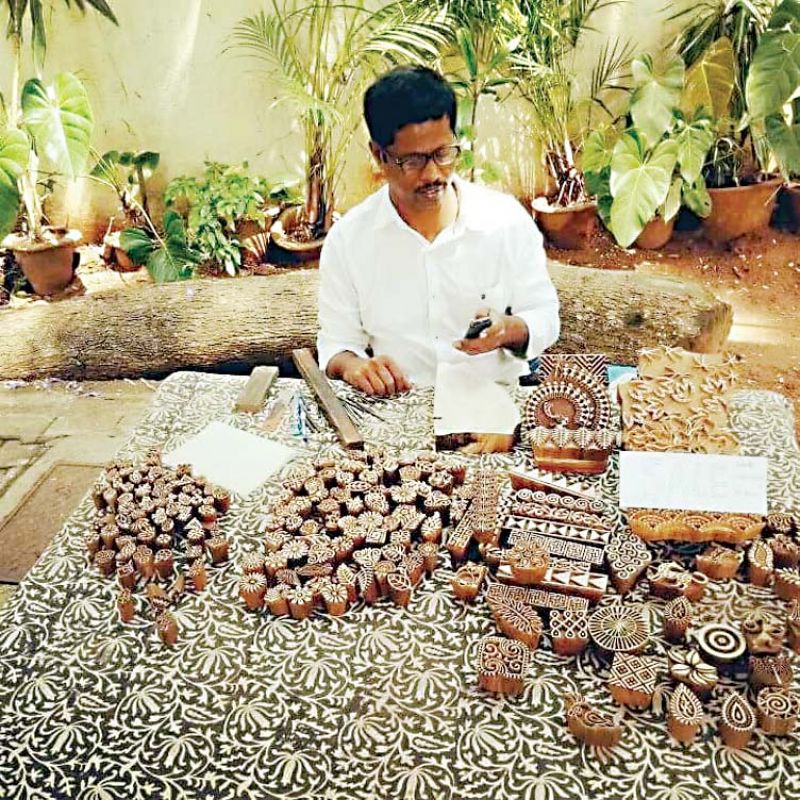 Mix, dip and press: Artisans hard at work in Tharangini, Bengaluru.
Sustainability is the name of the game. Using pomegranate peel for green, annatto seeds for yellow, sevalkuddi for red, all colours used are home-made. Even the raw materials are obtained only through sustainable farming methods. "The colours change according to the season, obviously and it's difficult to produce the exact shade twice," she explained.
"After the printing process, we steam the fabric with newspaper rolls, which are also recycled. We then hand-wash it and cure it in the sun. It is a 14 step process, but it's worth it," says Padmini.
Catering to the needs of high profile brands like FabIndia and Anthropologie USA, Padmini believes in being flexible to contemporary designs in an attempt to remain relevant. Conducting regular workshops on block printing, Padmini hopes to reach out to young designers, who will hopefully discover the beauty and breadth that the art has to offer.
Latest News
Most Popular
Columns