The new year has come and is slowly going, but, it's left behind telltale signs of the malady that your body went through while your "spirits" were soaring. How's that fitness plan you committed to, at the beginning of the year, working out for you? All the binge drinking, barbeques by the beach, gastronomic indulgences, Christmas cake, figgy pudding, brunches that never end, midnight hunger pangs brought on by a night of incessant partying... all of that has found its way onto your hips and what not.
Now, you vow to take the stairs, eat less carbs, make it to your yoga class atleast once in a week. Now... your negotiating with yourself, aren't you? All of this negotiation with that muffin top above your belt is quite depressing. Here's an idea — retail therapy! Never failed once!
So, to add impetus and ensure that your heart follows your head and gets you back on the workout regime you committed to, we've decided to give you the lowdown on the slickest, sharpest workout gear that you just have to have!
Whether you get your freak on with the "downward dog" or need to feel the blood pumping through your veins with some hard cardio, here's how you can look sharp while you're at it.
Vito Dell'Erbe, creative director, Indus League, part of Future Lifestyle Fashion elucidates prevalent and forecasted trends within active wear, "Life in general has become very active and dynamic. We transit from one reality to another across work, travel, entertainment, etc. An active lifestyle focused on fitness has become an integral part of our personal goals and focuses. I see active wear gaining popularity in India exponentially. The lines between fashion, style and comfort have merged. Internationally, I see active wear flirting with florals a lot this year. Active wear has been traditionally connected to bold and dynamic colour blocking. We have seen a shift over the years where prints not usually associated with workout wear are disrupting the active wear market. Another key aspect within bottom wear (track/ shorts/ tights) is fits that are defined as per body and silhouette type. Leaving the consumer with more options, given how experimental they are while keeping comfort — that's the primary focus."
Personally, the comfort factor is big priority. Pairing sports bras with tank tops and tights or shorts for a workout-oriented lifestyle is key. Innovations like sculpted tights that provide seamless compression zones while keeping muscle support are among the top picks. They are high-waisted to give maximum coverage and yet very easy to move in aiding agility.
Shwetambari Shetty, co-founder, Tribe Fitness Club and Zumba master trainer says, "I've seen how active wear has evolved in India — regluar bras and pyjamas incorporating performance and support-oriented gear. Today, there isn't a second thought on sports bras designed for workouts. Shorts and tracks are not only better fitted, but they aid performance! Active wear is colourful and fashion forward."
There are many reasons to get yourself new workout gear. For starters, when workout gear looks so slick, you've just gotta have it. But, more importantly, the guilt of indulging in elaborate retail therapy will be this automatic jolt that will get you on that treadmill or into that perfect crane posture!
Till next week, keep it sharp!
A film maker, scriptwriter, stylist, marketer and dreamer, the writer indulges in the latest fashion, builds fashion brands like Breakbounce Streetwear and youth brands under Indus League.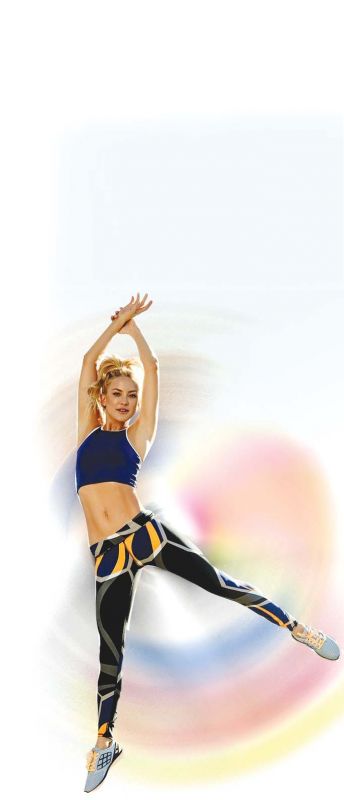 Print 'em up!
Print 'em up!
Prints are everywhere. On evening wear, work wear, streetwear, resort wear and therefore naturally on active wear as well. Playful, abstract, inspired florals, minimal, monochromatic, neon...prints are literally across the board!
Leggings
Spliced and how leggings
Splice — To join or connect by interweaving the strands at the ends. Call it cut and sew or construction that takes inspiration from human form and human movement. Panels that are spliced together not only aid in ease of mobility, they look pretty darn sharp. This technique or look comes out most effectively on leggings as seen across leading designers like Rebecca Minkoff, Alexander Wang and Derek Lam. Elongating silhouettes making them seem slender and streamlined and these construction lines add more than mobility, they add a slick sharpness. While you may sweat it out amateur style, they make you look the part!
The tank
The tank
Comes in all shapes, sizes and silhouettes. Some snug, some fluid, some conceal and some reveal. Take your pick! You've got to love how workout gear is getting sharper and more de-constructed with the passage of every season. The human form, its movements, attributes, extensions, contractions, moulding; are all inspiring the splicing of workout gear. Now, your gear is working hard and keeping you comfortable as far as is possible, while you're busy imitating a human contortionist.
Fold over leggings and yoga pants
Fold over leggings and yoga pants
They are snug, they fit like a dream, they're designed to accentuate your silhouette, but mostly, they will keep all the moving "blubber" in place and concealed. At least, more concealed than without these babies. Yes, they fit tight — there's your inspiration to get back in shape!
...