In a horrific incident, a doctor burst a huge cyst covering the little boy's eyes. The boy was admitted in a hospital in Sonsonante, El Salvador, with an inflammation gradually growing on the eye duct, known as a chalazion.
Most of the cysts just fade away after a period of time, however that was not the case here. The only way to treat a cyst is to cut an incision and remove the fluid out.
(Photo: Facebook/Dr Alberto Cota)
The lump had grown so huge that it completely covered his left eye, blocking his vision.
Dr. Alberto Cota, who performed the incision, demonstrated the way it has to be done, in a graphic video. The video shows the doctor slashing a cut on the cyst toward the boy's forehead, while telling him to stay calm and composed. The yellow pus begins to pour onto the floor.
The child cries out in pain as the doctor squeezes the cyst out, soon after the pus flow stops.
(Photo: Facebook/Dr Alberto Cota)
Eye cysts are very common around the world, affecting people between the ages of 30 and 50. They occur because of an obstruction in the eye ducts, mainly because the oil from the eye is not drained out. Though only in rare cases, they can also be brought about by skin conditions such as rosacea.
A chazalion is a red and rubbery, but painless swelling that develops within a span of four days. As advised by doctors, holding a hot wet flannel on the affected area for about five to ten minutes, several times a day, can reduce the intensity of the swelling.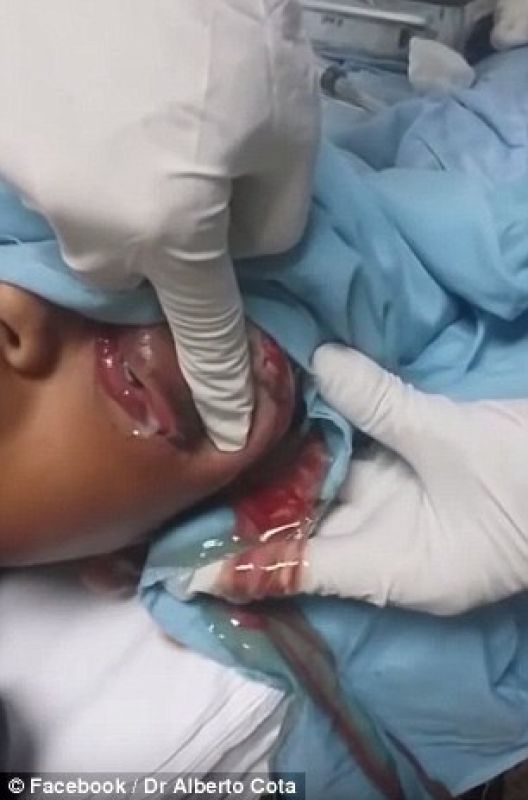 (Photo: Facebook/Dr Alberto Cota)
It is also advised to wash the eye lines with baby shampoo mixed with water. The incision is usually performed under general or local anaesthetic. The left over skin goes away in a few days or weeks.
Click to watch the video;