Lifestyle
It also stems from their want-ing to lean towards meditation to stay calm and focused.
Actress Shilpa Shetty known for setting fitness goals launched her yoga app ahead of International Yoga Day
Yoga's holistic approach lends it a universal appeal, which may be why many in India and across the world hail it as the best form of exercise. That's why even today, years after its discovery, we keep coming up with so many interesting variations of this ancient practice.
Vinod Channa, who has been training celebrities for the last 24 years, believes that yoga works for them because their work profile demands high-impact movement, dance, long-working hours and sudden jerky movements. "They require more mobility, flexibility, agility, speed, and mind-body coordination with strength — all of which comes from yoga asanas and pranayama. Even when they are working on a six-pack or a beach body, to reach that level, they need a hardcore workout with nutrition but at the same time, they need the agility that only yoga can give. Yoga also helps in avoiding injury like muscle wear and tear, joint dislocation and can be performed for a long time without restrictions of age, lifestyle or medical conditions," explains Channa.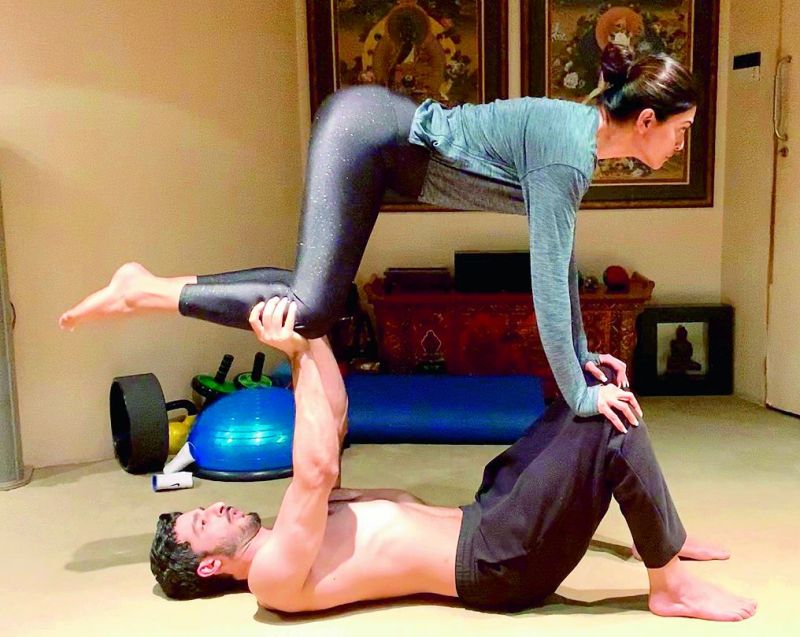 Sushmita Sen nails difficult couple's yoga pose with boyfriend Rohman Shawl
Adding further, celeb trainer Anshuka Parwani says, "Most celebrities have an erratic lifestyle which means irregular sleep patterns, food timings, a lot of stress and pressure — yoga is an internal practice that helps them to not only stay fit but also to stay calm, especially in times when they have high pressure shots and are completely stressed out.
It also stems from their want-ing to lean towards meditation to stay calm and focused. Overall, yoga helps to keep the internal factory healthy."
Inverted fun
Bollywood's favourite diva and the undisputed queen of fitness, Kareena Kapoor Khan is an inspiration to all, and her yoga postures are a killer. Recently, an Instagram fan page of Kareena posted a smoking hot collage of her practicing yoga where she nailed some of the most difficult yoga poses, right from headstand to chakrasana — in perfect Bebo style!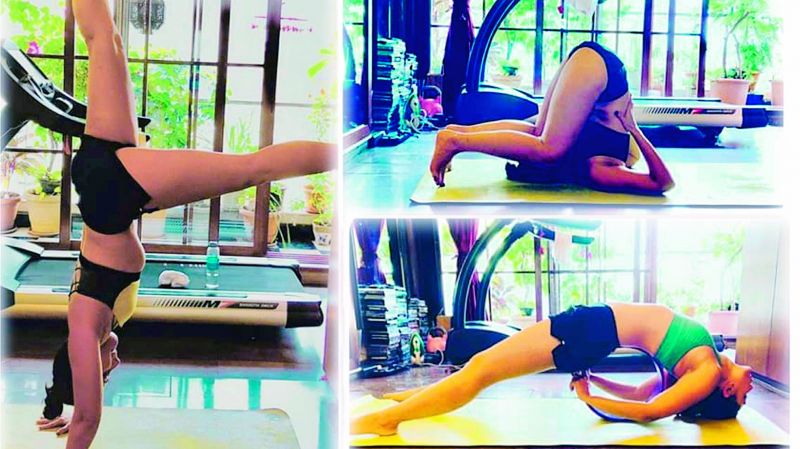 'Yoga queen' Kareena Kapoor Khan slays with her yoga pose
From her size-zero Tashan days to her post-pregnancy weight loss — Kareena constantly reminds us that nothing is impossible. Parwani, who has trained Bebo for over a decade, found it easy to work with her post-delivery too. "She was back on the mat in two weeks after delivery and we started with pranayams to focus on the breath work and streamline the hormones. Next came the strengthening of the core and inversions to stimulate the thyroid gland and regulate the hormones. Inversions are easier because you are suspended from your hips: there are no compressions on your spine or neck when you are being suspended in the air. Kareena has grown so aware of her body: she knows it best," says Anshuka, adding, "The FlyFit hammock helped her with postnatal yoga as it's not easy for anyone to do a headstand, shoulder stand or inversions due of lack of strength at that time. Also, when one is working against gravity, it gives more strength and flexibility."
Couple goals
Sushmita Sen and boyfriend Rohman Shawl are setting new trends on social media and taking the bar of love a notch higher with their couple yoga poses. Their photos are a reflection of how a good relationship is the result of a 'balance of trust and mutual respect'. In one of their videos, Sushmita can be seen comfortably stationed on Rohman's body in a very difficult 'elevated cat and camel' pose. Sush captioned the video as, 'To train with a partner, is to know the alignment of energies!!! It's like creating in unison a way of balance, trust, authentic strength and mutual respect! It's impossible not to fall in love with the idea of sharing both the struggle and achievements!!!" (sic)
Latest News
Most Popular
Columns