Lifestyle
Beauty, a priced possession
Deccan Chronicle| priya sreekumar
Published on: November 14, 2016 | Updated on: November 15, 2016
The growing market for cosmetic procedures in Kerala shows that people are willing to go to any lengths to preserve and enhance looks.
Dr George Varghese Koluthara at an express treatment procedure
Cosmetic surgery was once the exclusive bastion of celebrities, not anymore. More and more millennials as well as the older generation are now opting for cosmetic surgery over beauty parlour treatments, driving the demand for procedures like breast augmentation, rhinoplasty (nose job), face lifts and body contouring besides male's breast reduction and hair transplants. While nose jobs and liposuction were the most popular surgical procedures earlier, the advent of new non-surgical laser techniques have been made available to the common man.
A whole gambit of painless procedures earlier associated only with A-listers including the vampire facelift made famous by Kim Kardashian, is now available in Kerala at specialised skin care clinics. Dr George Varghese Koluthara of Doctors Aesthetic Centre (DAC Skin Laser Treatment Centre) is a specialist experienced in handling various state-of-the-art laser machines for removal of unwanted hairs, warts, pimples, wrinkles, black moles etc.
Skin tightening, facial rejuvenation, Botox treatment, Dermal fillers, Vampire face lift, dermal thread lift are very popular procedures and Dr George says, "Clients prefer going to a doctor to address their cosmetic concerns and get treatments. There is a 40 per cent increase each year and the primary reason is the awareness that such state-of-the-art procedures, popular worldwide, are also available in Kerala." The latest skin and body procedures using laser technology take very minimal time. Explains Dr George, "Body hair can be removed in an hour and there is no need for any anaesthetic cream." Platelet rich plasma (PRP) treatments are also becoming increasingly popular.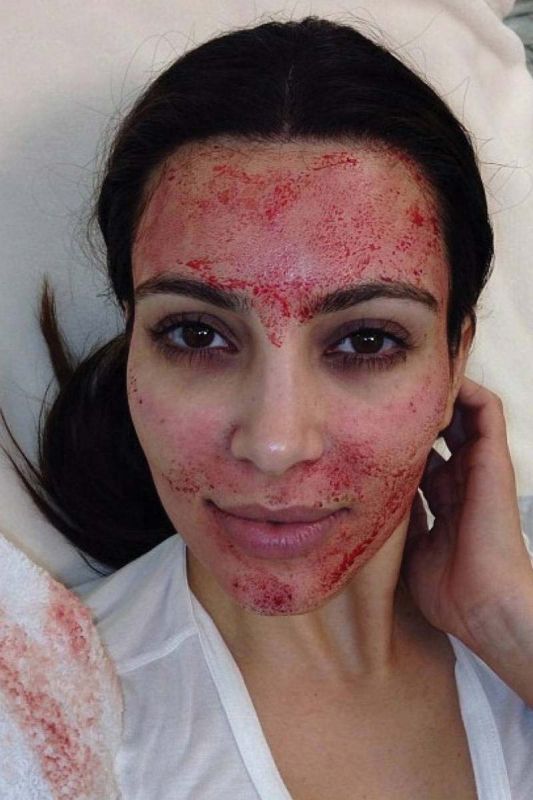 Kim Kardashian opted for the Vampire facelift to maintain youthful look; Kim soon after the procedureDr George adds, "The patient's own blood is taken and the platelets rich in growth factors are separated and injected back into the skin for younger looking, glowing skin or into hair for growth. Brides and bridegrooms are coming in for skin rejuvenation packages and even young girls are doing total body peels where the skin becomes smooth. The Vampire or PRP face treatment has a lot of takers amongst all age groups." The desire to not only look beautiful but also have a perfect body has led to individuals opting for surgical procedures in top hospitals. The reasons for the increase is not difficult to fathom as Dr Hari Menon, HOD of Cosmetic Surgery at Lakeshore Hospital, explains, "It is probably due to three factors - availability, awareness and affordability though the cost factor is comparable to procedures across the country."
Dr Hari explains, "Most people wonder what the need for cosmetic surgery is; the most important factor is looking and feeling good. That translates to happiness in your family, society and work. I have women patients who refuse to get married because of their small bust size or men who do not get suitable proposals as they are balding or have male breast. Cosmetic procedures worked wonders for them and they are happily married now." He states that there has always been a need to look good and the availability and awareness about the procedures and safety factors has churned an increased demand for cosmetic surgeries. He adds that another factor that works in Kerala is the huge NRK and NRI population who are exposed to cosmetic surgeries abroad. When they come to Kerala for a holiday, they include a cosmetic surgery in the vacation itenarary.
Talking about the gender ratio opting for such surgeries, Dr Hari states that males outnumber females by 60 per cent in two procedures — hair transplantation and gynaecomastia or male breast removal. Women come for abdominoplasty (tummy tuck), rhinoplasty or breast augmentation and reduction surgeries. A reason why men outnumber the women in Kerala is also societal norms where women have to ask their husband or parents for permission. The hospital also has body makeovers for mothers. Dr Hari explains, "Pregnancy causes physical changes in a woman's body and abdominoplasty, liposuction, breast reduction or lift restores the confidence in a woman." The cost of a hair transplant can range from Rs 50,000 upwards to a lakh for tummy tuck. He adds that 80 per cent of the procedures are day care procedures where a hospital stay is not needed.
Dr Rajesh Nair of Skin Care Med Spa in Thiruvananthapuram, an experienced cosmetologist, opines that beauty parlour treatments offer temporary results but non-surgical procedures using lasers offer skin rejuvenation, glow and lasting results. He adds that his customers in the 20s age group prefer facial rejuvenation procedures while women in their 30s and 40s go for anti-aging and 40s and 50s go for Botox treatments or dermal fillers. He talks about some new procedures like carbon peeling which improves the facial tone, removes pigmentation and increases blood circulation over a period of time though there is an immediate difference in skin tone. "The most popular treatments are for hair removal, laser treatments for the face, rejuvenation and anti-aging packages, Dr Rajesh adds, mentioning, "The charges are definitely not cheap but people have money at their disposal to indulge in such treatments."
Latest News
Most Popular
Columns