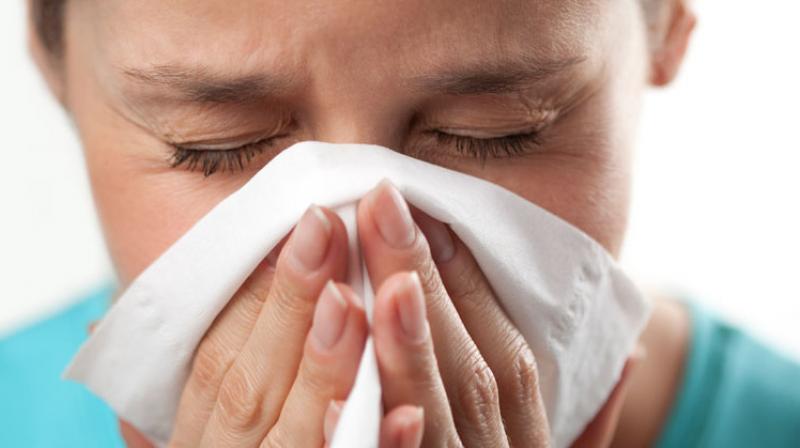 Bengaluru: Cough, sneeze, cough has been the order of the day for city-dwellers who are either suffering from allergic rhinitis or other allergic ailments. What's worrisome is the increasing number of cases of allergic rhinitis that is being reported at city hospitals.
The out-patient department of Kempegowda Institute of Medical Sciences (KIMS) witnesses some 145 patients every day and sees 25 patients daily who have allergic rhinitis.
"We are seeing many cases every day and our OPD witnesses some 20-25 cases of allergic rhinitis and it is across all age groups but more cases come from the younger age group," says Dr K G Somashekhara, HOD, ENT, Kempegowda Institute of Medical Sciences (KIMS).
And more than 30% of the population are known to be suffering from one or the other allergic ailment. On an average Victoria Hospital witnesses some 10-15 new cases of pure allergic rhinitis on a daily basis.
"It is more common in adults and we ask them to get an allergen test done and for allergic rhinitis we give them a steroid nasal spray Antihistamines, for its treatment. Many are recommended a change of location and this does work for a large number of patients.
"The increasing prevalence of allergic disorders has been especially noticeable in the past two decades, with almost one in two people in the developed world exhibiting an allergic response to some common environmental factor," explains Dr Somashekhara who adds, "With the phenomenal growth of the city and a distinct shift in its arboriculture in the last 2 decades, a change in the allergen profile has been suspected.
Furthermore, earlier studies reported the pollen of Parthenium and dust mites to be among the commonest airborne allergens." According to various journals on allergens, allergenicity to Parthenium pollen is reported in 3.4% of the patients suffering from allergic rhinitis in the city.
Dust mites are tiny microscopic relatives of the spider and live on mattresses, bedding, upholstered furniture, carpets and curtains. These tiny creatures feed on the flakes of skin that people and pets shed daily and they thrive in a warm and humid environment.
"It is very difficult to get rid of dust mites especially in Indian homes and hence people who have a history of allergies in the family are often advised to properly vacuum clean the house. Many come to us with runny noses, itchy throats and allergic reactions of the upper respiratory tract." adds Dr Somashekhara.
...