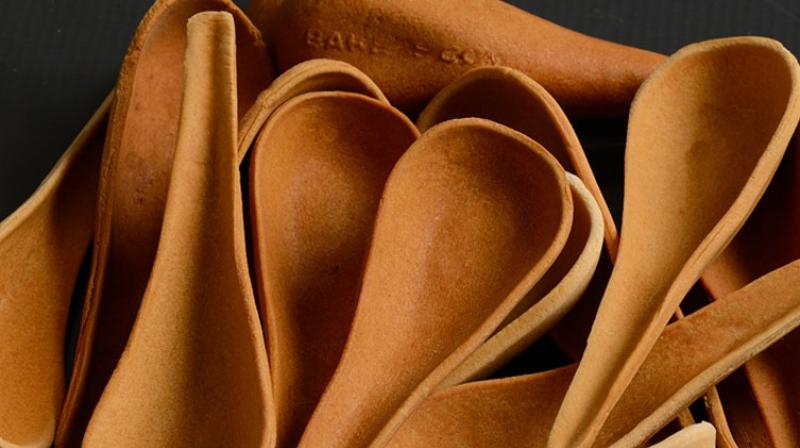 Mumbai: Have you ever wondered if cutlery is harmful to your health? They are, particularly the ones made of plastic.
Studies claim plastic products we use in our kitchen consist of polystyrene which discharges a chemical known as styrene, that could increase the risk of lymphoma and leukemia.
Meet Narayan Peesapaty, the founder and Managing Director of Bakey's Food Private Limited from Hyderabad, the man who introduced edible cutlery to India.
Peesapaty realised how dangerous plastic is and came up with a plan. He invented edible cutlery to replace the plastic ones. You can eat your food with them, and then eat them too!
The products are made up of rice, ajwain, wheat, jowar flour, black pepper to and are made in different shapes and sizes. The interesting part about his invention is that this spoon doesn't get soggy even in hot food and water.
Peesapaty told the Deccan Chronicle: "Tons and tons of rice rot every year in India. I had to do something. We first started making chopsticks with rice and jowar and later produced spoons and forks."
(Photo: Screen grab)
"I realised my main competition was plastic spoons because they were cheap. My spoons are Rs 2 each. However, I am working to bring the cost down to Rs 1.5 or even Re 1. If demand increases, prices will come down further. I am looking forward to replacing plastic cutlery used in small restaurants and railways with these edible ones," says Narayan Peesapaty.
These cutlery can be used for eating anything. It will last till the end of your meal. They are ideal for teething babies too.
(Photo: Screen grab)
You can eat the spoons or throw them away. The product itself decomposes after five to six days if used. It's available in 3 flavours sweet (little sugar), plain and spicy (with rock salt, black pepper, cumin seed and ajwain).
" These edible cutlery are chemical free. There is no use of preservatives and can last up to 3 years in an unused condition. However, you need to make sure they are stored in air-tight boxes or packed properly," adds Narayan Peesapaty.
...