Lifestyle
When food and friends unite
Deccan Chronicle| Karishma Kriplani
Published on: August 2, 2018 | Updated on: August 2, 2018
With Friendship Day just around the corner, we take a look at the most iconic bite-sized combinations ever!
Pesto Tomato Mozzarella Grilled Sandwich
There are some of those times, spent with close friends that are forever etched in our memories. Whether it is hanging out "just for fun" over a hot cup of coffee, or sorting through serious troubles, friends are with us through the thick and thin of every emotion that we go through, in the circle of life. Just like I have a friend for every occasion, I have a favourite food to go with it too!
Pesto Tomato Mozzarella Grilled Sandwich
Ingredients
A few slices of multi-grain bread
2-3 tomatoes
100 gm buffalo mozzarella
Pesto Sauce
Blend basil leaves, cashews or pine nuts, olive oil, salt and pepper to taste (take 2:1 proportion of the leaves to the nuts. Store it for later)
Method
Spread some of the pesto onto the multigrain bread slices.
Thinly slice up the tomatoes and mozzarella cheese.
Top the bread with tomato slices, and finish off with slices of mozzarella.
If desired, sprinkle some oregano over the cheese.
Top with another slice of bread.
Brush both sides of the bread with a little olive oil, and grill on a frying pan or in a griller, until the bread is crisp and golden.
Serve immediately!
Caramel Cold Coffee
Ingredients
5 scoops of vanilla ice cream
30 gm caramel sauce plus a little for garnish
1 shot espresso (made with 1 tsp instant coffee powder and 50 ml boiling water)
Method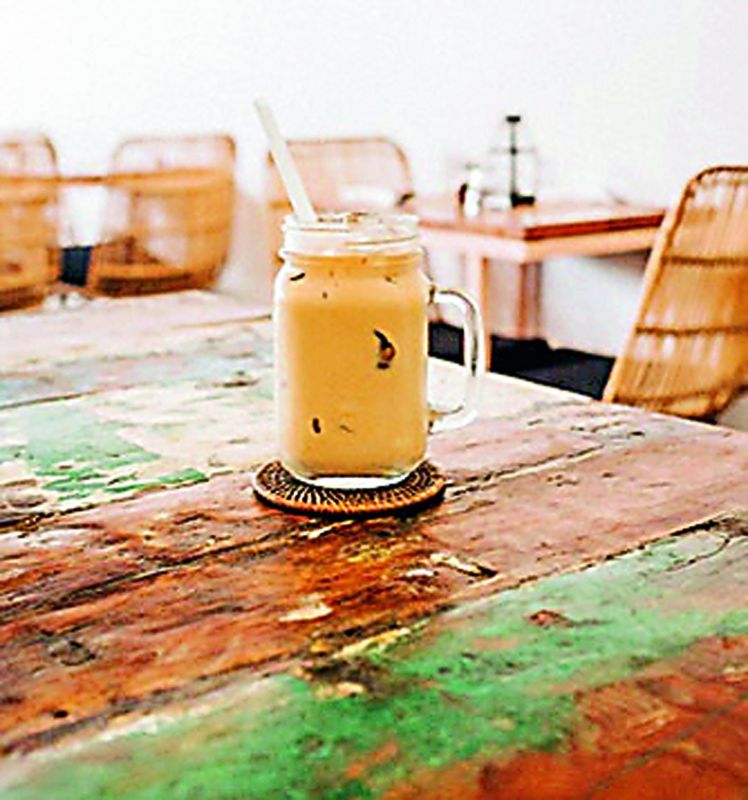 Caramel Cold Coffee
Transfer all ingredients into a blender.
Close lid tightly, and blend until you have a smooth blend.
Garnish a tall glass with caramel by pouring it on the walls of the glass with the help of a spoon. Pour the cold coffee into the glass.
Serve immediately. Enjoy!
Spanish Churros
Ingredients
Coating:
55 gm caster sugar
2 tsp ground cinnamon
Churros
150 gm plain white flour
1 tsp baking powder
Pinch of salt
1 tbsp olive oil or other neutral flavoured oil
250 ml boiled water
2 cups of oil for frying
Chocolate sauce
100 gm dark chocolate chips
125 ml thickened cream (heavy cream)
Method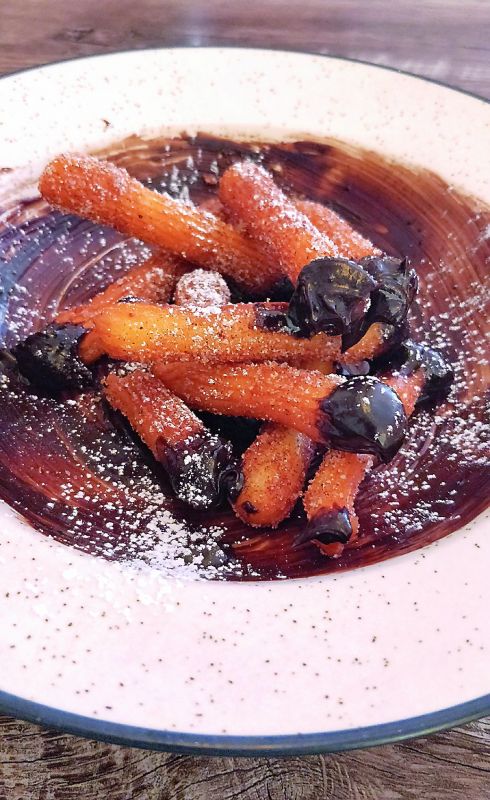 Spanish Churros
Combine sugar and cinnamon in a shallow bowl, set aside.
Mix flour, baking powder and salt in a bowl. Add oil and water and mix until just combined — it should be a thick batter, like a wet sticky dough, not thin and watery.
Transfer dough into a piping bag with a 8 mm star tip nozzle. Let cool while oil heats.
Heat oil over medium high in a wok or small but deep skillet, to 1700C, or until it takes 20 seconds for a small one centimetre cube of bread to turn golden. Pipe 15 cm lengths of dough into the oil, snipping with scissors. Do three to four per batch, makes eight to ten in total.
Cook for two or three minutes or until golden, rolling occasionally.
Remove onto paper towel lined plate to drain. Then roll in sugar. Serve hot with chocolate Sauce!
For the chocolate sauce, place it in a heatproof bowl and microwave in 30 second bursts, stirring in between, until smooth.
As we grow older, it happens many times, that we start spending less time with our friends. Studies have shown that people above the age of 45 who hang out with friends and have a social life are much healthier than those who don't. And one important element of socialising is food. Chef Nicky who runs a café, opposite a college in the heart of Chennai has many students who come as groups to the café. In his words, "Friends that eat together, stay forever!" Caramel cold coffee, spanish churros and pesto sandwich are hot selling amongst what friends order at his café.
— The writer is a food and travel blogger.
HT07
Latest News
Most Popular
Columns