Mumbai: To design and furnish a small space is often a huge challenge. Without a well-defined design framework, small spaces can be a bane for any dweller or designer.
The most essential part is getting rid of bulky & unwanted furniture as it makes your bedroom or your office appear even smaller.
By picking the right choice of furniture, one can dramatically transform a compact area into a roomy one.
With the sheer variety of options available today, recreating small spaces can be equally fun, as there is something for every size & taste.
Today, the interiors market has many cutting-edge designs to utilise a small space, while being innovative & comfortable. One should always remember that the key to have a comfortable life, be it at work or home is by developing a space-efficient environment.
"Every inch is usable and important and the right furniture can make any small room seem bigger than in reality," says Himanee Mrug, Product Designing Specialist and Associate Director, Vector Projects (I) Pvt. Ltd.
Here are few things one should keep in mind when recreating and refurnishing your small space:
(Photo: Tumblr/TinyHousesSmallSpace)
Furniture for a small space is all about proportions. Whenever you buy any furniture, make sure that it can fulfil more than one purpose.
"Hefty pieces of furniture may take up too much room, so be conscious of the size," says Himanee Mrug from Vector Projects.
For example, multifaceted furniture like sofa-cum-bed, smart work stations, ottomans, coffee tables with drawers etc. are a smart investment, as they save a few feet, provide storage, and make the place look less chaotic.
(Photo: Tumblr)
Scale is one of the most important aspect to be considered while transforming a small space.
Opt for armless & barrel chairs or sofas with skinny arms and a tight, upholstered back, instead of bulky sofas or chairs, as they make the room feel overwhelmed.
You can also go for acrylic armchairs as they can be used anywhere - from living rooms to the desk of your office.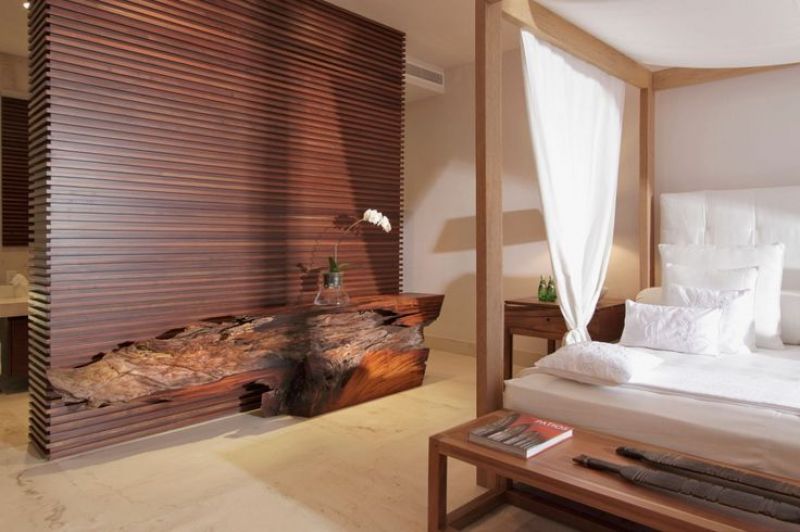 (Photo: Pinterest/ HomeDSGN)
The floor of any space is often the victim of unwanted memoirs. It is time to break the rules and climb up the wall!
You can draw the eye upward to create an illusion of a grander space by adding long, sleek and open vertical shelves that touch the floor and almost the ceiling.
Use glass and wood, to make the long shelves less engulfing. Add hooks and high shelves to break the monotony; your space be it big or small should always reflect your personality, suggests designing specialist, Mrug.
(Photo: Pinterest/ PBTeen)
People often neglect their walls whilst renovating their spaces. They go with default when it comes to paints, forgetting that colours play an important part in bringing the mundane alive.
Dark and rich colours create an impression of smaller spaces, and with limited space in hand the perfect palette is a must. Opt for lighter tones – whites, pastels & creams, as they make rooms seem brighter and easy on eyes.
However, choosing a lighter hue does not mean letting go of dark colours completely. Divide the interior space by painting a few selected beams or a corner in a darker tone, or you can also choose bold coloured furniture to create a contrast with lighter background.
"Avoid too many colours in a tiny space, as it can get overwhelming and confusing, and stick to a palette comprising of maximum two or three colours," says Mrug.
(Photo: Pinterest/Architonic)
A small space may feel boxed if it has only one window and suffers from lack of natural light. Adding a few mirrors can help increase depth to the area and can also bring in natural light when placed at a proper angle to capture the rays of the sun.
The reflection can create an optical illusion to make the room appear larger than it actually is.
You can also increase the use of glass, acrylics and Lucite; they fit into any place and help the eye travel across space due to their clear and reflective nature.
(Photo: Pinterest/Decordit.com)
One can define each area and give them a specific role to play in the apartment. Too much chaos without proper separation leads to things looking messy.
Use a simple curtain to separate two spaces; a curtain can easily divide the area and provide privacy if the apartment is too small to build a door.
Every inch of the room is usable, brainstorm about dead spaces and think ways to store your stuff in the most subtle way.
(Photo: Pinterest)
After you have chosen the furniture that best suits your space, it is time to get in the organising mode. The simplest way to provide a small space some breathing room is by removing excessive and unwanted furniture.
Clean-lined tables with leggy, open-style bottoms and glass tops are some wise options. Also, as opposed to being lined up against the wall, moving some furniture to the centre creates an illusion of greater depth and more space.
"While it is significant to add character to your small space, avoid cluttering it with paired items. Add a dash of contemporary by cutting back on accent furniture and side tables, and instead go for round pedestal tables that can make your space look more elegant and chic," says Mrug.
With the right tricks in your pocket and smart designing, small spaces are no longer a bane and wonders can done to limited square feet.
A major cost effective option does not have to be compromised by cluttered space, one can do a lot with small spaces, and it is time to think smart & act smarter.
...