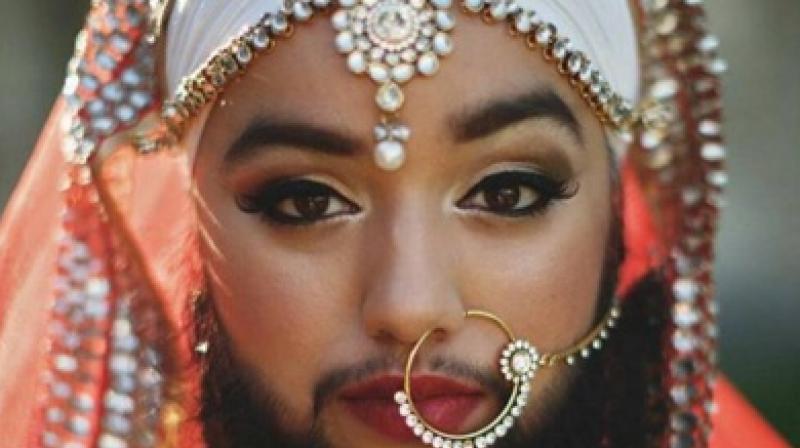 London: Breaking fashion stereotypes, 25-year-old Berkshire resident Harnaam Kaur became the first woman to walk down the ramp rocking a beard.
Referring to her childhood dream of becoming a model, Kaur, who recently walked the ramp for celebrity designer Marianna Harutunian at the Royal Fashion Day in London said, "I grew up watching America's next top model, and I admired Tyra Banks wholeheartedly. I always wanted to be like the pretty models, so I remember copying the way they posed and walked. I grew up being told I was too fat, ugly, and disgusting to even model. I was told I'd never walk the runway. I used to look at models and tell myself that I will never ever be able to do what they are doing. I am not pretty enough or beautiful enough and I don't have the 'right' body type."
But not one to give up easily, Kaur had the last laugh when she posted a picture of herself walking down the runway in a navy-blue skater dress and black combat boots, with matching turban and jewellery. "I was laughed at when I said I wanted to model. The joke is on my bullies."
Diagnosed with polycystic ovary syndrome when she was 11, Kaur was forced to wax, shave and bleach her face to hide excessive facial hair. But after being baptised a Sikh, Kaur decided to accept her body and her features, and has reached a point where she now draws strength from the very factor that was her weakness- "When I first started growing my beard, it was for religious reasons. But as the years have gone by, I've kept it for more personal reasons... It makes me feel like a brave, confident woman who isn't afraid to break society's norms."
...