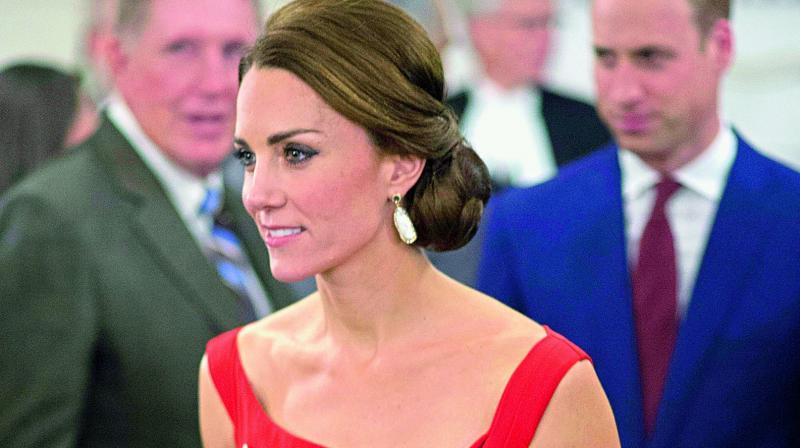 It seems that the Duchess of Cambridge has taken the crown as this year's top royal influencer, beating the royal newcomer, Duchess of Sussex.
The result is on the biggest impact on shopping habits, according to eBay's annual UK Retail Report.
Her maternity style while pregnant with Prince Louis ensured she generated more online searches on eBay than any other royal over the past year.
It turns out that search for tailored maternity coats tripled in November 2017, while Kate was expecting her third child.
Furthermore, in April, searches for designer Jenny Packham more than doubled when Kate Middleton appeared outside the Lindo Wing in a red Packham smock dress for Prince Louis's debut.
Throughout the year, Kate's go-to choices Jenny Packham, Alexander McQueen and Seraphine saw a 20 per cent upsurge in searches year-on-year, with as many as 43 searches every hour.
On the other hand, Meghan Markle, who is known for her signature boatneck necklines, came a close second.
Her fashion influencing power peaked at her wedding in May, when the Givenchy dress she wore to marry the Duke of Sussex led to a more than 60 per cent increase in searches for the designer on eBay, hitting 55 an hour.
Speaking about the survey results, Rob Hattrell, UK vice president of eBay, said that while Meghan was clearly the focus of the fashion pages this year, Kate's distinctive style has long been a hit with shoppers on eBay since her wedding in 2011.
Princess Charlotte, who was top in 2017, came third, with the flower crown she wore as a bridesmaid at Meghan and Harry's wedding prompting a 60 per cent increase in searches for similar products on eBay.co.uk.
The Queen also made it into the top five royal style influencers.
...
Tags:
kate middleton
,
meghan markle
,
kate royal influencer of 2018
,
ebay
,
prince louis
,
jenny packham
,
fashion
,
fashion and beauty
,
alexander mcqueen
,
princess charolette
,
style statement
,
maternity clothes