Lifestyle
Kaleidoscope of colours!
Deccan Chronicle| Ruth Prarthana
Published on: May 28, 2019 | Updated on: May 28, 2019
Hyderabad-based artist Mohammed Osman is holding his ongoing exhibition, Dance with the Bulls at Gallery G till May 31.
Mohammed Osman
Sometimes, the things that we ignore will turn out to be inspiration for some of the greatest pieces of art. The muse of artiste Mohammed Osman's collection Dance With the Bulls is the Gangireddu or Basava. The Gangireddu are oxes that are decorated by their owners with old sarees and clothes that are donated to them. These cows are all decked up in colourful clothes but most often they are ignored. So through his paintings, he decided to capture their beauty. Dance With the Bulls will be on show till May 31.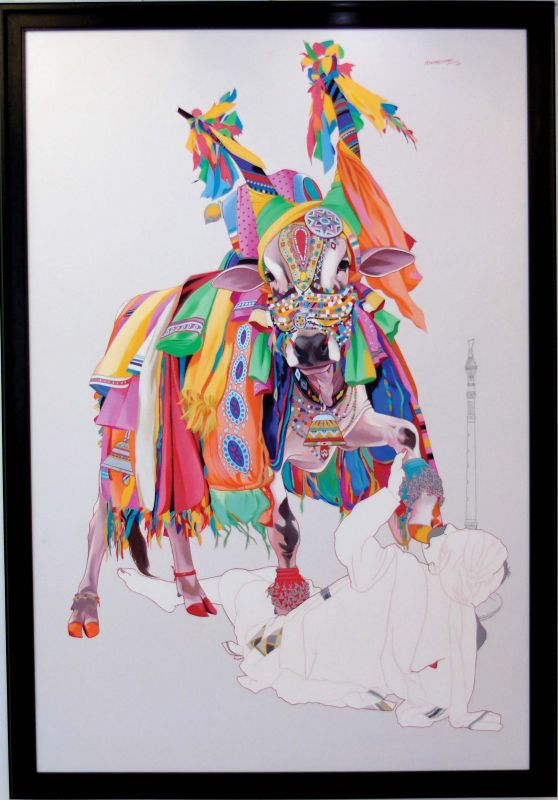 A painting by Mohammed Osman
Starting his journey as a commercial artiste, Mohammed says that his love for painting started at a young age. "I have always liked fine arts, be it dancing, painting or singing. To realise my dream of painting I came to Hyderbad to do a course in fine arts and finally settled in this field," he starts off adding that he is fan of MF Husain.
He adds, "My paintings use a very colourful and flashy palette which is quite similar to the paintings that Husain saab does." After completing his graduation, Mohammed applied for a seat at Jawaharlal Nehru Architecture and Fine Arts University, Hyderabad but he didn't get through at first. He further adds, "At that time, I quit. But, even after getting married, the zeal to become an artist did not die. Hence I re-applied and haven't looked back since." His parents were sceptical at first as the responsibility of his baby girls was on his shoulders but in the end they had to relent. On his first painting commission, he says, "Back then, number plates and sign boards were done by hand, I started off by doing that until it all became computerised."
Dance With the Bulls is Mohammed's first ever subject that he painted after his graduation. Talking about how he came to paint these oxes he says, "While travelling on the bike one day, I noticed these oxes which looked like beautiful and colourful canvasses. They were also decorated with bells and beads. That's when the thought struck of doing a series on them. I did different variations of these oxes."
Mohammed has worked on over 350 painting within a span of 13 years. On what next, "The paintings that I have done till now are realistic. My next project is to give a modern touch," he concludes.
Latest News
Most Popular
Columns