Lifestyle
An artistic makeover
Deccan Chronicle| Palak Dubey
Published on: December 15, 2017 | Updated on: December 16, 2017
MS Maqtha is being slowly transformed into an art district over the last few days.
A wall painting by artist Raghav Bhalla. (Photo: DC)
MS Maqtha is being slowly transformed into an art district over the last few days. Soon, it's residents will wake up to a fairy tale ambience. The St+Art India Foundation, with support from Asian Paints, Krishnakriti Foundation, Art at Telangana, government of Telangana, GHMC and Bonjour India, is spearheading the project, which will bring art to the doorsteps of common people who seldom visit galleries and museums.
Giulia Ambrogi, Co-Founder and Festival Curator, St+Art India Foundation, says, "With every festival and public art project, we try to highlight the importance of opening platforms for emerging artists or those with limited exposure and their intersection with the art world. Cultural variations across India are now activating interesting areas and creating cultural hubs, which are contemporary. At the same time, these cultural hubs are creating new flows of tourism in cities and are also changing the way citizens interact with art."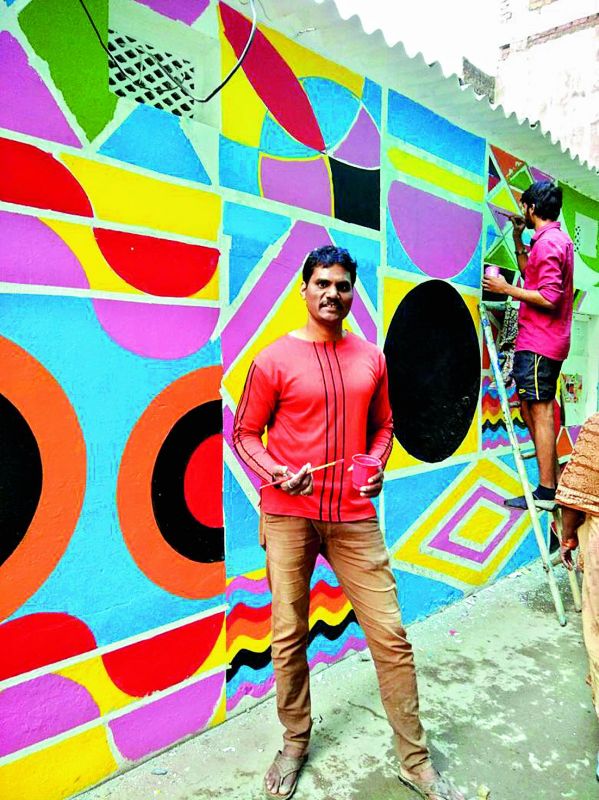 Artist Sukka Sunder
Local artist couple Swathi and Vijay have been working on a wall together. Their composition contains some text as well as plenty of motifs, while Raghav Bhalla has worked with huge simplified forms, that divide the space with interesting visual metaphors rendered in bright hues.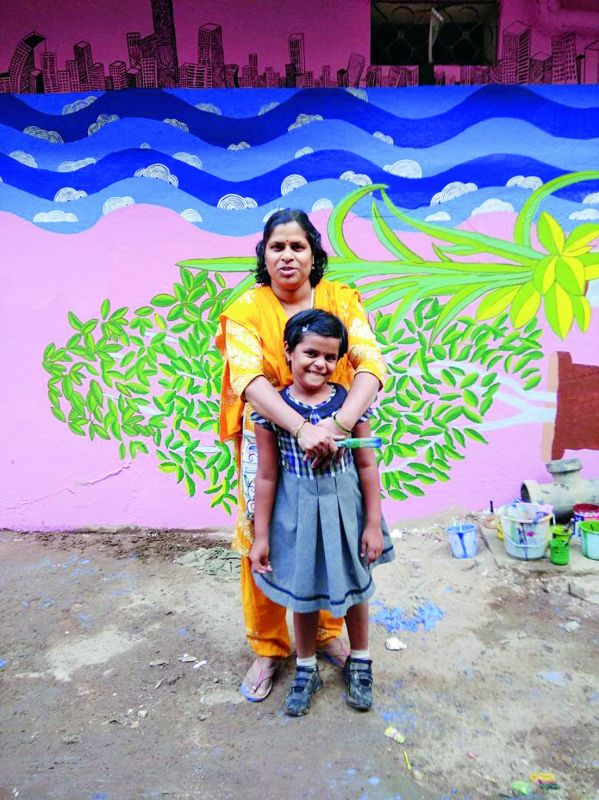 Artist B. Karuna with a kid
Lyrical, bold lines culminate into interesting latticework in the creations of Delphine, an artist from France.
She talks about her experience, "This is my first visit to India and everything was new to me. When I discovered Maqtha, it was even more interesting because the district is kind of a mix between people from varied religious and cultural backgrounds. I was thrilled to find that the area has many kids. So I felt that my wall can make a difference in their life in terms of colours, characters, strange shapes, etc."
B. Karuna and Sukka Sunder, another local-artist couple, have been working in Maqtha. Karuna says, "I have painted pots with plants and in the background a closely set cluster of buildings that signify city life, which is devoid of natural greenery. Here, in this locality, I observed the absence of flora. Through my work I want to inspire the people to surround themselves with greenery."
Latest News
Most Popular
Columns