Artist Kalal Laxma Goud's sketches and paintings have a voice of their own. Born in Nizampur, Telangana, he always liked to play with his ideas, giving them a new meaning to life with his simple strokes.
The artist, who has been drawing and painting effortlessly for the last five decades, starting from pen and ink on paper and moving to etching that came as a natural gift, recently received the nation's fourth highest civilian honour — the Padma Shri.
We browse around the art gallery in Bengaluru, as the artist takes us through his powerful line drawings, etchings and water colours spanning 50 years that is on display in a solo exhibition — An Inner Retrospective.
Artworks of Laxma Goud that are on display at his solo show An Inner Retrospective
"I received my first encouragement from theatre director Ebrahim Alkazi who used to run a gallery in Delhi; he found the nature of my drawings very strong with an individual identity. Like any artist, I did my academics — a diploma in drawing and painting from the Government College of Art from Hyderabad and also studied mural painting and printmaking at MS University, Baroda. Each landscape or portrait carries in it the artist's personal traits; I realised this during my brief stay in Baroda after meeting Prof K.G. Subramanian. Being someone who practises art, his vision helped me a lot. I practise every day and if you see my works in chronological order, there's a constant curiosity to exploring new possibilities, even though the format remains the same," states Laxma, who is currently showcasing his works at Gallery Sumukha in Bengaluru and will move to other cities after that.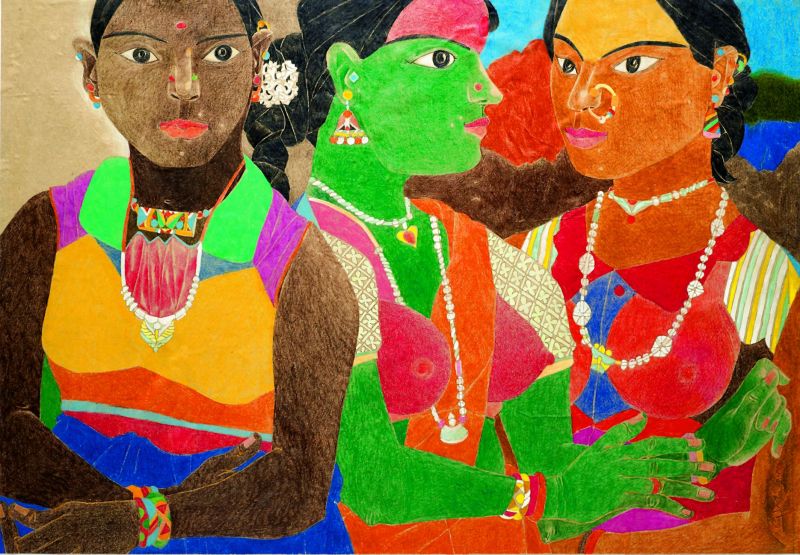 Artworks of Laxma Goud that are on display at his solo show An Inner Retrospective
Laxma is known to be fascinated about erotic subjects and has evolved a distinct style in his etchings portraying an aggressive sexuality. On his rustic, raw and potent artworks, Laxma says, "It's my personal feelings that have emerged out of our own culture and folklore. The relationship between a man and woman must have become the root cause of my artistic efforts. A woman is like the earth, the earth is the personification of the female and no male image is complete without the female. That idea has opened a whole new world before me. If I have to express my view about life, a man, woman and the environment are very important. Myriad moods are conveyed through the imagery of explicitly aroused human beasts, birds, and phallic and vaginal trees rooted amidst intricately stirred foliage."
He began to dabble with water colours and sculptures after a long stint with pencil strokes  and he says, "Periodic changes let me go forward a little and go back a little too. All of us need some isolation, but I can be myself even amidst everyone and paint."
...