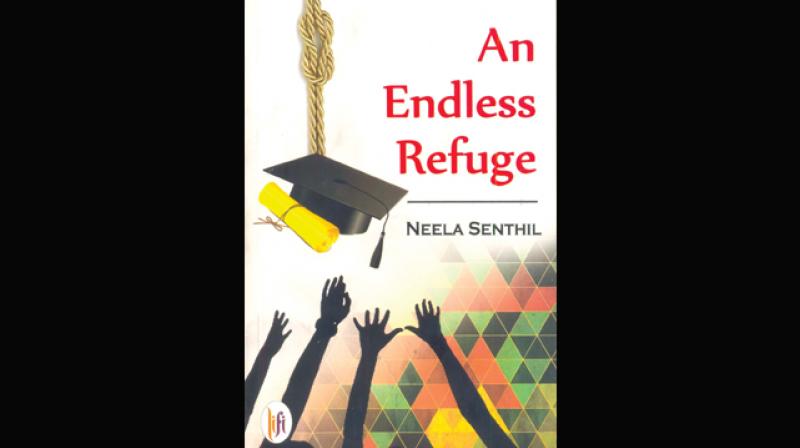 Chennai: It is seven years now since the horrific events at Mullivaikal in Northern Sri Lanka climaxed the civil war in the Indian ocean Island and one of India's closest neighbour. What it cost in terms of lives of thousands of innocent Tamil civilians including children lost, displaced and disappeared is history by now.  
However, post-Mullivaikal, with the nominal return of peace and hope for a durable solution to the far too long-drawn ethnic crisis facing the Sri Lankan Tamils, amid the new Government there involved in a reviewing the Constitution and whether a Federal solution for the Tamils issue would get a chance, the arrival of this book, "An Endless Refuge", a novel set in the backdrop of these recent historical developments, is a gentle, yet effective re-visitation of some of the social, cultural and political issues that have engaged the Tamils refugees, vis-à-vis their 'Tamil brethern' in Tamil Nadu.
For Dr Neela Senthil, who teaches media sciences at the Anna University in Chennai, this is her first published work of fiction. As the author reminds us through one of her characters in this book, "Real life stories are painful; Truth has many faces."
This motif runs through the gamut of her fiction, mapping as it does, in a simple conversational style, the travails of its key protagonist, Sudhakar, a Sri Lankan Tamil refugee who came over to India since he was a child (after the first wave of the ethnic clashes in 1983), and his family. His resolve to pursue a Ph. D. programme, despite the adversarial conditions that enabled him to pursue his basic degree only through correspondence courses, on the 'Sri Lankan Crisis' at the University of Madras, is the telescope through which the author surveys the related landscapes and people.
Sudhakar is convinced his research and deep insights as a sufferer from within can give "positive and practical" prescriptions to resolve the Island Tamils' ethnic conflict. He has to struggle for a year to even get a guide at the History department to consider 'accepting him' as a student, - as background anxieties about Tamil refugees and whether they are 'supporters' of the dreaded outfit LTTE, loom large civil society's memories in Tamil Nadu, particularly after the assassination of the former Prime Minister Rajiv Gandhi at Sriperumbudur in May 1991-. There is also a sense of despondency reflected in voices of some other Tamil refugees that people in Tamil Nadu "don't really bother about us".
However, what is more interesting in this quasi-political-cum-quasi-social novel is its understated, yet unfailing eschatological impetus. A much-respected Prof Chandrasekar at the University, a stickler for academic rigour and merit, finally rings up Sudhakar to say he could join for a Ph.D under him, only for the Tamil refugee student to turn down the offer. The reason: With Mullivaikal, the war in Sri Lanka is over, and for Sudhakar, "now what was there to do research on? About whom would he do research?" "Sir, I am sorry, I don't want to do any research now," Sudhakar tells the professor point blank.  
The protagonist's underlying sense of guilt, pessimism and nihilism could have again sunk him into a sort of anarchism, as it seems to be doing to many other Sri Lankan Tamil youths post-Mullivaikal. But thanks to the enlightenment of another researcher at the University, Roopa, a migrant from Kashmir who made Chennai her home for some years and researched on the plight of the Kashmiris outside J and K, "a refugee within my own country" as she puts it, Sudhakar is shown the bigger picture. By her more recent experiences in London where her husband Rithvik suffering from pancreatic cancer is helped and counseled by a Sri Lankan Tamil doctor, Roopa shows how human bondage is much deeper, how human suffering more universal and transcends ethnic identities.
Sudhakar in the final act of the narrative is convinced by Roopa's friendly argument and agrees to come back to the portals of academia. Through this, the author Neela Senthil has also subtly underscored that hard, rational thinking in cooler settings is the way to go for the Sri Lankan Tamils to find an acceptable political solution to their crisis, rather than any hasty reversion to any form of misguided militarism that already destroyed at least two generations of Sri Lankan Tamil youths, both boys and girls.
The novel, substantially woven through the episodes of basically four research-aspirants, also shows up the mirror to changing value systems among middle class Tamils in Tamil Nadu; for instance, the extent to which childless couples could go to have a child these days thanks to a plethora of 'fertility clinics' and 'mastery' over the science of gynecology. The undercurrent of politics among professors in academia also runs tangentially. But the humanism the novel affirms at the end is its most valuable part.
...