Entertainment
Concept artist Viswanath Sundaram, one of the men behind the picturesque mythical city of Mahishmati in the Baahubali franchise
Viswanath working with Tamannaah and Prabhas.
It is rare to come across a Tamil film, which has a concept artist or a storyboard artist as part of its crew. However, in such an industry where the importance of storyboarding is overlooked, Viswanath Sundaram has made a significant mark and has established how creative artists can make an immense difference to a film. Viswanath, so far, has worked in big-budget films including Baahubali, Brothers (Hindi), Lingaa, the upcoming 2.0 — and he is also the man behind the epic scene where Kattappa stabs Baahubali!
how did you get into this line of work?
I studied Bachelors of Fine Arts (painting) at Bharathiar Palkalaikoodam, Puducherry. I am the kind of guy who doesn't like to do one thing for a long time, I got interested in concept art because it just involves coming up with ideas for the visuals of films — and I love pondering over ideas. I first worked in Balaji Kumar's Vidiyum Munn. Then through my college senior Suresh Selvaraj, I was put in touch with production designer Sabu Cyril. That's how Baahubali happened!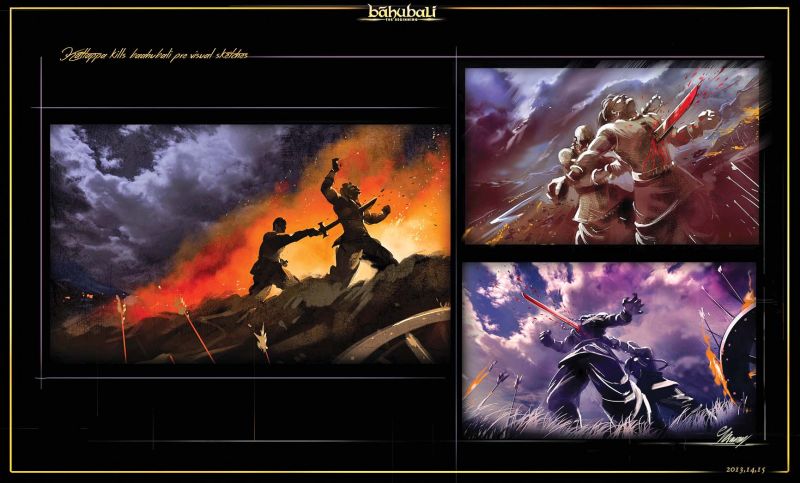 The evolution of the iconic scene
What does it take to be a concept artist?
You have to understand what a director demands. With the two lines that he provides, you have to come up with the visuals. If you can convert text into visuals and come up with a creative way to do it — then you are a concept artist too. It is as simple as that. You also have to think on your feet. In addition, if you know cinema, that's a greater advantage.
Does Rajamouli explain the script before asking for the sketches?
No — he wouldn't even reveal much about the story. Even if he explained certain portions, he might then go on and change it later. I was given only very vague descriptions and asked to come up with the sketches. But it is very intriguing to work like that. So, later when I go and watch the film, I find out why he asked me to do a certain thing. Sometimes, I also think that if he'd told me about the scenes beforehand, it could have been improved. Nevertheless, it is fun; you feel like you are in a suspense thriller!
more About the epic scene where Kattappa stabs Baahubali...
I was given only a little detail about the scene, and I didn't know why the director was asking me to come up with something like that. I went to him with the first sketch — but after seeing it, he told me that the faces of the characters weren't visible clearly. Later, I gave him another sketch, and that didn't work out as well! Then I asked him if I could play around with silhouettes; he agreed.
That's when I made the one where Kattappa stabs Baahubali in the back. He instantly 'okayed' it and took it to the designers. I was very happy to see that he reproduced almost every sketch that I created.
Tryst with Shankar's 2.0
The VFX director Srinivasan Mohan sir, who was also working in Baahubali's first part, called me during a break and told me there is some work in 2.0. He then set up a meeting with Shankar sir himself! I have been in awe of his films right from my childhood, and to meet him in person was an exhilarating experience. Shankar went through my work on Baahubali and praised me for the effort. He asked me to design a robot for 2.0, and also work on the villain. By then, they were trying to rope in Arnold Schwarzenegger. So, I made sketches for him. Later, for some reason, he was dropped from the project.
How important are storyboards for a film?
It is the basic element of filmmaking. If you see Mad Max: The Fury Road, the whole movie was first conceptualised in the form of storyboards. So, they were able to finish the shoot in just 70 days. When you use storyboard for a film, it saves you a lot of time.
Do you see changes happening in the industry in terms of concept art?
Definitely, yes. The director of my first film —Vidiyum Munn — Balaji Kumar studied films. He is knowledgeable when it comes to cinema. So, he went with the proper structure. Likewise, many new filmmakers are coming in with the knowledge and you can see the trend changing evidently.
Latest News
Most Popular
Columns