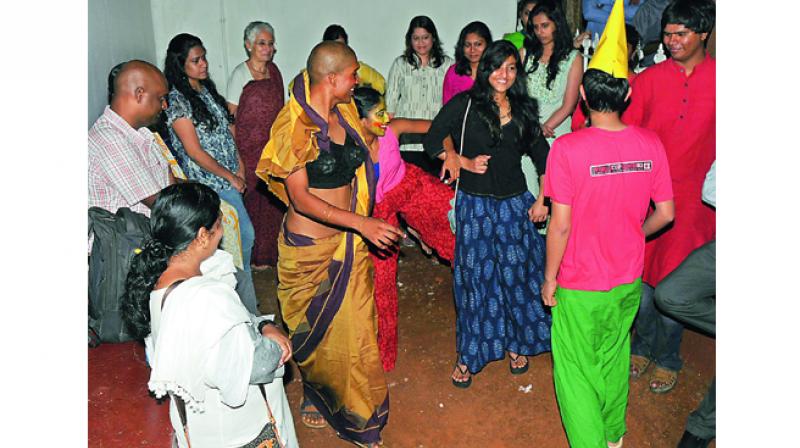 On Friday, Lamkaan hosted a play, nay an experience, called Carnival. From the beginning things were out of the ordinary. The audience was asked to wait in a corner near the entrance and not allowed to go near the stage.
All of a sudden, a clown, a eunuch and a dancer appeared and started dancing with the audience. It was then the audience realised that the performance had already begun.
The audience were led to the performance area which had a cryptic gateway. On its other side was a scary scene of a man making lewd gestures at a woman and another one holding a knife, as if about to stab her. It leads the audience through a makeshift room where they get to see themselves in a mirror juxtaposed with some evil masks.
Next, is a small enclosure where a woman with multiple layers of clothes awaits you. You are asked to remove one item of clothing from her body. It is then one realises that director Pankaj Tiwari shows how society contributes to sexual assault.
A few actors then acted out what the different body parts of woman's body might feel during an assault. All this makes you realise that every time you were a mute spectator of any injustice meted out to women by society, you were implicitly doing what you had just been made to do explicitly.
During the 2012 rape incident, Pankaj was one of the protestors whom the police had detained. That experience shook his very core and he locked himself in a room for a month. When he came out, he came up with the concept of this play.
Without a single chair in the Lamakaan gallery, the audience could not express their feelings through a standing ovation, but the look they had while exiting the premises was the biggest achievement of this brave and talented young man.
...