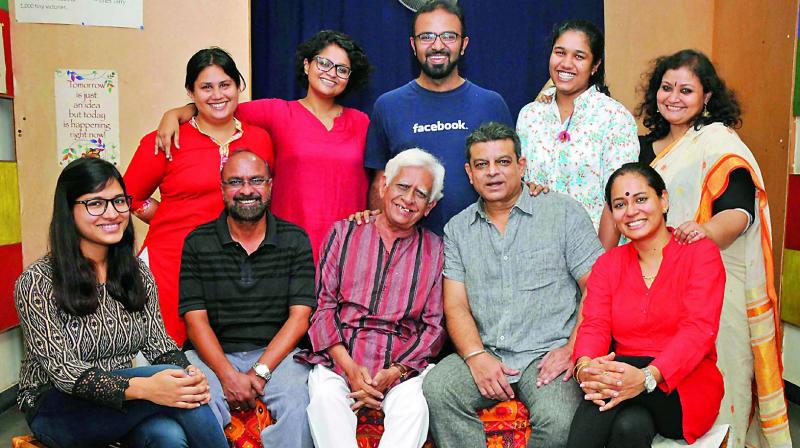 Back in the '70s, writer late Dr Shankar Shesh wrote one of his most intense plays — Raktbeej. Decades after that masterpiece, theatre group Rangadhara will be staging the play to mark its 45th anniversary this month — it's 125th production — and the preparation for the play has been anything but easy.
Vinay Varma, who will be directing this play says, "Shankar's plays have always been intense. However, this story is completely different and it deals with complex human emotions and relationships. This play wasn't published anywhere before and it has always been more of a workshop script," adding that the play is a connection between mythology and modernity.
The two-hour long play showcases the lives of two couples: Sharma and his wife Sujata, and Dr Shantanu and his wife Lalita. The two stories are different, yet find a common thread running through. "Sharma-Sujata's story talks about how far an employee would go to fulfill his ambition, to the point of making his wife, unwillingly, sleep with his boss. The second part deals with Dr Shantanu, who is so dedicated to his job that he doesn't realise his wife's dream of becoming a mother. But after she gets pregnant, things take an unexpected turn and they find themselves in a situation where they might have to barter their soul.
"We are working with the theory of alienation (the use of techniques to distance the audience from emotional involvement in the play through jolting reminders of the performance). Here, the actors take the audience to the catharsis point in the play and suddenly break off from there and ask the audience questions," explains Vinay.
Which is also what makes this play that much more difficult. Poonam Golecha, who plays at least four roles says, "This has been very emotional and I have been in theatre since the last 10 years. What was difficult was to snap in and out of roles immediately. The characters all have some shade of grey, and to break free from them and return back to normal is something that I found difficult."
The actors got together in February and have since been rehearsing three hours a day. Shirish Ghosal, who plays another character says, "Most of the homework we did was based on observing people around us and taking notes. I still find it difficult to get in and out of the roles." Vinay Varma, apart from the director, also plays the other lead role in the play.
...