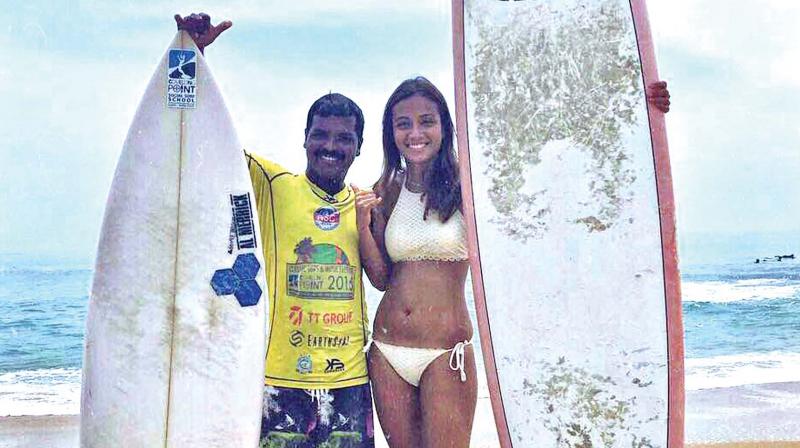 Surfing Covelong Point had a new visitor earlier this week — who even had the founder of the surfing community in the village Murthy Megavan, looking excited. As she took to the waves in style, it was clear she was a natural water baby. Paloma Monnappa was here to wow — and boy, did she have a ball! The Mumbai-based surfer, model, TV host, actor and travel enthusiast was in the city to shoot for her new Discovery Channel project, India My Way — a show about two friends road-tripping across the country trying to re-discover the 'new India' through all the amazing people they encounter along the way.
"I've been on the road for four months, travelling through every state in our country, interviewing inspiring young people leading unconventional lives. My co-anchor, Meraj Shah is a travel writer and a consultant on digital strategy. It's been a crazy, intense journey and really exhausting — but the best learning experience. I would have never gotten a chance to experience India this way otherwise," she tells us.
Paloma goes on further, "It's not a generic travel show where we follow a script and speak into the camera — it's more conversational. And we are not going to typical touristy places; it's the people and stories that truly make the show. The north-east was an unforgettable journey, while Arunachal Pradesh completely stole my heart. I'm looking forward to Ladakh and Kashmir, which is where we end the show!"
And being a surfer, Chennai was naturally a favourite pit-stop for her — "It's inspiring to see young girls in these villages picking up the sport, and being empowered through it. I had a great surf session at Covelong with Murthy, and was surprised to see how clean and blue the water is. He's played a vital role in creating a surf community, and fostering a culture which was previously non-existent. I think it's really cool that people from Chennai have access to these waves as an escape from the city life. I wish we had that in Mumbai!"
Paloma, whose mom is Tibetan and father is from Coorg, still remembers standing up on her first wave at the surf festival in Puri, Orissa and being instantly hooked! "It was really frustrating, because we obviously couldn't surf anywhere in Mumbai, so the guys and I would strap our boards, and go for weekend surf trips looking for waves along the coast of Maharashtra. Initially we surfed at Ganpatiphule, Velneshwar, Kashid, Goa and some other spots we discovered along the way. Most people are still surprised when I tell them there are surf spots in our country! I now surf in Sri Lanka; it's great cause there are waves all year round, unlike in India where it's seasonal," she grins.
She adds that the surf culture is still in its nascent stage, but has blown up immensely over the past few years — "Pretty soon, a lot more people will be picking up the sport! There's so much talent amongst young surfers in coastal villages, it would be great for them to get more exposure, and be the future of India's surf scene. It would be great if the fashion industry recognises the need to engage the opportunity of exploring surfing's lifestyle and culture — through design. Also, more prominent international brands should jump on the band wagon of India's growing surf scene and benefit from a huge prospective market."
Paloma, who started off her many eclectic careers by being a freelance fashion stylist, also enjoys DJing with her electronic dance project Algorythm, and acting as well. "I worked on a short film that came out recently for acid attack victims called Doon Ke Na Doon, written and directed by Myuhit Ali & Tania Gupta. Earlier, I also worked on a Malayalam road-trip film inspired by The Motorcycle Diaries with Dulquer Salmaan called Neelakasham Pachakaddal Chuvannabhoomi where I played the role of a surfer girl." Who knows, we may well see her on Kollywood screens sometime too!
...