Entertainment
Mythology revisited for television
Deccan Chronicle| Shashiprasad SM
Published on: February 27, 2019 | Updated on: February 27, 2019
The Rajkumar family has returned to TV serials after a decade their first production, titled Marali Bandalu Seethe.
Actress Madhubala who plays Seethe, in Marali Bandalu Seethe
It was the year 1975 which witnessed the birth of a future star actor who is now known as power star Puneeth Rajkumar. It was same year which the legendary Dr. Rajkumar family ventured into film production with the launch of prestigious banner Poornima Enterprises which later came to be renamed as Vajreshwari Combines. Smt Parvathamma Rajkumar, wife of Kannada thespian launched the banner with the first venture Trimurthy wherein Rajkumar was seen in a triple role for the first time. Apart from producing 80 feature films and a handful of teleserials, predominantly featuring Rajkumar and his three sons, the banner has also introduced several heroines including Malashree, Sudha Rani, Anuprabhakar, Prema, Rakshitha and Ramya. Now, the banner returns to the small screen after a decade with its brand new serial — Marali Bandalu Seethe on Star Suvarna, in which Vinay Rajkumar makes his television debut playing a cameo in it. Actor and singer Raghavendra, his sons talks about venturing into serial and more.
"The current year has been very special to us. Apart from my return to silver screen after a gap of 14 years, Vinay and Yuvaraj have been busy with movies including my better half Mangala who has taken special interest in the production of the serial Marali Bandalu Seethe. Back then audiences would come to theatre to watch movies in theatres, but now it is we artistes and technicians who visit every audience in their respective homes through television. It is the content which matters most irrespective of whether it is big or small screen," says Raghavendra Rajkumar.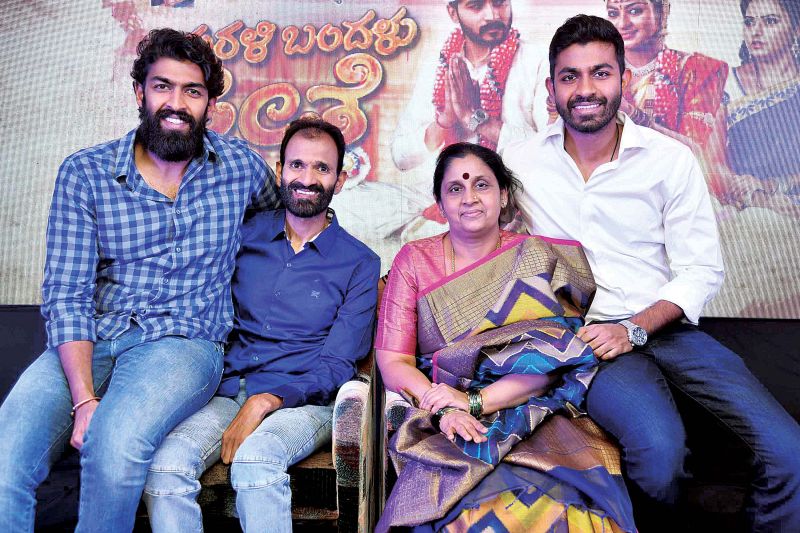 Raghavendra Rajkumar, his wife Mangala and his two sons - Vinay Rajkumar and Yuvaraj Kumar.
About Marali Bandalu Seethe which is penned by filmmaker Hemanth Hegde, the makers says it that has nothing to do with the mythological character Seethe but is close to what Seethe endures in Ramayana. The serial features Nagarjun of Agnisakshi fame, Madhubala and Rakshita in lead roles.
Also, actor Vinay Rajkumar, the third generation actor from the Dr. Rajkumar family makes his small screen debut by playing a cameo in the serial.
"I usually do not watch serials but I do only when I am at home and my mother is watching her favourite teleserials. In fact, I did this for her. It was a different experience acting in a serial, and I enjoyed it," Vinay Rajkumar shares, as his brother Yuvaraj Kumar who is producing for the Poornima enterprises revealed that the banner will produce more serials in the coming days.
Power Star Puneeth Rajkumar, who apart from producing films under his own banner PRK productions has been producing teleserials, and also his elder brother Shivarajkumar through Sri Muthu Cine Services has been producing serials as well as web series.
Latest News
Most Popular
Columns