Entertainment
Dial Dali' for don
Deccan Chronicle| Shashiprasad SM
Published on: April 24, 2018 | Updated on: April 24, 2018
Meet the hot hunk, Dhananjay, who is currently taking Sandalwood by storm.
Dhananjay
A couple of years ago when he would roam around freely on the streets of Gandhinagar (the epicentre of Kannada film industry) seeking opportunities, only a few would recognise him. And, these days, he gets mobbed and results in traffic jam on the same roads with crowds cheering him with the name 'Daali'. It is none other than the name of the character he portrayed in Tagaru as antagonist. A daring choice he made, after playing a hero in some fine projects which includes Director's Special, Allama, Jessie, Boxer, Eradane Sala and few others.
Actor Dhananjay speaks to Bengaluru Chronicle on how Daali has resulted in greater recognition and most importantly the choice of works in the coming days.
"It all took off note of a lighter note while I first met Suri sir at the gym. Since he was impressed with my works in the past, we started talking about films. All of it happened on the treadmill while we were sweating it out. He was curious to know on what kind of role I was looking at, and my response was anything which made sense. Within minutes, he said I will be doing a role in his upcoming film," says Dhananjay.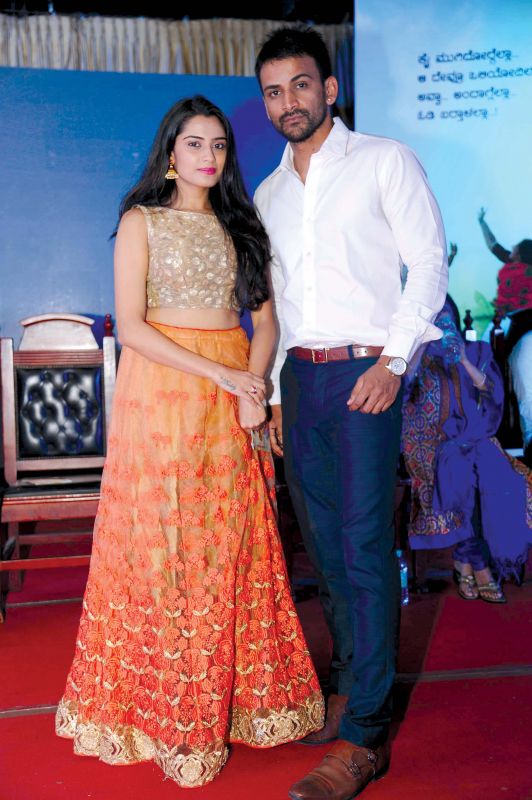 Dhananjay in a file photograph from the promotions of the film Eradane Sala.
Little he know that it was going change his image as a star villain. "When I learnt that I will be playing a villain, I was surprised but I had confidence in him that it will be a challenging one. Thereafter, things fell in place and the end result was something which none of us expected," he adds.
In fact, Dhananjay who impressed all in his debut venture Director's Special directed by Guruprasad, took everyone by surprise with his versatility by portraying the role of mystic-saint and poet Allama Prabhu in Allama directed by T S Nagabharana.
"I am glad that audience recognised my performance in negative shade even after playing as hero in several films prior to it. With no fixed parameters to play a villain, the recognition along with love and support for a character in a film is truly satisfying for me as an actor," he says, adding that the craze among fans is really something he cherishes.
With exponential growth in the number of fan following especially the females, Dhananjay shares that he could not have asked for more, as it inspires him to take more such challenging roles.
"I come across so many lovely fans and among one, a girl has got the name of my character 'Daali' tattooed on her collarbone. It is a painful thing to get it done. I shared it on my social platform. The other best thing is when I see my photos on the back of an auto rickshaw, and on bikes of fans. It is these gestures which makes it all worth at the end of day," Dhananjay says. When asked on his plans to get married, the bachelor says that he has no such plans another three years and right now busy with film which includes a special role in Yejamana starring challenging star Darshan. He wraps it sharing that he has couple of more untitled projects from Suri before he makes new choices.
Latest News
Most Popular
Columns