Entertainment
Lagori: The streets come alive with their music
Deccan Chronicle| ayushee chaudhary
Published on: September 28, 2018 | Updated on: September 28, 2018
The lively strains of a song pulled them out of their stupor.
Traffic came to standstill on Brigade Road in 2013 when Lagori held it's first impromptu outdoor gig
The traffic wound its way along Brigade Road, jam-packed as usual, one evening in 2013. The commuters, no doubt, resigned themselves to the smoky chaos of the evening rush, windows up, helmets pulled all the way down.
The lively strains of a song pulled them out of their stupor. Pedestrians came to a halt and vehicles were abandoned in a hurry, everyone craning their necks to find the source of the melody. Soon, thousands had gathered along the street, cameras out, as music spilled out of the first floor balcony of the Lee showroom. This wasn't the kind of live gig to which Bengaluru had become accustomed over the last decade, with a sparse indie circuit that didnt' have much performance room outside of drinking establishments. And Lagori came on the scene!
"It's always been top of our to do list. So we ticked that off our list that night - to get random people to listen to our music for a full hour. We were shooting for our video Boom Shankar and since we were showing Bengaluru in all its glory, we thought why not take the city by surprise and connect with the audience," said Tejas Shankar, vocalist of the city-based band that stopped the city in its tracks that evening. The band formed in 2011, released their first album in 2013. Eight years on, they're as driven as ever. It's been a beautiful ride to the top, as the band rose from obscurity to finding their faces plastered on billboards across the streets as they arrive for outstation gigs. It's been an expansive process too, one that involves collaborations ,experiments and the constant emphasis on adaptation, on stage and otherwise. "It's important to connect and stay secluded in your own world," remarks Tejas. "When you go to a place, yes you play your music but you also make sure to add something extra for the audience so they connect with your music."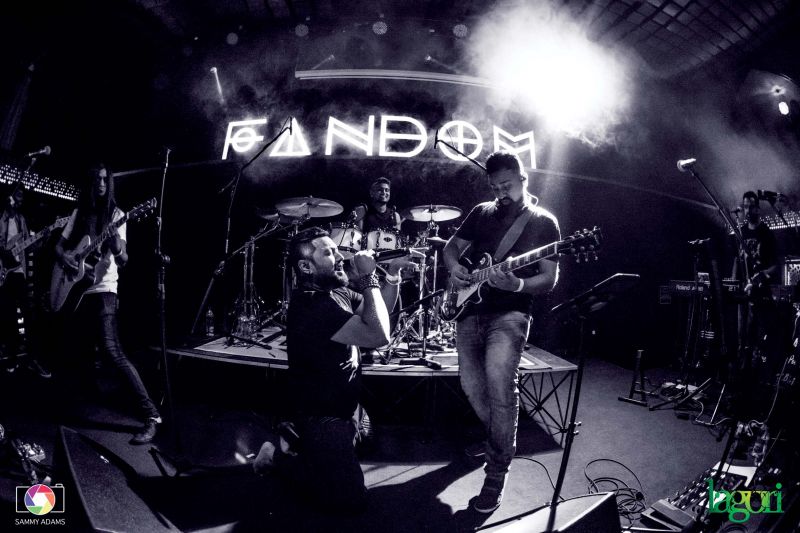 The connection with the audience and the will to explore our boundless local culture continues to inspire the band. Together, they are united by their belief that the listener matters, which helps them strive for a balance between making the crowds happy and staying true to their own artistic persuasions.
They experiment in every way they can, even the languages in which they write their lyrics depending on where they are performing. "It is a give and take. If we appreciate their culture, they will appreciate our music," said Tejas as he takes us through the various audience reactions they have garnered when performing across cities in Assamese, Tamil, Telugu, Malayalam, Hindi, and Kannada. "We don't have a signature style or genre and that way we are presenting versatility to the audience and reaching out to a larger group," said Tejas, for whom singing in all the different languages comes naturally.
The four-piece band came into existence when the guitarists, Edward Rasquinha and Geeth Vaz were joined by the band's drummer, Vinyl Kumar and were looking for a vocalist. Tejas, who was just back from Mumbai after being associated with singing semi-classical music for dance troupes was looking to perform in an Indie rock band when their stars aligned and he crossed paths with the Lagori.
Considering the different musical backgrounds from which they come, their fusion contains a little bit of everything, heavy metal to classical traditions. It makes the Lagori experience a little bit of a roller coaster ride, which their audience loves, for they're all infused with the same contagious energy that excites everybody present.
The band gets its name from a popular street game and their music constantly depicts the nostalgia and the high spirit energy that harks back to childhood. Even though it took five years for the band to establish a studio for itself in the city, they managed to sail through the initial struggle through constant gigs at college festivals, corporate shows, etc.
"Music is about the self but you have to treat your art as a business as well. If you don't establish yourself in order to survive with your art form, you will struggle in the future. We didn't always have the crowds, we have learned through our failures and ensured that we worked our way to get them now instead of getting frustrated," said Tejas. Today, he has built his mother her dream house but it's part of a long journey, much of which was spent struggling to make ends meet. But being broke was not their most pressing problem as they explored their sound.
Their constant need to challenge themselves, experiment and the choice to create a balance between the need for social media likes and staying true to their art has allowed them to evolve successfully. Today Lagori creates music that's powerful yet soulful and certainly upbeat.
Their performances in the city are far more seldom than they used to be, unless it's a special occasion. They will go live this weekend, at the Sobha Soul Fest, a three-day celebration of music, poetry and comedy, featuring some of the country's top performers.
What: Sobha Soul Fest
When: October 5-October 7, 5pm-10pm
Where: Kannuru Road, Mitganahalli, Bellahalli
Latest News
Most Popular
Columns