Entertainment
Sing us a song, you're the piano man
Deccan Chronicle| ayushee chaudhary
Published on: April 5, 2018 | Updated on: April 5, 2018
Karl has seen the city evolve as has he witnessed the evolution of music and artists.
Karl Lutchmayer
India has an extraordinary emerging audience space and a growing womb of talent, believes the globally-acclaimed pianist Karl Lutchmayer who has been spreading the magic of music as he moves fingers on keys across nations and generations. The renowned artiste and music educator was born of Indian parents in London. His Indian origins occasionally brought him to the nation and to this city. "It was in 1975" that Karl remembers coming to the city for the first and since then he has only been coming back almost every year now to engage with the city musicians and explore the possibilities of music that lie within the plethora of aspirants here.
Karl has seen the city evolve as has he witnessed the evolution of music and artists. "About 10 years ago, hardly one person would go abroad to study music from the country, now there are at least 5-6 of them every year. From probably 5 years ago when you would come across hardly eight people having a master's degree in music, today there are over 30 such people," stated Karl who is ecstatic at the open mindedness people have here towards music.
He also added, "More people are now going to London to study music and then coming back to spread the same. The thing here is that the larger the grass root levels, more the number of people standing at the top of the mountains and at the moment that grass root level here is growing enormously."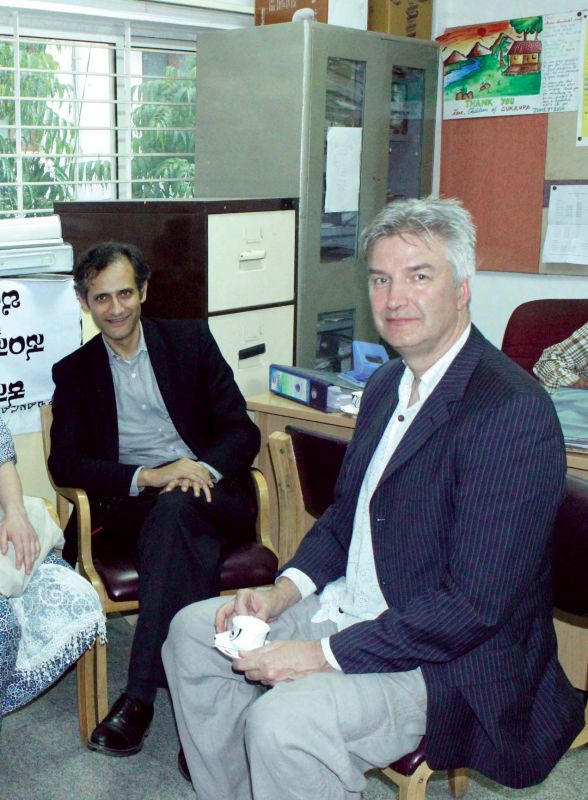 Karl and Nic
As he mentioned about the flourishing demand for western music especially in cities like Bangalore, he explained, "In London there is some 250-300 years of public concert, people are very used to it and it's highly normal there. While in India, we have a thriving audience space and we have a scope of creating audiences. In England, it's saturating; we cannot create audience there anymore."
However as he acknowledges the challenge that a lot of people face in going abroad and study, he mentioned about a project he is working on with his international colleagues to bring a master's program in India that will cater to the aspiring musicians by providing them the similar quality of education in music that they receive abroad without having to worry about the scholarships and money required to go there.
Karl who came across piano through his mother, realised an inclination towards the instrument early in his life, earning himself a scholarship junior program of piano at Trinity that eventually brought him to the point of decision further when he had to decide his major. The choice was between law at Oxford and piano at Royal College of music. "My parents who wanted me to be a barrister, gave me chance and the bottom line was if I am not able to make it in this, I have to do law and find a proper job," he laughs happy that once he started with piano, law was never mentioned again.
Karl has given recitals and concertos throughout the world and performed at all the major London concert halls. He has broadcast on BBC Radio3, All India Radio and Classic FM, and is a regular chamber performer, particularly with his own ensemble, Dialogos. A passionate advocate of contemporary music, Karl has also given over 90 world premieres.
What exemplifies Karl is his commitment as an educator. Having lectured at Trinity College of Music, London, where until recently, he was Professor of Performing Practice, he has given lectures in various renowned institutions globally. For last five years, Karl has been gracing the Bangalore School of Music with annual piano workshops.
"It's wonderful to come back here and engage with these young excited artists who are so curious. What delights me is the overall development that these classes provide to these kids as they interact not just with music but also with each other through different activities," he said hoping that he is contributing his bit towards the future of music.
For Karl, music is a communication of emotions and instrumental music adds to the subtle experience of it, filling in the gaps that might be left between the words.
Karl who is particularly well-known for playing music of the Romantic era, especially Liszt, as well music from the Early Modernist period such as Bartók, Busoni and Debussy is performing on the 150th anniversary of the Bangalore Club with his colleague Nic from London. Nic Pendlebury who heads the String Department at Trinity Laban Conservatoire of Music and Dance is also the founder and violist of the internationally acclaimed Smith Quartet renowned for their performance of new music and prize winners of the Prudential Award for the Arts. Together Nic and Karl will revive Brahm's lullaby that were produced 150 years back in 1868 during their performance, after which Karl would take off for his other life in London where he has a rock band and he sometimes plays a trumpet in orchestras apart from piano.
Karl, who would like his biography to be entitiled 'Sprezzatura', is humbled by his accomplishments and treasures the award of Bharat Gaurav the most and when not engaged with music, Karl collects classic cars, does a lot of dancing, surfing and fencing. "My secret techniques if you ask, is only to work hard," said Karl as he prepares for his next lecture.
What: Annual Summer Academy for Piano by Karl Lutchmayer | When: April 2-7
What: Annual Summer Academy for Strings | When: April 7-11
Where: Bangalore School of Music
Latest News
Most Popular
Columns