Entertainment
Peace Oudh: Music without boundaries
Deccan Chronicle| ayushee chaudhary
Published on: March 1, 2018 | Updated on: March 1, 2018
That's life as usual in certain parts of violence-torn Palestine, where children grow up amidst machine guns.
Akram Abdulfattah
You're driving home on a silent night when suddenly, you're surrounded by three military jeeps and the unmistakable sound of gunfire. That's life as usual in certain parts of violence-torn Palestine, where children grow up amidst machine guns. Every day is reduced to a mere struggle for survival, the higher pursuits of knowledge and art have no room here. Even so, two lads, Akram Abdulfattah and Maen Ghoul, have managed to break free of childhoods ravaged by war and rise above the rest.
"It's a lot worse than what people see in the media and it's only getting worse. Shockingly ,in the 21st century, we have leaders who preach democracy but stand by ideals of oppression and seizure," says Akram who was born in New Jersey but moved to Palestine with his family when he was seven. "An alien from New Jersey," in Kawkab in northern Palestine, Akram survived the cultural shock.
"It's not easy. If you want to do something unconventional, you have to get used to all eyes being trained on you. It's quite disturbing to experience and creating music becomes that much more challenging," says Maen, who was born and raised in Selwan, Jerusalem.
They both want their identity to spring solely from music and met at the Jerusalem Academy of Music and Dance in 2012. They have been together since. Akram studied the violin and moved onto production and composition, where he combines the sounds of classical Arab music and jazz influenced by Indian, Turkish, Egyptian and Persian styles. Maen's mainstay is jazz percussion.
"We aren't creating or promoting one particular genre, although we stay rooted to classical music. When we compose, we tweak the existing music and combine it with another form," says Akram. "Music has to be out of the box, flow like water and have colours, like the salad on our table," he points by way of explanation.
Akram's first influence is his father, who got him his first oudh. "My father had one as a child, which was broken by my grandfather and used to dry watermelon seeds," he laughs. "This was something the village community decided on and he decided then that he wanted me to have a chance at that dream." He chose music over another major in Class 12 and hasn't looked back since.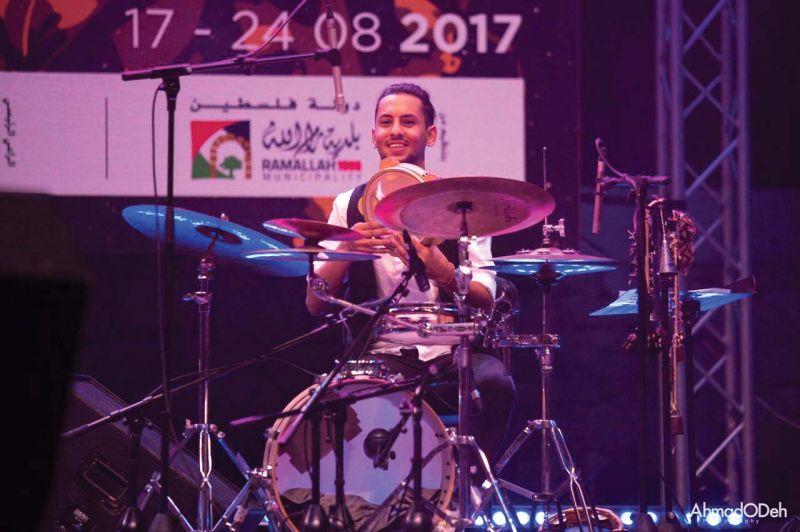 Maen Ghoul
Maen, who has successfully managed to outlast the turbulent mutjamae (Arabic for society) that surrounds him, the choice was between music and music. "I was always inclined to it, the stage is where I belong." Their maiden trip to India has them mesmerised, despite the noise being a bit much at first. For Akram, however, there's more. They're both consistent followers of Carnatic music and meeting the masters here was always something they hoped to do. "Something beyond words has struck me about the music here. Our musical journey is now divided into Before India and After India."
The quieter of the two, Maen is still trying to recover from the cultural shock but adds, "Here, we get a lot more acceptance and encouragement from other musicians. This is absent back home and it motivates us. Here, music feels like a religion."
Having festival-hopped across the world, they have come to understand the universality of music. "Producing new music is an experiment and a process. It's like raising a child," he continues, pointing out their disapproval of commercial music, "the enemy."
Akram's compositions are built on concepts that begin in his mind and to him, music is a responsibility as much as a passion. They set off for a jam session, saying, "You have to focus on yourself and your growth and not the surrounding as the surrounding will only disturb you. You have to muster the courage to destroy the boundaries that clutch you through your music and art."
What: Primal Presents Akram Abdulfattah w/ Maen Ghoul
When: March 4, 9 pm
Where: Primal, The Smoke Co., Koramangala
Entry: Rs 400
Latest News
Most Popular
Columns