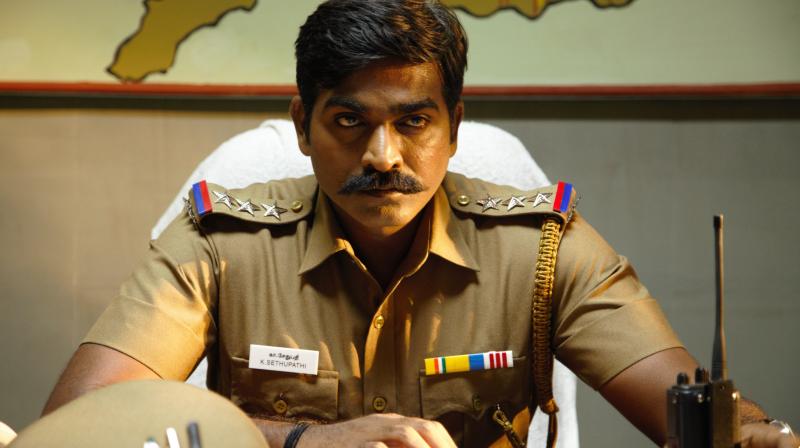 Rating:
Director: Arun Kumar
Cast: Vijay Sethupathi, Remya Nambeesan, Vela Ramamoorthi
Versatile Vijay Sethupath and Arun Kumar known for his off the beaten path scripts earlier teamed up for a classy movie Pannayaarum Padminiyum which received rave reviews. Once again the duo has created the same magic with their latest mass entertainer Sethupathi, which is a perfect family outing.
Sethupathi (Vijay Sethupathi) is a sincere police officer and is a terror to his fellow cops as well as to criminals and his peers call him a psycho. All the same he is a dutiful husband to his wife (Remya Nambeesan) and a lovable father to his two kids.
The story begins with a man in khaki ruthlessly burnt in the middle of the night and Sethupathi vows to punish the guilty. On probing, he realizes that it was the brutal work of Vaathiyar (Vela Ramamoorthy), a wealthy henchman with many shady businesses and one who controls the city of Madurai.
Sethu teaches a tough lesson to Vatthiyar and punishes him in his own style. However, a humiliated Vaathiyar starts troubling Sethu and his family in all possible ways, when an accident involving a teenager shatters Sethu's clean image. He loses his job and a special inquiry team has been setup to investigate the case. The rest of the movie all about how Sethu clears his name and get back to his passionate khaki uniform.
It is Vijay Sethupathi's show all the way! He steals the show in his cool family man as well as tough cop avatars. His moves are full of energy and enthusiasm and his impeccable dialogue delivery is a treat to watch. With his robust looks replete with a handlebar moustache, the actor is convincing when he bashes up many single handedly. Remya Nambeesan is cute and has given a fabulous performance. The duo has a sizzling onscreen chemistry. Vela Ramamoorthy impresses but Arun could have avoided showing his sidekicks as a set of jokers. The two kids are aptly cast and they provide an effective foil. Arun has woven an interesting screenplay, which is also to some extent unpredictable. On the downside, it lags in the first half with few lengthy scenes.
On the technicalities, Nivas Prasanna's compositions as well as background score Sreekar Prasad's adept editing and Dinesh Krishnan's camera work, elevate the film to a great level. Overall, Sethupathi is a well-made entertainer that is not to be missed!
...