Entertainment
Incredibles 2 movie review: A guaranteed good time at the movies
Deccan Chronicle| Mayur Sanap
Published on: June 19, 2018 | Updated on: June 20, 2018
While 'Incredibles 2' is not Disney-Pixar's best, but it's certainly a solid sequel to a beloved film.
Fun fact: 'Incredibles 2' is Pixar's twentieth feature film. (Image Credit: Disney-Pixar)
Director: Brad Bird
Cast: (Voiceovers by) Craig T. Nelson, Holly Hunter, Sarah Vowell Huck Milner, Bob Odenkirk, Catherine Keener, Jonathan Banks, and Samuel L. Jackson.
'Incredibles 2' has been hyped for quite long, as it is perhaps one of the few worlds that Pixar created that had something to build-upon and create something different and exciting with a second installment. Unlike films like 'Cars 2' or 'Monsters University', a sequel truly felt necessary in a world where Hollywood is busy churning out more and more superhero films. With all that considered it seemed like a no-brainer that another Incredibles film could work in this current landscape and provide a new outlook on the genre of superhero films, just as the original film did back in 2004. Like the predecessor, 'Incredibles 2' deconstructs the idea of a superhero and shows the 'gifted' family in the usual conventions under unusual and funny circumstances. It all results into an equally charming movie that was well worth the 14 year wait.
Just few months later after the events of the first film, the 'incredible' family of superheroes is struggling with changed circumstances. Helen/Elastigirl (voice of Holly Hunter) called upon by Devtech, a company run by Winston and Evelyn Deavor, who wish to bring back superheroes and show them in a positive light. The brother-sister duo believes Helen is just the person to help do so. With Helen in the spotlight, Bob (voice of Craig T. Nelson) is left at home with kids, Violet (voice of Sarah Vowell) and Dash (voice of Huck Milner) to navigate their day-to-day life. The family is still unaware of baby Jack-Jack's emerging superpowers. Things get tougher when a new villain hatches a vicious plot against the superheroes. Now the family and Frozone (voice of Samuel L. Jackson) must find a way to work together again.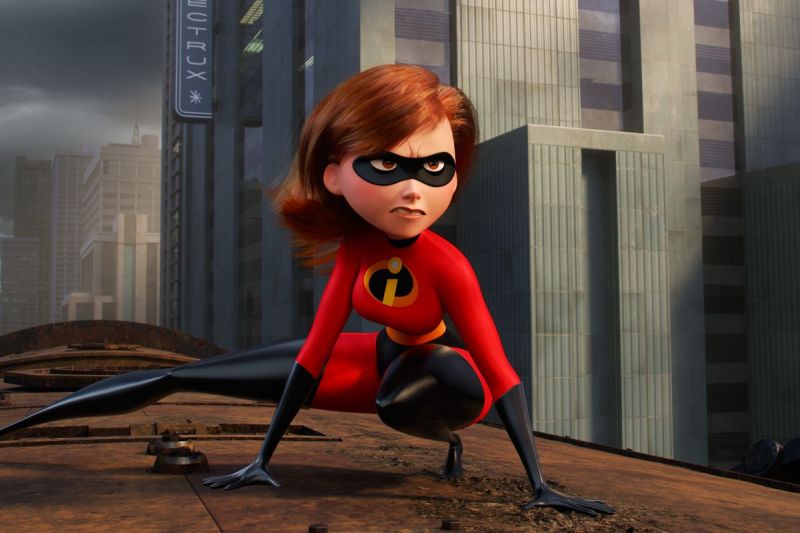 Actress Holly Hunter voices Helen Parr/Elastigirl in the film. (Image: Disney-Pixar)
Director Brad Bird (who also helmed the first Incredibles) took the time to make an amazing squeal that was worth the wait. 'Incredibles 2' has some of the best animation Disney-Pixar has put out in recent years. A few shortcomings come to mind while watching this movie though. One, the villain is not as strong as Syndrome from the first. Screenslaver is no Syndrome in turns of personality, and even the mind control technology that it uses is clichéd. Second, the story doesn't really give us an in-depth character plot for Helen; instead we get something banal so that the film present itself as feminist advocate taking today's political environment into consideration. The story does feel darker than the last, yet Bird's skilful direction keeps the tone light-heartened and entertaining.
The animation looks spectacular in every scene, the action scenes are actually tremendous to watch. Score by Michael Giacchino is just as excellent as the first film. The voiceover cast has done an amazing job yet again. Craig T. Nelson is perfect as Mr. Incredible. He is bold, funny, and endearingly vulnerable. Holly Hunter is solid and folksy as Helen, who also projects a quiet power.
In the end, 'Incredibles 2' is a well-made sequel, even if it isn't perfect. It is everything you could ask for in a Pixar film - an enjoyable, thrilling, incredibly fun ride. While this film is not studio's best effort, it's definitely a solid sequel to a beloved film. A good time is guaranteed.
Watch Incredibles 2 trailer here:
Latest News
Most Popular
Columns