Entertainment
Kalank movie review: Consumed by its own grandeur
Deccan Chronicle| Mayur Sanap
Published on: April 19, 2019 | Updated on: April 20, 2019
Despite a stellar cast, stunning cinematography and fabulous sets the film never gels, and the story creeps along.
Kalank cast: Madhuri Dixit Nene, Sonakshi Sinha, Alia Bhatt, Varun Dhawan, Aditya Roy Kapur and Sanjay Dutt in the poster. (Photo: Twitter)
Director: Abhishek Varman
Cast: Alia Bhatt, Varun Dhawan, Aditya Roy Kapur, Madhuri Dixit, Sonakshi Sinha, Kunal Kemmu and Sanjay Dutt.
When we first saw the cast line-up for this highly ambitious period drama, almost everyone thought it was going to be a masterpiece. The Karan Johar co-produced magnum-opus boats of a dream star-cast that includes the likes of Alia Bhatt, Varun Dhawan, Madhuri Dixit, Sanjay Dutt etc. The list goes on. But, it goes to show that a brilliant cast cannot make-up for mediocre.
Set in 1945 in the pre-independence British era, Kalank chronicles the journey of a young spirited woman named Roop (Alia Bhatt). The film starts with a dramatic and a relatively entertaining sequence which brings Alia to the forefront of the story-line. But, it quickly goes downhill from there. We are then introduced to the rest of the cast and we quickly learn they all have their own stories.
Roop gets emotionally blackmailed by Satya Chaudhary (Sonakshi Sinha), a woman dying of cancer, to provide companionship to her husband, Dev (Aditya Roy Kapur). Roop, who is also self-destructive by nature, agrees on the condition that she marry Dev. He still loves his wife and tells Roop that it will be platonic relationship between two of them. Stuck in loveless marriage, Roop begins having an affair with a womanising blacksmith named Zafar (Varun Dhawan). As twist in the tale, Zafar has his own agenda behind his closeness to Roop which could potentially ruin her life.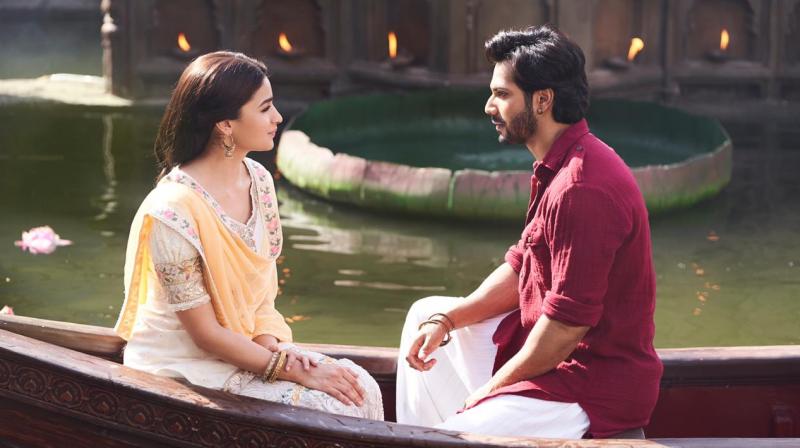 Kalank title track glimpse featuring Varun Dhawan and Alia Bhatt.
Firstly, the film is undeniably beautiful, the costumes, sets, filming etc, the film certainly grabs attention for the visuals. It has the grandeur and claustrophobic confinement that is necessary.
Beyond this though, the film is incredibly lacklustre and boring.
Abhishek Varman's (2 States) latest directorial effort is peppered with lengthy scenes that find the film engaged in conversations with other characters as they try to impart kernels of wisdom, truth and philosophy. Unfortunately, screenwriter Varman along with his dialogue writer Hussain Dalal fail to realise that they are not writing a novel here. The story just doesn't have enough tension or energy. The characters speak in soulless monologues, and there's scarcely an ounce of naturally delivered dialogue in any of these exchanges. The lack of structure, incoherence of plot and sheer pomposity of the characters is frustrating to watch in the nearly three hours long drama. Despite a stellar cast, stunning cinematography and fabulous sets the film never gels, and the story creeps along. With no one to hold onto, Kalank stands as little more than a cliché love saga, and ultimately falls flat.
It's hard to find fault with the talented cast, but when working with such messy material, it's difficult to be at the top of your game. The characters are played by a great ensemble, but no one really shines through. If the film is going to revolve around information given to us by other characters, we should know the characters better. Alas, there so much focus on Alia's Roop, the exploration of the supporting characters is limited, meaning many of the characters are really sketchy in development.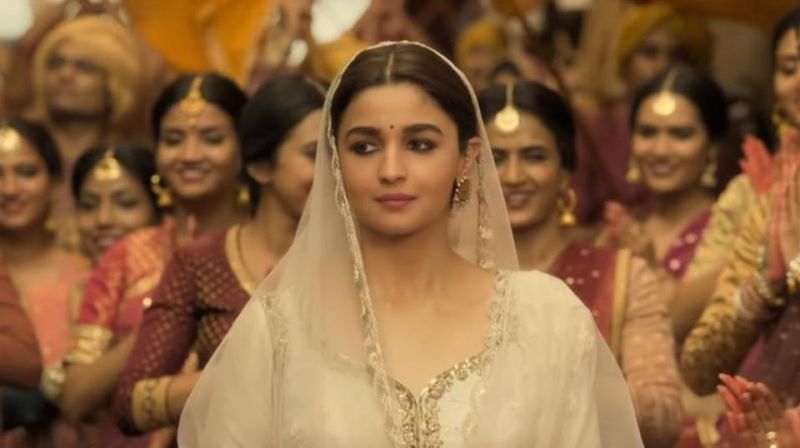 Alia Bhatt in the still from the film.
Alia Bhatt looks ravishing, but she acts in an extremely wooden fashion. Varun Dhawan's Zafar is a complex character; the actor could have brought out more of Zafar's lighter and more eccentric side, like the obsessiveness, but there isn't enough of that here. Aditya Roy Kapur and Kunal Kemmu (as Varun's vengeful friend) are real standouts who give their best despite the limitation of the material. Madhuri Dixit-Nene, Sanjay Dutt, Sonakshi Sinha are hammy in one-dimensional caricatures. Kalank quickly becomes a frustrating and befuddling experience, as you wonder how can a film with so much talent feel so drab?
In summary, style is not a substitute for story. Some good things do not make up for the complete derailment of this bland endeavour and an exhausted viewer leaves the theatre wondering exactly what the hell had happened, both in front of the camera and behind it.
Watch Kalank trailer here:
Latest News
Most Popular
Columns