Entertainment
De De Pyaar De movie review: It's all humdrum, never that funny
Deccan Chronicle| Mayur Sanap
Published on: May 16, 2019 | Updated on: May 17, 2019
Despite its bright premise and superlative cast, the Akiv Ali directorial isn't as smart as it aspires to be.
A still from the film.
Director: Akiv Ali
Cast: Ajay Devgn, Tabu, Rakul Preet Singh, Jimmy Shergill, Kumud Mishra, Alok Nath.
There's something enjoyable about silly romantic comedies that center on middle-aged people for a change (In Bollywood, they must look fancy nonetheless). Debutant director Akiv Ali's 'De De Pyaar De' (DDPD) features Ajay Devgn and Tabu in their age-appropriate roles as they deal with a mid-life crisis. The story, while seeming fresh and exciting on paper, devolves into a half baked idea. The film is co-written by Luv Ranjan, whose bubbly rom-coms have set a dubious but successful standard in lightweight entertainment (Pyaar Ka Punchnama series, Sonu Ke Titu Ki Sweety) about men getting into the kind of trouble most men can only dream about.
Ashish (Ajay Devgn) is a 50-year-old divorcé who falls in love with Ayesha (Rakul Preet Singh), a 26-year-old woman. Eventually, they both get into a relationship. After initial reluctance, the couple decides to meet Ashish's family, including his former wife Manju (Tabu), to tell them about their relationship. Chaos ensues when Ashish's family reacts unexpectedly on hearing the news.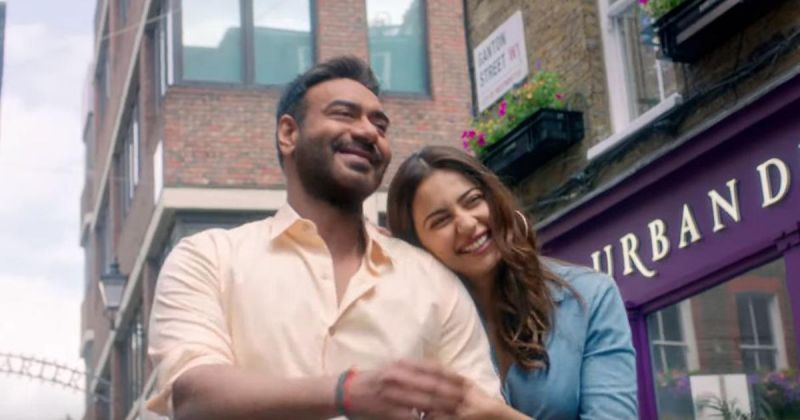 Ajay Devgn and Rakul Preet Singh in the still from the film. (Image Source: YouTube)
The first problem is evident in the first frame. We are immediately aware of the ending. So, all that's left is the how. And the how is almost utterly preposterous. With a great cast along for the ride, you might have been expecting something beyond the usual rom-com fodder, but the film editor turned director Akiv Ali delivers nothing beyond the norm, in fact, its traditional messages are undone by a convoluted script. The script by screenwriters Luv Ranjan, Tarun Jain and Surabhi Bhatnagar adheres so slavishly to conventional Bollywood wisdom that the film never feels as fun as it should. It is a comedy about people 'of a certain age' and their interpersonal equations, but the film rarely rises above the level of a television sitcom. It pointlessly hammers throughout how important sex is in a relationship and how complicated a divorce can be when it's not over until it's over. There are also many ingredients added to DDPD which reminisces of Luv Ranjan's hand at comedy. So, Ali uses slow motion and excessive background score to 'elevate' the scene, there's a mandatory loud party song, lewd jokes and an offensively unfunny conversation using a 'purani gaadi' (old car) as a metaphor for an aging woman. The misogyny doesn't stop there, to top it all, when a man cheats in this film it is described as an act of magnanimity towards a woman in need!
The potential peeks out every once in a while, teasing the audience that things are about to get better. But those moments quickly fade as DDPD seems more content to sticking with a safe formula. The film is amusing in parts, but there aren't many clever and unexpected moments that typically make an audience laugh in the theatre. The film has a few serious comments about modern divorce and it also tries to make a few pithy observations about live-in and self-esteem crisis, but it's nothing profound. By doing so, it only results in a bouncy tonal shift. The film can't make up its mind whether to do slapstick or more sophisticated brand of comedy.
The director's lack of novelty extends to the selection of music used on the soundtrack. The weak songs continue to break the flow every now and then. The pacing though is good enough, and after a steady introduction, builds rapidly with interesting proceeding, especially in the second-half.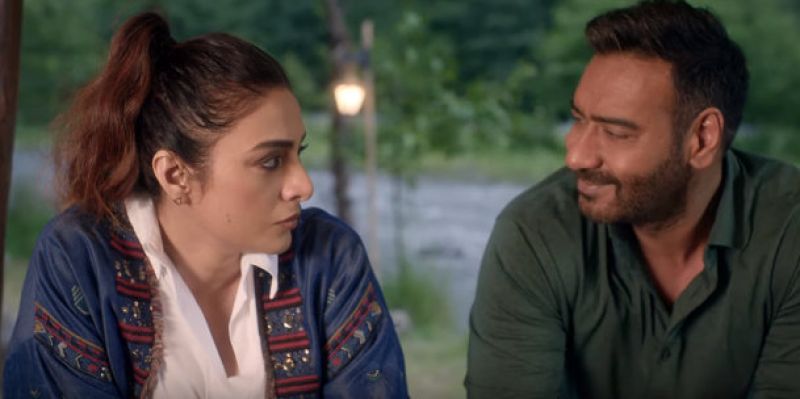 Tabu and Ajay Devgn in the film. (Image Source: YouTube)
Ajay Devgn is witty and believable and has great chemistry with charismatic Tabu and together they make the film a painless slice of escapism. Tabu finally gets her chance to cut loose and her frisky, flirty Manju is a comic revelation. For a pivotal role, however, Ayesha is underwritten and doesn't get the chance to put her side across. Despite that, Rakul makes the most of her part and gives a charming performance. Jimmy Shergill and notably Kumud Mishra, are great and give the film its moments of comedy. The film works as a decent comedy whose many sins are forgivable anytime these stars are on-screen.
At the end, if you take this film for what it is, you'll probably enjoy it, which is - frivolous fun; but with this caliber of the cast, it's a little disappointment.
Watch 'De De Pyaar De' trailer here:
Latest News
Most Popular
Columns