Entertainment
Fantastic Beasts The Crimes of Grindelwald review: Doesn't live up to its name
Deccan Chronicle| Mayur Sanap
Published on: November 15, 2018 | Updated on: November 16, 2018
A low-stake, contrived story filled with futile characters and hampered by exposition makes this sequel a dull affair.
This film is the sequel to Fantastic Beasts and Where to Find Them (2016). (Picture credit: Warner Bros.Pictures)
Director: David Yates
Cast: Eddie Redmayne, Johnny Depp, Jude Law, Dan Fogler, Ezra Miller, Katherine Waterston, Zoë Kravitz, Claudia Kim and others.
The Crimes of Grindelwald is the second film of the 'Fantastic Beasts' series that composed of five films and a tenth film in the ever expanding Wizarding world franchise. Although, this is yet another creation from J.K. Rowling's wildly creative mind, the David Yates directorial Fantastic Beasts is still not at par with Harry Potter movies. The Crimes of Grindelwald is a continuation of Newt Scamander's (Eddie Redmayne) adventure. It tells the story of Gellert Grindelwald, an infamous powerful dark wizard, his incredible powers and how much of a threat he is to the world. The film follows the story of Grindelwald finding Credence (Ezra Miller), a disturbed but very powerful young man walking on an aimless path. Grindelwald wants to convince him to join his dark army so Credence would kill Dumbledore in the future.
Director David Yates plays really safe with the story here as it lacks real magic in directorial sense. The story is muddled with plots, subplots mostly for nothing. The film lacks novelty as the first Fantastic Beasts was more of the same. Newt, Tina (Katherine Waterston), Jacob (Dan Fogler) and Quennie (Alison Sudol), who played important roles in the first film, do nothing much in this movie barring few couple-fighting and running behind those 2 or 3 magical creatures.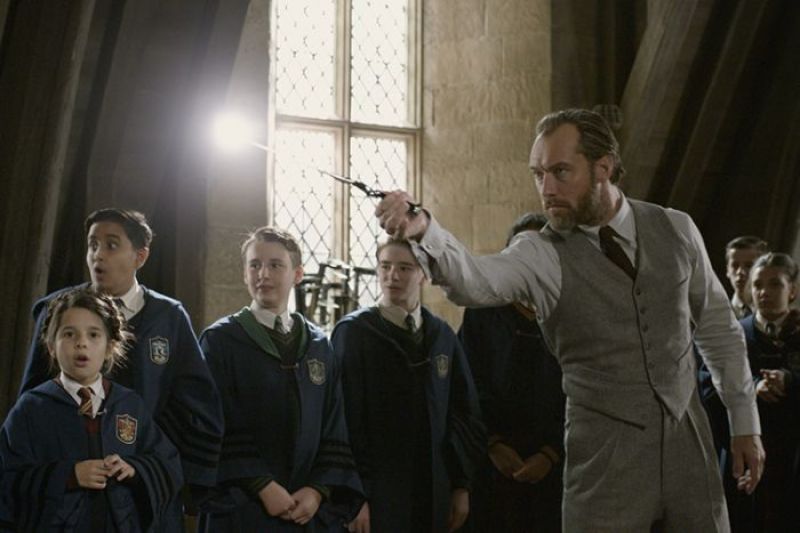 Jude Law as Albus Dumbledore in the still from Fantastic Beasts: The Crimes of Grindelwald (Picture credit: Warner Bros.Pictures).
Some of the plotlines are tedious and surprisingly shallow, for example, we get to follow a story about Newt's childhood love, which leads to absolutely nothing. Newt and Tina's love story is, again, half-baked and pointless. Also, why call the whole film "Fantastic Beasts" if the actual beasts take a back seat for most of the movie. Sure, they are cute and entertaining to watch, but serve almost no real purpose at all in this story. A low-stake story filled with futile characters and hampered by exposition makes this sequel a dull affair.
With the movie relying so heavily on CGI the visuals needed to be good and thankfully they are great. The film also boasts of beautiful cinematography, amazing soundtrack, impeccable production design and some really groundbreaking action sequences. The magical world of Harry Potter is portrayed with care in this film, and it will make fans happy. This film does not contain that typical Harry Potter magic but fans will enjoy revisiting a lot of elements from the same universe. If you are a Potterhead, you will leave the cinema dazzled by both the revelations and references of Wizarding World.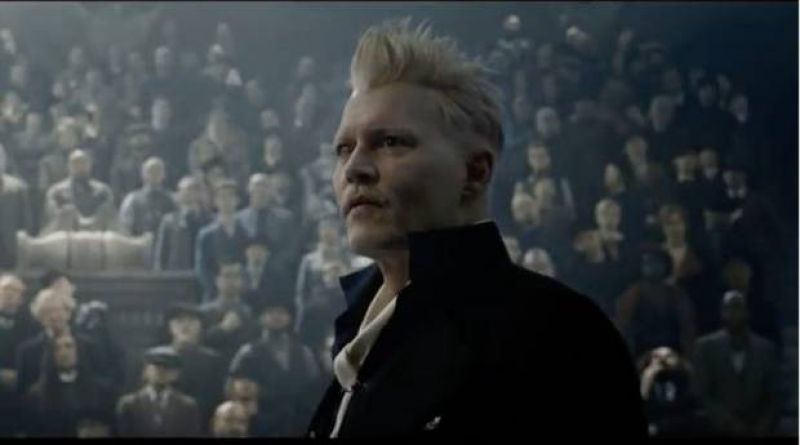 Johnny Depp as Gellert Grindelwald in Fantastic Beasts: The Crimes of Grindelwald (Picture credit: Warner Bros.Pictures).
The cast is good, especially Jude Law, who is very convincing as a young Albus Dumbledore. Johnny Depp displays Grindelwald vibes at its best and gives a fine performance. Dan Fogler, and Eddie Redmayne stand out in their respective roles. Zoë Kravitz as Leta Lestrange gets a very good character development and she makes the most of it. Ezra Miller, who shows an incredible, almost disappears in what the script proposes. Most of the other characters are so superficial that it's very difficult to care about their story.
At the end, 'The Crimes of Grindelwald' had a great potential to become a perfect prequel to Harry Potter movies but unfortunately it doesn't quite hit home. Good thing is it still has prospective to make things better. The end scene, in fact, opens a range of possibilities for the future of the franchise but this latest installment feels just a filler.
Latest News
Most Popular
Columns