Entertainment
Hamid movie review: A well-told story of human perseverance and frailty
Deccan Chronicle| Mayur Sanap
Published on: March 13, 2019 | Updated on: March 14, 2019
The strength of this film hinges on Rasika Dugal and Talha Arshad Reshi's performances, and neither disappoint.
Talha Arshad Reshi as Hamid in the still from the film.
Director: Aijaz Khan
Cast: Rasika Dugal, Vikas Kumar, Talha Arshad Reshi and Sumit Kaul.
A poignant story is simultaneously tragic and empathetic, a feat not many films even attempt to claim, but director Aijaz Khan's 'Hamid' nearly nails it. The film beautifully portrays the perspective of a 7-year-old boy named Hamid who doesn't know the world for real except for what his father has told him or what he commonly understands. Through the situation and the circumstances surrounding it, we witness Hamid's journey through his emotional conundrum.
The story unfolds in the backdrop of Kashmir. When Hamid's (Talha Arshad Reshi) father goes missing one night, he becomes restless. Hamid is confused about his father's disappearance and asks questions to his mother (Rasika Dugal) who tells him he has gone to Allah. Hamid learns that 786 is God's number and decides to try and reach out to God, by dialling this number. He wants to talk to his father and one day his phone call is answered. Will Hamid get all his answers?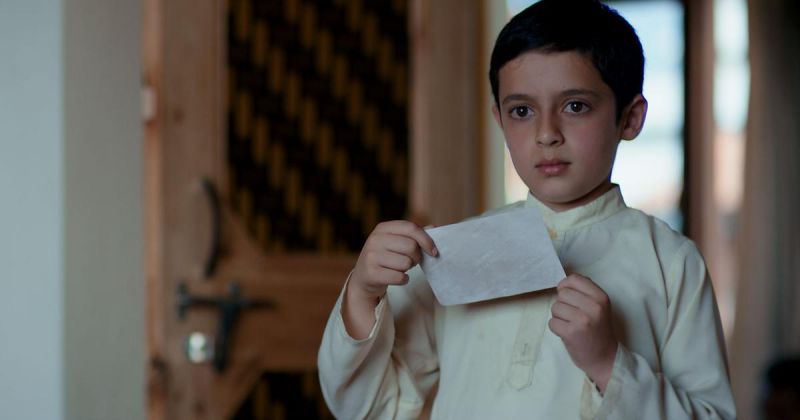 A still from the film.
Hamid is beautifully directed by someone who understands how sensitive storytelling works. Director Aijaz Khan tells the story in such a manner that's both unsettling and empathetic. He has shown his better sense by presenting the status of Kashmir along with the mentality of the people of all kinds involved therein. It shows how mother and son bonds do in dire situations and the ability to combine both to ensure a powerful experience.
Hamid is written with effortless skill and deft thoughtfulness. What could have easily have been told in a lurid, gratuitous way (The story is set in present day Kashmir) is instead told in a careful and restrained way. There are no complicated plot lines, no unnecessary character setups, just a well written story combined with terrific performances. The screenplay is very well written that increases tension without the use of cheap means such as graphic violence or gore but only subtle dialogues. And although there quite some emotional scenes, the director doesn't make an outright tearjerker.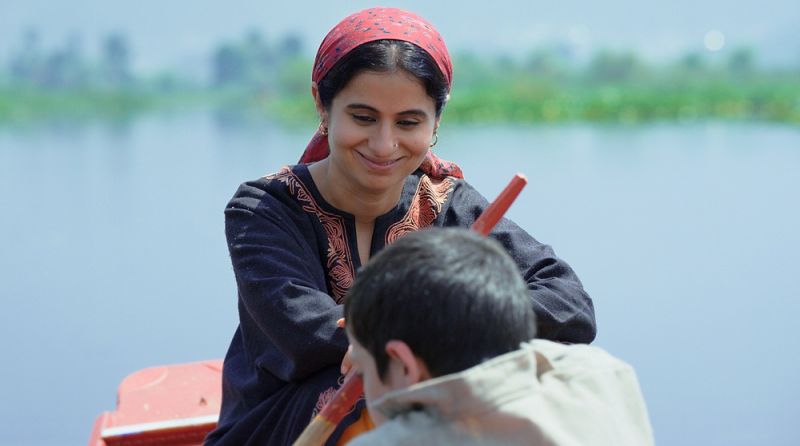 Rasika Dugal as Israt in Hamid.
There is innocence in 'Hamid', due to its very fascinating decision to tell it from the viewpoint of a seven year old, one that comes off very movingly and gives a sense that there is a little ray of hope in a seemingly hopeless situation. The film beautifully explores the themes of guilt and resentment, and the surprising ways forgiveness can sometimes be found. It has no overly dramatic moments but the psychological developments form the real action. The relationship between Dugal and Talha's characters is genuine, and the fact that the film is told through the eyes of a child gives it a sense of innocence that touches the soul without being overly sentimental.
The acting is uniformly terrific. Rasika Dugal's emotionally subdued mother Israt is powerful, evocative, and heart-wrenching. The grand majority of child actors turn in stiff, unnatural performances but there are exceptions and Talha Arshad Reshi is top of the list. You easily believe every moment of his performance in the film and it's a real accomplishment for both him and director Aijaz Khan. The mother and son relationship is able to shine through and really resonate, which it may not have done as effectively without these two performances. Vikas Kumar, who plays the CRPF cop Abhay, also gives much more to what could have been a standard cliché role. Similarly, the rest of the supporting cast too do their parts with all sincerity.
'Hamid' certainly rises to the level of an essential watch predominantly due to ideas it explore; but certain predictable elements as well as the editing slow down its pace. The telling of this tale is very patience and very slight - yet in the most part it is almost too restrained because the drama is a bit too easy in the way it unfolds. The film struggles with some story compression in the first half, however it shows the capacity to hit some deeper insights later.
At the end, 'Hamid' is powerful, questioning, emotional, disturbing and one of its kind. The satisfying performance of both Rasika Dugal and Talha Arshad Reshi is worth noticing.
Watch the trailer here:
Latest News
Most Popular
Columns