Entertainment
Jalebi movie review: Stale and tasteless
Deccan Chronicle| Mayur Sanap
Published on: October 12, 2018 | Updated on: October 12, 2018
The drama doesn't rise above the quality which is equal to a prime-time TV serial.
Varun Mitra and Rhea Chakraborty in the still from Jalebi trailer. (YouTube/ Vishesh Films)
Director: Pushpdeep Bhardwaj
Cast: Rhea Chakraborty, Varun Mitra, Digangana Suryavanshi and others.
Directed by debutant Pushpdeep Bhardwaj, Vishesh Film's latest offering Jalebi is a remake of the Bengali film Praktan (2016). In the name of youthful romance, this Hindi remake is a sluggish coaching class of "what to do and what not to do in a relationship".
Ayesha Pradhan (Rhea Chakraborty) is a free-spirited, young Bombay girl. She gets attracted to a very charming tour guide Dev (Varun Mitra) on a Delhi trip. The young couple fall in love and gets married only to realise that they both have a very different viewpoint on life. They get separated to meet again many years later on a Delhi-bound train. What has destiny in store for them?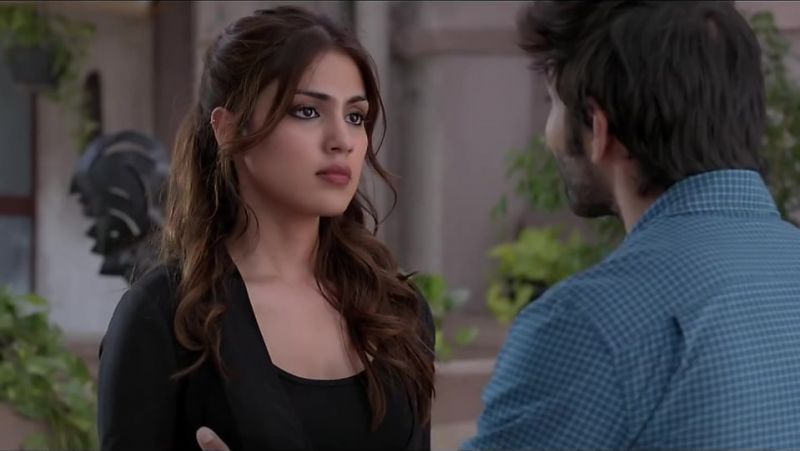 Jalebi is a remake of the Bengali film Praktan (2016)
The story rides on clichéd ideas of modern day romance. Just like a typical Bollywood romance drama, our protagonists decide to walk onto different paths only to make audiences wonder whether they will be able to meet again or not. The drama doesn't rise above the quality which is equal to a prime-time TV serial. One particularly distasteful aspect of this movie was the shallowness of Rhea's character. Her back-story lacks depth. Her character is cold-hearted, rather stupid, and ultimately tedious. The plot had an ample opportunity to offer the viewer a whirlwind of emotions but the film uses a tried and tested formula to make film more 'mass-appealing'. While middle-class values of male character are to be lauded; the writing of Jalebi comes unstuck. When it comes to the pace, the first half is already slow and the curse of the second half too strikes making this a sloppy ride.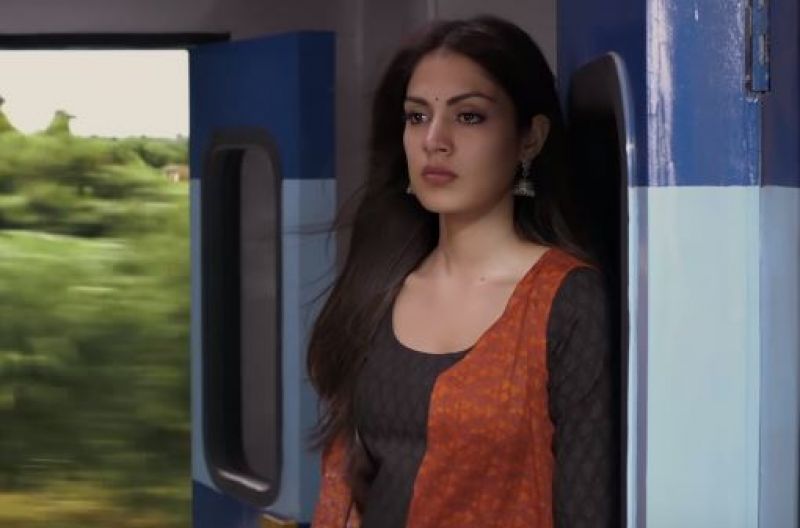 A still from the film. (Courtesy: Vishesh Films)
Rhea Chakraborty looks gorgeous and has a charming screen presence but her acting talent is inversely proportional to her good looks. She especially falls flat in the emotional scenes making her co-star look much better in comparison. Debutant Varun Mitra has potential but he is limited to a typical Bhatt hero role and there is nothing exciting you see in his performance either. The chemistry between the two is lacklustre and looks superficial. The only thing that could be deemed as saving grace is the film's music which is already popular enough. But none of it can compensate for the old-fashioned, cliché-ridden story at its core.
Bollywood fans have a good appetite for sappy love stories, but Jalebi is a kind of a film where fans will pray for the end to come as quickly and painlessly as possible. With a catch-line like 'everlasting taste of love', the film had a promise of delicious recipe of romance but this is a poorly baked dish which is completely devoid of any taste, forget the everlasting effect.
Watch Jalebi trailer here:
Latest News
Most Popular
Columns