Entertainment
Isle of Dogs movie review: Brilliant, and utterly enjoyble
Deccan Chronicle| Mayur Sanap
Published on: July 5, 2018 | Updated on: July 6, 2018
Director Wes Anderson once again shows unique sensibility with his latest creation.
'Isle of Dogs' was premiered at the 68th Berlin International Film Festival.
Director: Wes Anderson
Cast: (voices of) Bryan Cranston, Edward Norton, Bill Murray, Jeff Goldblum, Greta Gerwig, Frances McDormand, Liev Schreiber, Scarlett Johansson, Tilda Swinton, Yoko Ono and others.
If you look at director Wes Anderson's filmography (Fantastic Mr. Fox, Moonrise Kingdom, The Grand Budapest Hotel), you will notice that each of his films progressively become more nuanced and detailed. With his latest film 'Isle of Dogs', Anderson manages to merge his unique style with the Japanese culture and art and it works seamlessly. 'Isle of Dogs' shows Anderson at his full creative power, expanding his capabilities, and giving us something truly brilliant.
The events in the film take place in the fictional Japanese city of Megasaki, where, as a result of some lethal plague, the mayor moves all the dogs to a trash island, condemning them to death from disease and hunger. The story follows a young boy named Atari (Koyu Rankin) who with the help of five dogs goes in search of his long lost dog on this secluded Island.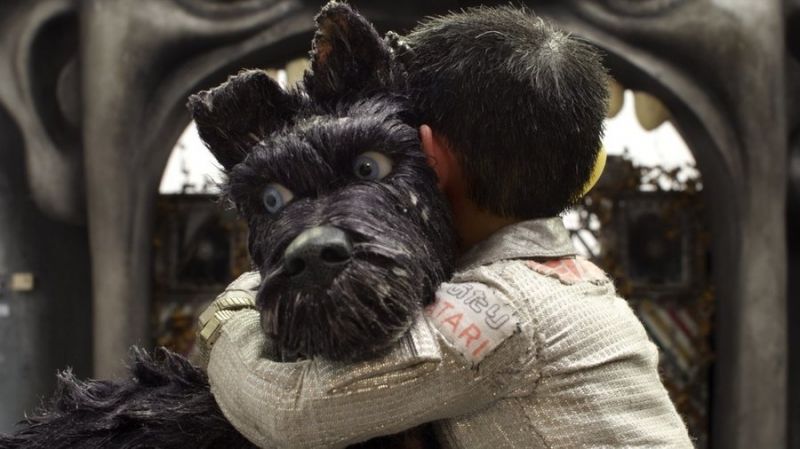 A still from the film.
Director Wes Anderson once again shows unique sensibility with his latest creation. The imagination and creativity is truly impressive. The tone of the film is excellent mixing humour, which results into an endearing film with genuine, heartfelt sentiments. His smart and surprisingly humanistic sarcasm poignantly deals with relevant themes like racism, discrimination, acceptance, public manipulation and propaganda. The use of colors and symmetry are still plainly obvious, the color and design of things very consistent giving a believable world for the film to be set in. A story that Anderson wants to say is tad predictable but its meticulously-crafted visuals compensate on that.
The characters are well rounded and relatable, even though the majority of them are dogs. The presentation of the story is quite unique and fresh, and the dry, deadpan humor is smoothly intertwined with the narrative and visuals. The star-studded vocal cast is undoubtedly one of the strengths. Every single actor really made every character feels distinctive. The dialogues are surprising, witty, and humorous. And the animation is a fresh take on stop-motion animation, which is pretty rare at the time.
Overall, 'Isle of Dogs' is fast paced, colourful, and an absolute delight all around. And Anderson once again demonstrates that he is among cinema's all time greats.
Watch trailer here:
Latest News
Most Popular
Columns