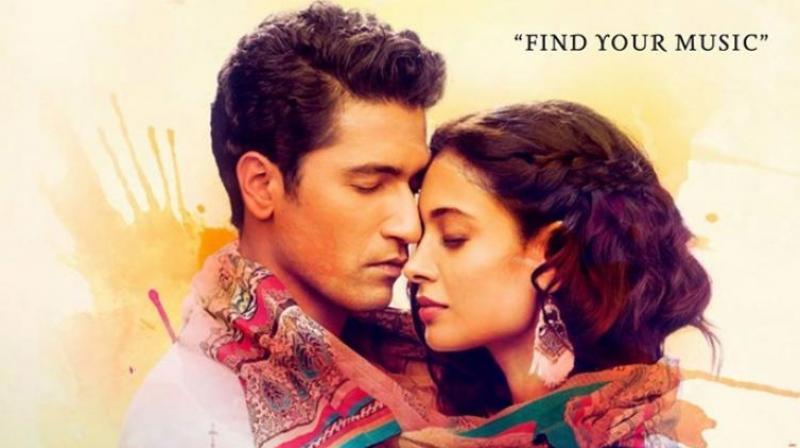 Rating:
Cast: Vicky Kaushal, Raaghav Chanana, Manish Choudhary, Sarah-Jane Dias, Meghna Malik
Director: Mozez Singh
Mozez Singh's Zubaan is incredibly impressive, compelling and self-assured for a first time writer-director. And I wish I could say that it's like this throughout. Sadly, it's not. Singh breaks his gripping drama to really disappoint, and he does this way too often. The lapse in judgment could, perhaps, be blamed on the fact that Mozez Singh, clearly a very talented man, was also the director of music videos once, apart from designing conceited furniture. But, surely, there were other people involved, producers, for example. Why they didn't stop him from screwing his otherwise fabulous film with scenes that are like a rave party for the jet-lagged is beyond my comprehension.
Zubaan is based on an interesting story that reminded me, in parts, of Yash Chopra's Trishul (1978). Dilsher (Vicky Kaushal), a boy from Gurdaspur, Punjab, loses his voice and confidence when in traumatic incident at a very young age. His only hope of survival, he believes, is attaching himself to a father figure, to become son to a powerful man. So he chases after Gurcharan Sikand (Manish Choudhary), a builder tycoon who is also from Gurdaspur but has risen to unimaginable heights.
On one side is Dilsher's crafty, vicious, desperate attempts to find himself a daddy and this main bit is excellent because of the believable, fully-drawn setting, complete with Gurcharan Sikand's own dysfunctional family, and because of excellent acting, not just by Vicky Kaushal but also Raaghav Chanana, who plays his son and scion, Surya Sikand.
But the other strand, the place where Dilsher will ultimately find his voice and himself, populated by an undulating Amira (Sarah-Jane Dias), isn't just insanely artificial and hallucinatory. It is downright retarded. Adding several shades of grey, black and white in the film's main segment, Singh and his actors very smartly create interesting characters who engage us in a tense drama as well as clash of personalities and ambitions.
Surya, Gurcharan and his wife Mandy (Meghna Malik) are all morally doggy. They lie, cheat, have no qualms stepping over people. But none is as crafty and without scruples as Dilsher. He is singularly focused on twisting his way into Gurcharan Sikand's home and life. He has a plan that the director peels one thin layer at a time, only to suddenly shove us towards Ms Dias and her stoned tripe. She's some sort of crooner who is preoccupied by a bizarre in memoriam she is organising. We are presumably in Delhi, but Dilsher rides pillion on a bike to reach a desert to attend the event, Dhruv Tara.
It's the strangest get-together of grieving friends. A big white star is implanted in the sand and some beds are strewn about upon which Amira starts to sing and eventually lol about. Next morning all return to their homes, none buzzed more than us suffering souls.
The film is constantly framing Amira in candle-lit, lifestyle-magazine peddled extreme interiors. All are supposed to be the ultimate in beauty but are exceptionally suffocating. The camera is forever staring at her lips, eyes and thin waist, and I tell you it's a complete waste of time because Ms Dias does nothing except pose and move in a rather languorous, annoying fashion.
It was almost as if an engaging film is on and someone is constantly switching channels, to some boring, late night music videos on MTV. When the channel is switched back, to the real film, it's fabulous. But then it's back again, to the flakey Ms Dias. For a movie that's about music, she's been given very bad songs, except one — Music is my art.
Zubaan has excellent scenes and performances and its dialogue are crisp and nice, except, of course, Ms Dias' prattle. A brief sequence where young Dilsher's father, a singer in a gurudwara, goes deaf is both moving and scary. It's not the sort of stuff we see from first-time directors. But, then, the film's plotting is not just uneven. It's at times shoddy. The reason for Gurcharan's visceral hatred for his family, for example, is told but the revelation, given the characters involved, seems implausible. As a coming of age story, Zubaan works. But Dilsher emerging through a dark tunnel into the shining sun and the arms of loony crooner is done in a silly and childish manner.
As usual, Manish Choudhary is good. As is Meghna Malik. Raaghav Chanana hardly has a role, and whatever he has is mostly negative. Yet he makes Surya real, and adds, despite very brief scenes, desperation and pain. Vicky Kaushal is both vulnerable and criminal at the same time. He is very talented and can carry off any role. If the director's repeated lapses into gibberish around Sarah-Jane Dias had been kept in control, Zubaan would have been a hard-hitting, powerful drama. It's made woozy needlessly.
...