Entertainment
Man who straddles fantasy and realism
Deccan Chronicle| cris
Published on: February 20, 2017 | Updated on: February 21, 2017
Vijay Singh who is in India with his film Farewell My Indian Soldier talks about his reluctant beginnings and love for Thiruvananthapuram.
Vijay Singh (Photo: A.V. Muzafar)
Getting out of the airport, after a night of little sleep, Vijay Singh opened his eyes to a city he had seen many many years ago. Thiruvananthapuram has grown a lot better in his eyes, more beautiful, cleaner. Has Shashi got to play a role in it, he asks, sitting at the Residency Towers in Thiruvananthapuram, a few hours later. Shashi -—Shashi Tharoor, MP of Thiruvananthapuram — and Vijay go a long way, all the way to St Stephen's where one was junior to the other. Both turned writers but then one went on to become a politician, the other a filmmaker in Paris. So when Vijay came to Thiruvananthapuram he called Shashi to come and watch the screening of his newest film — a documentary with bits of fiction in it — called Farewell, My Indian Soldier. Alliance Francaise has called him to tour with it in nine cities in India.
Decades after his first documentary — Man and Elephant — for which he had come to Kerala — Vijay says he was pushed into filmmaking, he hated cinema. All he knew was he loved surrealism, he was fascinated by its founder, French writer Andre Breton and got pulled to Paris, beginning at first as a journalist. Someone saw he wrote well and gave him money — this is in his modest words — to write a book. Then came more books and then came cinema. Vijay had in fact come to Cheruthuruthi in Thrissur to make his first documentary — Man and Elephant. He came later to screen his book-turned-feature film Jaya Ganga for the International Film Festival of India, when it was held in Thiruvananthapuram.
Somewhere along, Vijay started liking filmmaking. All his documentaries came with bits of fiction in it. "Andre Breton taught me sensuality. He has written, 'I have discovered the secret of loving you always for the first time'. He wrote a book called Nadja about a girl who is half real, half unreal. She became a great mystery in the 21st century. Jaya, in Jaya Ganga, is a Hindu reincarnation of Nadja. In the book and film, she meets Nishant the writer on the grave of Breton."
Vijay describes enthusiastically this new world that art could create, one that levitates into the air and looks at the earth below. But even with this strong fascination for fantasy, Vijay comes to ground to find stories like Farewell, My Indian Soldier, of the 140,000 Indian soldiers who fought in France for World War I, of the relationships they had with French women and the children born.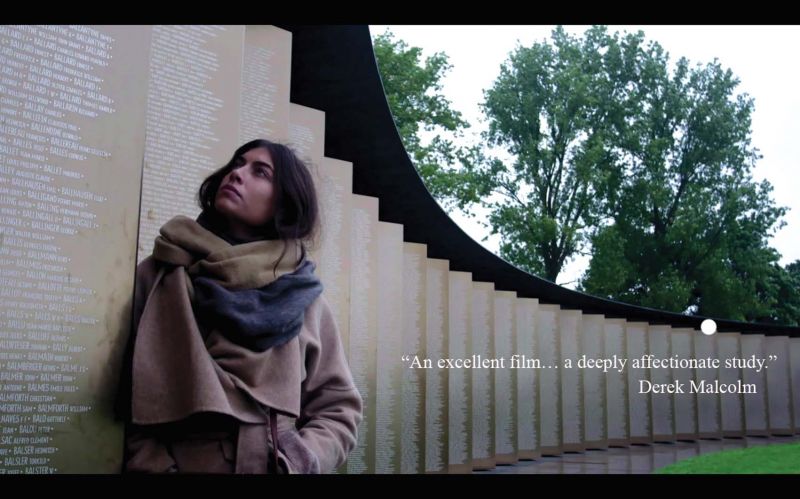 Still from Farewell, My Indian Soldier
"I knew this girl who works with the president now (in France) and who used to be deputy ambassador. She took me to a memorial where the embassy even now organises a little ceremony for the soldiers every year. That's where I discovered 10,000 Indian soldiers were killed. I met retired officer Amit Sharma, who showed him a book 'some guy had left here'." From the book he found out about children born of Indian soldiers and French women. For three years he searched for a descendant and finally came upon Monique Soupart, who features in the documentary. As her granddaughter, he chose an actor. The 21-year-old goes on a journey to know her great great grand-dad, an unknown Indian soldier.
She comes across letters written home by Indian soldiers back then. "The war was so gruesome that an Indian soldier wept for his enemy," she narrates. The letter reads: Our guns have filled the German trenches with dead and made them brim with blood. God grants us grace, for grace is needed. Oh God we repent! Oh God we repent! In one of the interviews the girl has with historian Dominiek Dendooven, she asks if the result of the war would have been any different if the Indians had not joined force. He agrees it might have been. And Vijay adds his bit: "You might be speaking German now, instead of English." He had called the film Miss France is in Tears. "One day when the soldiers were going back to war, all the young girls came out with a banner that said Mademoiselle France Pleure (Miss France is in tears)."
But the kids born to the Indian soldiers and French women were seen a taboo, people were indifferent to them. Perhaps why the girl never finds out the name of her great great granddad but even then she kept walking miles and miles in wordless graveyards. Vijay turns emotional as he says this part. This man, this writer who loves simple words that could create poetry, speaks with a certain love he has for his craft and the stories he tells. Even for Thiruvananthapuram, he has that soft corner. It was there he came first to make Man and Elephant. A story he had written and his friend sold for 10000 francs and then forced him to make a film of. "I came to meet Adoor and Aravindan (two great filmmakers of Malayalam). Aravindan helped me by giving people from his unit. It was made for one television but got sold to over hundred televisions across the world."
Latest News
Most Popular
Columns