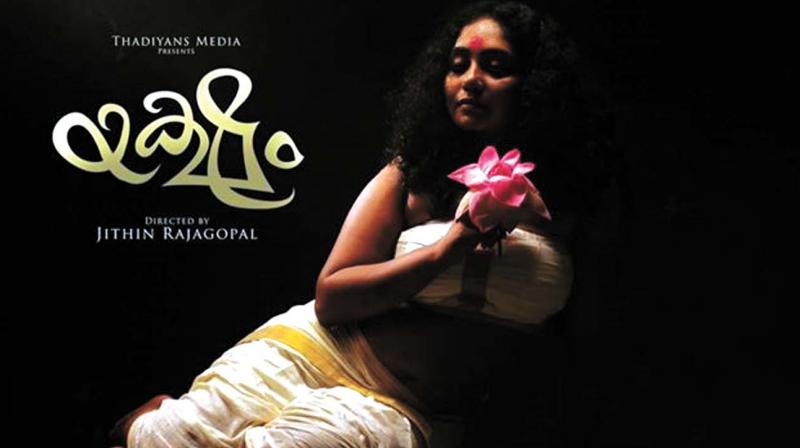 The views on the video have crossed 1,50,000, but that's not what surprised the actor. Hima Shankar Sheematty did not expect such good comments. Not unused to controversies, she thought may be someone will take offence at the short film Yaksham, the poster of which shows her clad in the traditional mundu and mulakacha, two pieces of cloth in red silk. She sits with a big round bindi on her forehead, hair loosely falling around her face. A man is with her, talking to her, praising her beauty, changing her, worshipping her. It is the climax of this short film that couldn't predict the reactions it may have attracted from certain overly sensitive groups. But Hima says people belonging to every political group came to her with good comments. Even as she sits on the steps of the Kairali Theatre in Thiruvananthapuram for an interview, passersby stop to congratulate her about Yaksham.
"I think it is a divine feeling that they get. No one is talking of nudity. They are charmed by the expressions and the music. Women tell me they have watched it more than once. I think that's because every woman has a 'Yakshi' in her, every woman wants to be worshipped," Hima says. It wasn't originally Hima who was cast in the role. But they later called her for better expressions, for she doesn't have a single line to speak. It's all in her eyes, her face. Doing a divine role so perfectly can cause your death, someone had told her long ago, when she enacted and directed a Kali Natakam in Pondicherry. "I thought if it comes to that, I will just die."
But now is not the time for thoughts of death. It is what she calls a time she's been waiting for. The films and plays coming to her are the kind she has wanted to be a part of. Even short films — other than Yaksham, there was Kani, the story of a young tribal woman who is exploited by forest encroachers, and there is Kalpanthakalam which brought her two best actor awards. "I play a pulluvathi who is fasting and has a dream about her lover when she is not supposed to, and miss him." It would be made into a feature film by director Sunil Subramanian.
Then there is also the feature film Otakolam where she plays a character that grows from young to old, one that ends up doing her late husband's job of lighting the pyre at funerals. A third film called Aaradi is a story by E Santosh Kumar, directed by
Saji Palamel where she plays a naïve housewife. Another project she is excited about sees her playing eight different characters.
As if these have not crowded her enough, Hima is now a member of Soorya Krishnamoorthy's theatre group, the first female to be a salaried employee. She was part of his recent plays that came under the label of Chayakkadakathal, playing a 15-year- old Ammu and a 75-year- old Ammathayamma.
...