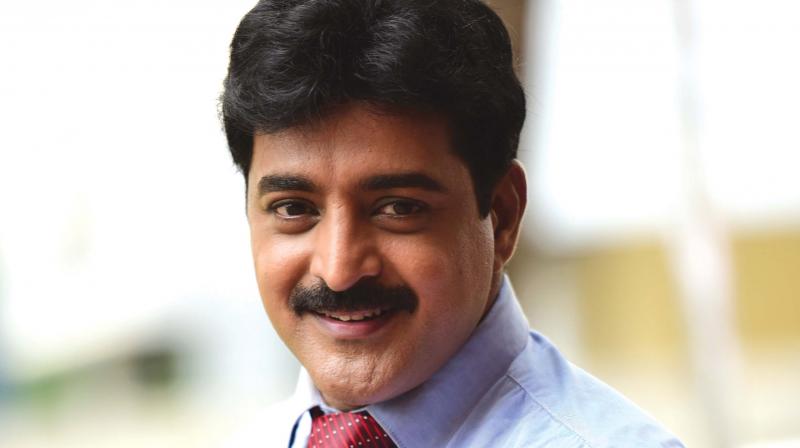 It's raining again and Kishor Satya rushes through the muddy roads in Thiruvananthapuram to buy bags for his son, before coming home on a Sunday. He will have to get busy again soon. Life had stayed quiet for a while and suddenly burst with opportunities he had been hoping would come.
He never went in search of them, he's bad at marketing himself, he says. But the friendships he had made over the years brought him back to the world of cinema after a gap of two-and-a-half years. On his Facebook page you'd see a poster of James and Alice on the cover, his first release this year, and there are many more to come.
"It's actually in a film called Gemini that I act ed after the long gap but that's only going to release," Kishor says. James and Alice had come to him through a common friend he has with director Sujith Vaassudev, Ansar Khan.
"Some years ago, I had acted in Ansar's short film and Sujith was the cinematographer. It is our friendship from those years that made Sujith remember me when he took a film." Kishor plays Dr Alexander, husband of Alice's sister Mercy. "Dr Alexander runs the house when James and Alice leave to start their lives together, he interferes when they have issues." It is a character that's there throughout the film. In Gemini too, he gets an important role. He is in fact one of the three main leads in the film along with Renji Panicker and Sijoy.
"Gemini is by P.K. Baburaj who was associate director of G.S. Vijayan at the time he took the TV series 'The Officer' in which I played the lead." Kishor is quite happy that Babu chettan remembered him when he took a film after many years. "It must have been difficult to convince producers but he did." Then there is a film by Jeethu Joseph called Oozham where Kishor becomes city police commissioner Parthasarathy. Prithviraj plays the lead in the film.
"That's again come through Ansar, and also Prithviraj who recommended me after James and Alice." The fourth film Vella Kaduva sees him in a smaller role. "But that's by my guru Jose Thomas who introduced me in films through Youth Festival. I would accept any role he gives, even if it is a passing shot." Ansar too is making a film where Kishor will play a guest role.
There is also an untitled film by Joe Eshwar waiting Kishor. But with all the film projects, he has not left television. "There is the serial Karuthamuthu on Asianet, I do only one television project at a time." And Kishor also has his cricket to take care of, he is the team captain of Atma (Association of Television Media Artistes in Malayalam).
...