Entertainment
The revelations of Vijay Jayapal
Deccan Chronicle| cris
Published on: December 13, 2016 | Updated on: December 14, 2016
Film maker Vijay Jayapal, whose Revelations was screened at the IFFK, says the will never tread the mainstream path.
Vijay Jayapal
Vijay Jayapal has just got back to his hotel room at 7 in the evening from the theatre and is ready to rush off again for another film. He is as much a delegate as a guest at the International Film Festival of Kerala. On Monday, he saw his first feature film — Revelations — with the audience at the IFFK, sat and spotted the flaws. But he is clear about one thing — all his filmmaking will be of this kind — the non-commercial, non-mainstream kind. "Tamil commercial cinema never attracted me," says the man who hails from Chennai. "I like them, of course. I grew up watching Kamal and Rajini films. But I don't want to make commercial cinema." His is an interesting background, not only because he had once been a corporate man and quit that job to turn to full-time filmmaking. But Vijay has never gone to a film school, neither assisted a director.
All his knowledge of parallel or independent cinema comes from watching them. "It must have been in college days that I began watching world cinema, and was blown away by them. I was so fascinated and began attending film festivals to see such kind of cinema." Even when he made his short films, he didn't approach the TV channels that could feature them, but sent them off to festivals. Surreal was featured at Cannes. "It was based on my friend's life. He was doing a night shift job and that was taking a toll on him. But the rest of it (the hallucinations and insomnia) is fiction," Vijay says. Another one is Matrimony that was featured at Kochi Signs Festival. Revelations is kind of an extension of Matrimony, based on the same theme.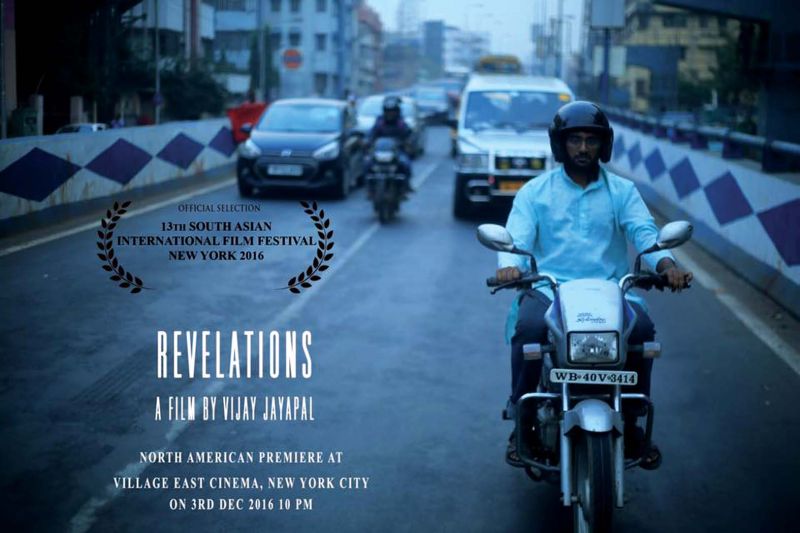 Poster of Revelations
"The idea came from a conversation I had. The film talks of marriage, of female sexuality, of how it is exploited by men using marriage as an institution." He set the film in Kolkata because he wanted the story to take place in a far off place. "The setting will give a sense of alienation and isolation. The film is about strangers. At one level, it also talks about loneliness." It has already gone to a few festivals including Busan and MAMI. He finds a Kerala connection to the film. His sound designer — Rajesh Saseendran — is a Malayali. There's more to talk of Kerala of course. "The Malayalam film industry is like a pioneer of alternate cinema in India along with the Bengali film industry. When I started watching world cinema I also saw a lot of Malayalam films — of Adoor Gopalakrishnan, G Aravindan, John Abraham, Padmarajan. Malayalam cinema has inspired me a lot."
Latest News
Most Popular
Columns