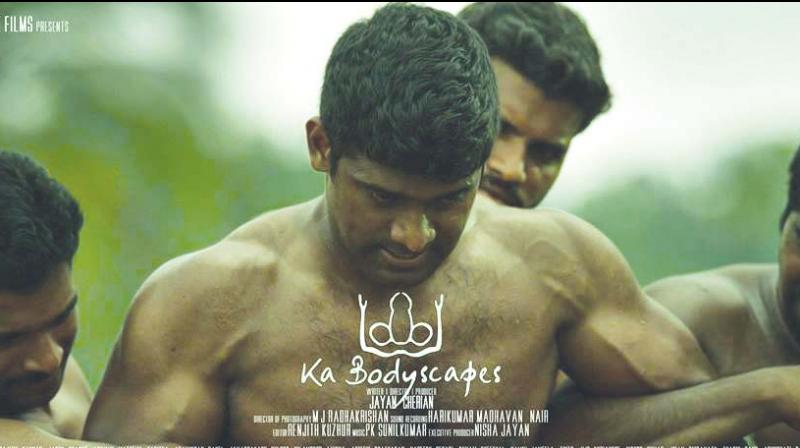 Deeper layers of meaning are typical of Jayan Cherian's films. The director of Papilio Buddha who sparked a controversy with the Censor Board for featuring the burning portrait of Gandhi as part of Dalit-disapproval protest and using derogatory caste-based slangs in his movie, is now back with a stronger story, titled Ka Bodyscapes.
This time, the story is about the friendship between a gay male couple, one a painter and another, a body-builder, and also a liberal Muslim woman in Kerala. The movie is premiering on March 17, on the 30th anniversary edition of BFI Flare, the London LGBT Film Festival.
One can get goosebumps as the meaning of the unusual titling unfolds. "The word Ka has a deeper meaning. It is an essential spiritual vehicle according to Egyptian mythology. It also has relevance in Sanskrit text, which describes about the body aura, which is the vital spark of the body. There is also an understanding of body, pleasure and lust and accepting it, with a correlation of the yogic practice known as Kabody. One of the male protagonists is also a Kabody player, which adds more relevance to the subject," explains Jayan.
Jayan traverses through not-so trodden ways in saying his story. "I am expressing myself as an artist, mapping our current society and historical context of Kerala," says Jayan. In that route, his story, though a subject of controversy, doesn't limit viewers to satisfy them with one story line. Jayan says people can approach his film in any manner. "I bring layer by layer meaning to my story. What I call is an 'intertextual' aspect to it. People can look at it as a love story, or a movie that questions our society's conservativeness or hypocritical norms."
The cast of Ka Bodyscapes has very few mainstream actors. Jayan wanted to work with theatre and social activists to give a more realistic sense to the movie.
The filmmaker hopes to get censor board certification to feature the films in theatres. The movie will be previewed in April at Kochi.
...