Entertainment
Athisayan boy is back
Deccan Chronicle| elizabeth thomas
Published on: November 22, 2018 | Updated on: November 22, 2018
Master Devadas has graduated to Devadas, the hero of Kalikkoottukar.
I want to do some good characters and work with the legends of cinema'
In 2007, when the science fiction movie Athisayan, directed by Vinayan, got released, it marked the debut of a chubby and smart boy, who stole the hearts of Malayalis with his performance. Though the six-year-old was not seen in movies later except Aandabhairavi, his space remained unshaken. The boy who enthralled the audience with his smartness is back in business after a long sabbatical. Master Devadas of Athisayan has graduated to Devadas, the hero of Kalikkoottukar. Written by Bhasi Padikkal (Ramu), Devadas' father, and directed by P.K. Baburaj, Kalikkoottukar narrates the story of six friends, where Devadas plays the lead role Anand.
Currently a film student in Mumbai, the actor walks down memory lane and says, "Gokulam Gopalan uncle (producer of Athisayan) is my father's friend. He suggested my name to Vinayan uncle during a discussion where query about a child artiste popped up. We later met Vinayan uncle in Ernakulam. He liked me and thus I became a part of Athisayan."
Little Devadas had no clue about the magnitude of his role though he had been to film sets with his actor father before. Devadas says he just delivered what he was briefed. "It was not difficult. Except for the larger-than-life portions, I just had to reprise what I did in real life," he chuckles.
Happiness echoes in his voice when he says that people still recognise him for the character Devan. "They still congratulate me," he says. "Back then, I had no idea that the movie would be a success and people would love me for that. Neither did I realise that I was entering a big industry. I was just excited about doing a new task. Above all, I could skip school. Those were the thoughts running through my mind then," he giggles.
Though offers came after the two movies, Devadas was advised to focus on studies. "Father asked me to attend the school," he quips.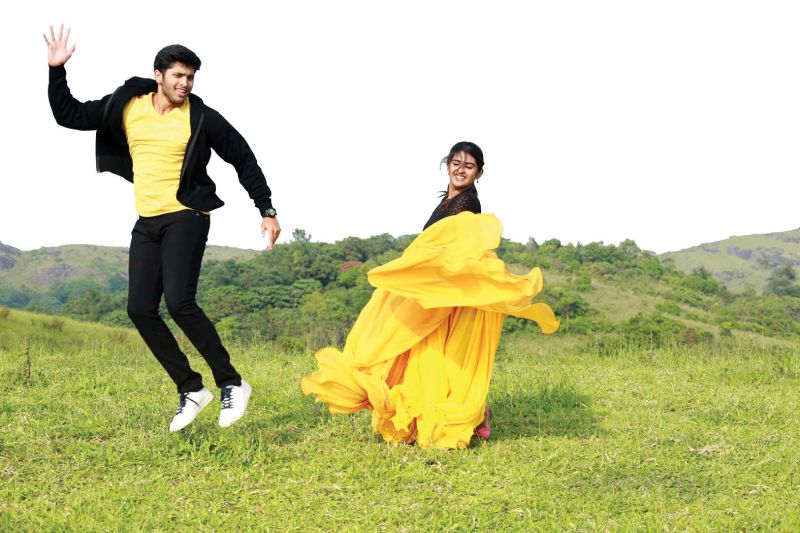 A still from Kalikkoottukaar
But cinema had already conquered the little one's mind. "I liked the process of absorbing the essence of a totally new persona and acting accordingly," says Devadas, who kept the passion alive through stage performances in school. "I went for competitions in state levels. It helped me sharpen my skills," he says. This passion is one of the reasons why he took up film studies later. Though his desire was to direct a movie, upon reaching the institution, he decided to specialise in production. "It is not an easy task to oversee the whole process of a movie. If director is the captain of the ship, producer owns that ship. Hence, I shifted my focus," he says.
As a grown-up actor, is he tense about his second innings? "A little bit. At the same time, I am excited, too," says Devadas. "Now, I see cinema as my career. Everyone will be anxious about one's career, right? I am no exception. I am curious to know if the audience will accept me. I hope for the best," he smiles.
His character Anand in Kalikkoottukar is a good guy who is everyone's blue-eyed-boy. "As an actor, Kalikkoottukar has allowed me to experiment with all sorts of emotions. There is a great scope for performance. The character helped me explore my skill," says Devadas. The film also discusses social issues. "One of the focus is a new law. The movie imparts general knowledge."
Quiz him about the experience of facing the camera after a long time and he says, "I thought it would be fine. But I quivered in the beginning. Then, I practised scenes, learnt dialogues by heart and, gradually, fell into the track. Once everything got settled and I befriended everyone on the set, it was a smooth ride."
The only challenge was to meet the expectations of his father. "He was specific about certain shots and I had to work hard to achieve that," he smiles.
"Once the shooting was over, he explained in which areas I performed well," adds the actor, who grew up as a slim and handsome young man.
Tell him that, he laughs and says, "I easily gain weight. I had put on a lot of weight after Athisayan. At one point, I decided to control it. I went to gym, played tennis and took care of diet. And, I try to maintain that."
A man who breathes movies, he has great dreams. "Like every actor, I want to do some good characters. Also, I want to work with the legends of cinema. My dreams are sky-high," he signs off.
Latest News
Most Popular
Columns