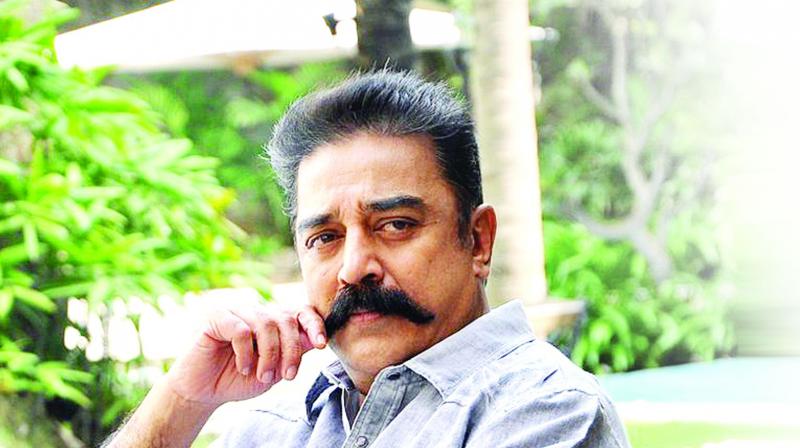 The terrible fall last month which left the Tamil maestro Kamal Haasan with multiple fractures in his leg, also dealt a blow to the shooting of the Hindi-Tamil-Telugu comedy Sabaash Naidu which Kamal Haasan is directing and acting in. The heartening news is that the actor-writer-filmmaker will return in front of and behind the camera much sooner than expected.
Kamal Haasan informed, "My leg is actually healing much faster than the doctors expected. I have a limp and it will take some time to go. But I won't let it show in my walk. I will be ready to resume shooting in mid-November."Sabaash Naidu is already 40 per cent complete. And Kamal Haasan hopes to make up for lost time once he resumes shooting. "The only hard part is that we are shooting the film in three separate languages. Otherwise it would be easy to make up for the lost time."
Recalling the accident that nearly killed him, Kamal Haasan says, "Though this was a terrible accident. I've had worse. During the shooting of K Balachander's Punnagai Mannan (dubbed as Dance Master in Telugu) the three harnesses by which I was hanging in mid-air all snapped and I fell to the ground with a thud. I thought Balchanderji would get a heart attack since the fall was so steep and everyone thought I'd be dead or crippled. Luckily, I got away with just torn ligaments wounds and bruises. Then during a Tamil film Kaligan I did an action scene in a subway. Again, it was a relatively easy sequence. But was by a car on my spine. I landed on top of the car. Then, when it halted, I went under the wheel. I dislocated my jaw, my nose was cracked and I had three fractures. I thought I'd never walk again."
...