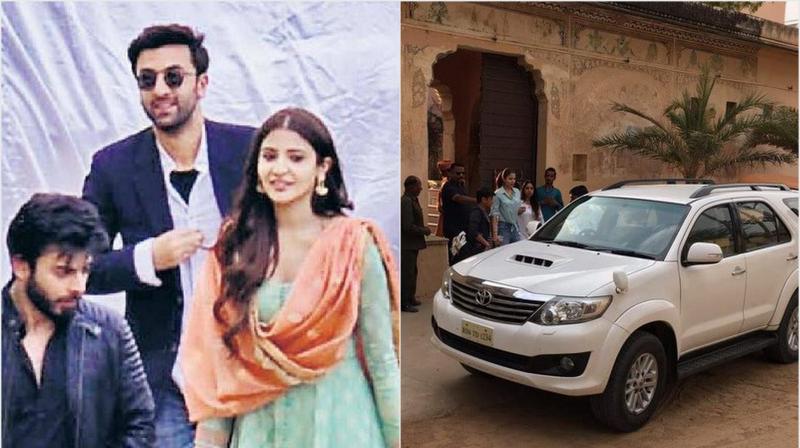 Mumbai: Ranbir Kapoor and Anushka Sharma have reunited with Karan Johar after months to continue with their romantic drama 'Ae Dil Hai Mushkil'. On Friday, the two were snapped arriving in Rajasthan, where there film's next shoot is scheduled.
Without wasting any further time, Ranbir and Anushka has kick started their film's shoot. The team of 'Ae Dil Hai Mushkil' was joined by Fawad Khan, who plays a prominent role in the film.
Also read: Ranbir, Anushka and Karan arrive in Rajasthan for Ae Dil Hai Mushkil shoot
In the pictures, Anushka looks fabulous in her desi avatar whereas Fawad Khan is seen rocking a biker look. Ranbir Kapoor, dressed in blue suit, looks cheerful and candid in the pictures.
Anushka Sharma and Ranbir Kapoor were joined by Fawad Khan on the sets of 'Ae Dil Hai Mushkil'.
In between shots, Ranbir Kapoor and Karan Johar were snapped in a deep discussion on the set.
Short Video of Ranbir Kapoor with Anushka Sharma shooting for Ae Dil Hai Mushkil , today. pic.twitter.com/9nxt6ydz5c

— RanbirKapoorUniverse (@RanbirKUniverse) March 26, 2016
Anushka Sharma arrived in Rajasthan on Friday to resume 'Ae Dil Hai Mushkil's shoot.
Upon reaching Rajasthan, Anushka Sharma went on sight seeing.
Karan Johar, along with the team is shooting the final schedule of his film. Reportedly, the team will be shooting a romantic track and a dance number. They'll be shooting a sequence in Mandawa and Nawalgarh.
'Ae Dil Hai Mushkil', which is slated for a Diwali release, also stars Aishwarya Rai Bachchan.
...