Mumbai: The appointment of Salman Khan as the goodwill ambassador of the Indian team for Rio Olympics 2016 has drawn flak from various quarters. Though some have come in support of the actor, others are just downright against the idea of a Bollywood actor representing the country at the Olympics.
In an interesting turn of events, when Salman's former flame Aishwarya Rai Bachchan was asked about the controversy surrounding him, she said, "Anybody who is doing good to represent the country and anybody who is working or seeking or standing out for whatever vocation we have in the country be it sports, arts or music, I think that's wonderful and needs to be recognised."
Watch the video below:
Read: Salman involved in a controversy is not a new thing: Katrina Kaif
Recently, when Salman's ex-girlfriend Katrina Kaif was asked to comment on the issue, she said, "Salman ko leke controversy hai woh naya cheez hai kya?" (What is new with Salman Khan being entangled in a controversy?)
Controversy kicked off when the 50-year-old actor was recently appointed as the Goodwill ambassador of the Indian contingent for the 2016 Summer Olympic to be held in Rio de Janeiro, Brazil.
Several members of the Indian sports fraternity have questioned the selection of the actor as brand ambassador.
Read: Salim Khan lashes out at Milkha Singh, defends Salman's role in Olympics
2012 London Olympics bronze medalist Yogeshwar Dutt made his displeasure known through a series of tweets barely an hour after the decision was announced. He wrote, "Everybody has the right to promote movies in India, but Olympics is not a place to promote films."
The 33-year-old Yogeshwar felt a sportsperson would have been more apt for the position. "Sportspersons like PT Usha and Milkha Singh strived hard for the nation during difficult times. But what has this ambassador done in sports?"
Read: Olympics doesn't get viewership it deserves in India: Salman Khan
Milkha Singh too felt that the IOA has taken a wrong decision and should reconsider the move. "India has produced so many sportspersons who have given their sweat and blood for the country like PT Usha, Rajyavardhan Singh Rathore, Ajit Pal and so many others. One of these could have been made a goodwill ambassador. What was the need to import a person from Bollywood?" he asked.
However, Sardar and Mary Kom felt that the Bollywood celebrity's mass appeal will help raise awareness about Olympic sports ahead of the Games in Rio de Janeiro in August.
The IOA stood firm on its decision to name Salman and said it would rope in more icons from music and cricket to motivate the Rio-bound athletes.
Aishwarya Rai Bachchan attends the launch of a make up brand that she endorses.
"It is an absolute privilege to represent L'Oreal Paris and India in particular, at a platform that honours world cinema and beauty in equal measure. 15 years with Cannes have gone by in a flash and the journey has been immensely humbling and beautiful,"said Aishwarya Rai.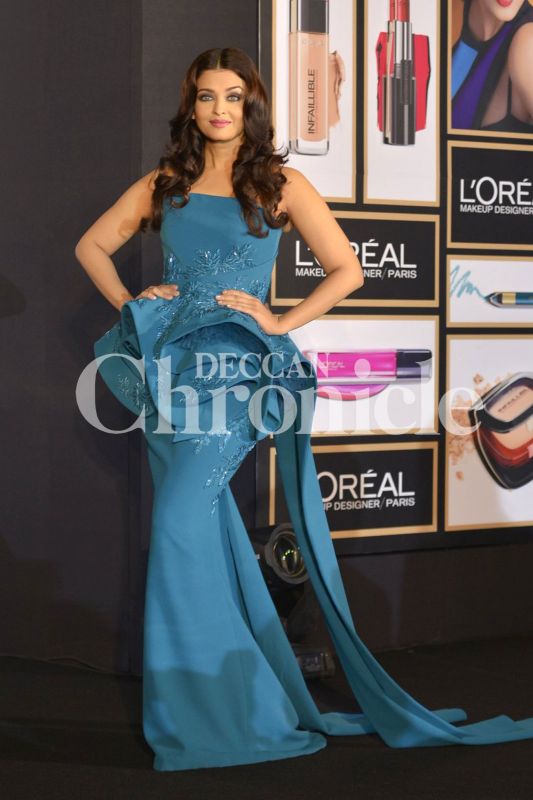 Aishwarya Rai Bachchan poses for pictures at the launch of a make up brand that she endorses.
This will be the 15th year that Aishwarya Rai Bachchan attends Cannes.
...